This post was originally published on our partner website India.com:
Shetal Shah, Vinny Anand and Uday Jhunjhunwala. These are names you will certainly be hearing more of over the next few years. On May 9, for the first time, the New York Indian Film Festival (NYIFF) partners with the South Asian Film Lab (SAFL) to stage readings from these talented South Asian voices in the film and theater world today.
Screenwriters Shah, Anand and Jhunjhunwala will feature short snippets of their scripts onstage with a cast comprised of actors from SAFL as a showcase for the audience. The three writers' uniqueness is what brings hope to the future of South Asian-created film, television and theater.
Shetal Shah:
Shah describes herself as the type of person who "jumped into filmmaking with two feet." She began her journey in the industry with the Maine Media Workshops, which helped her land crew work in films and got her jobs directing music videos and commercials in both Boston and New York.
She joined SAFL thanks to a Facebook invite and went to the first meeting as an actor. Her reading for SAFL at NYIFF, "By The Spoonful" has now introduced her as a writer to the group and to the world with this rather cryptic synopsis.
"Eugenie is a hoarder. The new volunteer at her soup kitchen has a devastating secret that could either save Eugenie from herself or send her over the edge for good."
The idea for "By The Spoonful" came to Shah through experience and imagination, basically a perfect blend. She grew up with friends whose mothers were mild hoarders and from that knowledge grew a question: "I started wondering about what the act of hoarding fulfills for these women, and to what extremes it would lead to if the dichotomy between such a precise, planned-out profession and the messier psychological reasons that initiated their hoarding spun too far out of control," Shah said.
But there is an added element of unknown to Shah's script, her main character is a South Asian homeless woman.
Shah stated that it's been an "exciting challenge to decipher this character from a South Asian perspective." And playing the main character must definitely help in this challenge as it helps bring a personal South Asian feel to the script.
Being the sole woman screenwriter in the staged readings has not affected Shah in a negative way. She describes SAFL as the type of environment where everyone supports one another and their work. But within the industry, she reveals that she has had moments where people have shrugged her off as "useless" because she was a woman.
As for Shetal's work, she said her main goal isn't about hammering the point home that she is a strong woman telling a woman's tale.
"I'm sure I've got a female spin to my work, but my main goal is to be authentic with the characters, their dialogue and the circumstances they find themselves in," Shah said. "I'm motivated most by human psychology and how that impacts a character's choices and relationships. I also feel strongly that humor is an essential ingredient regardless of the genre I'm writing in."
Vinny Anand:
Humor is something Anand knows about quite a bit.
"I write comedic screenplays, skits and web series because I enjoy making people laugh and have a knack for getting myself in awkward situations at least 5-7 times a day," Anand said about his work.
"Write what you know," he added.
And he's definitely doing that with his staged reading "Badge&Chain," which is based on his own life in corporate America where he was fired from three different jobs within a year.
His explanation for the firings? "Apparently having a soul isn't something acceptable in corporate life" he said, though apparently, he was quite the fan of taking office supplies for his apartment. Then again, who doesn't like doing that?
The synopsis for the reading is as follows: "Burned by Corporate America, Srikanth "Shrek" Busireddy stumbles on an invention that will revolutionize recycling. Determined to get his idea off the ground, Shrek must avoid getting sucked back into corporate America while finding a way to keep his unemployment from getting cut off."
Anand plays one of the characters in the reading himself, infusing it even more with his own personality. The script was also influenced by his upbringing. Anand grew up in a family full of entrepreneurs, which he said allowed him to view the corporate life in a different light than most.
He then joked, "As an Indian kid I am able to take shots at white people and get away with it because who else are they going to go to for tech support."
Clearly humor is a huge driving force in Anand's life and work as he is also a stand-up comedian, but he hopes "Badge&Chain" will allow people to both laugh and experience his vision "of a millennial following his passion and building his future and ultimately failing in the end."
Uday Jhunjhunwala:
Jhunjhunwala's reading is quite the change of pace from Anand's work but neither should be considered any less engaging.
Jhunjhunwala's "The Execution Of Love" is described as the story of "An orphaned Israeli boy and a Palestinian refugee girl who struggle with their identities as they fall in love amidst the uncertainty and tragedy of the Occupation."
Jhunjhunwala's journey for this script, however, is a bit more rooted in research and a desire to know more about a controversial conflict affecting millions.
"In 2009, I decided to learn about the Israeli-Palestinian conflict without any intention of writing about it," he said. "I read a bunch of books and the more I learned the more shocked I was with how uninformed my point of view was. I continued to read books and watch movies about the conflict, and one night as I was falling asleep an idea for a film came to me. I hopped out of bed and wrote it all down."
This information, Jhunjhunwala stated, led to a "mediocre first draft," so he decided to take a more hands on approach to improving his script. He then decided to spend some time in the region.
"I lived with Palestinian families, met with NGOs from all sides of the conflict, and talked to people from different perspectives," he said. "After experiencing the hard day-to-day reality, particularly for the Palestinians, I knew I had to tell their stories."
Jhunjhunwala is the only screenwriter of the three to not appear in his own work so the process of casting was based on his suggestions from actors he had seen in SAFL.
SAFL member and host of Saturday's reading Farah Bala helped him to then put the cast together based on availability and balance across all three scripts.
But despite it seeming like Jhunjhunwala is less personally connected to the story, he said he knows that the true nature of writing is that regardless of plot, personal emotions and experience are always infused.
"As a writer, your culture, upbringing, experiences all feed into your writing," Jhunjhunwala said. "Different characters share different aspects of who you are as an individual. Every decision that a character makes is influenced by my own experiences, my own sense of right and wrong, my own views of the world."
This unrest between Israel and Palestine has certainly struck a chord in Jhunjhunwala's heart as he has written both a screenplay and a one-act play about the conflict, which he hopes will get produced soon.
 All three readings will take place on Saturday, May 9 at the Village East Cinemas in New York City at 3:15 p.m. For more information about SAFL and to purchase tickets to the showcase, please visit SouthAsianFilmLab.org/NYIFF.
---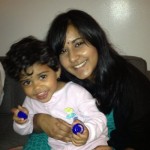 Born in Texas, went to college in Missouri and now living in New York City, Keertana Sastry has a unique perspective on being Indian in different parts of America. Keertana has been working as both an entertainment, culture and lifestyle reporter, as well as a casting assistant for the film and TV industry. She loves to infuse her Indian heritage into her work and life.