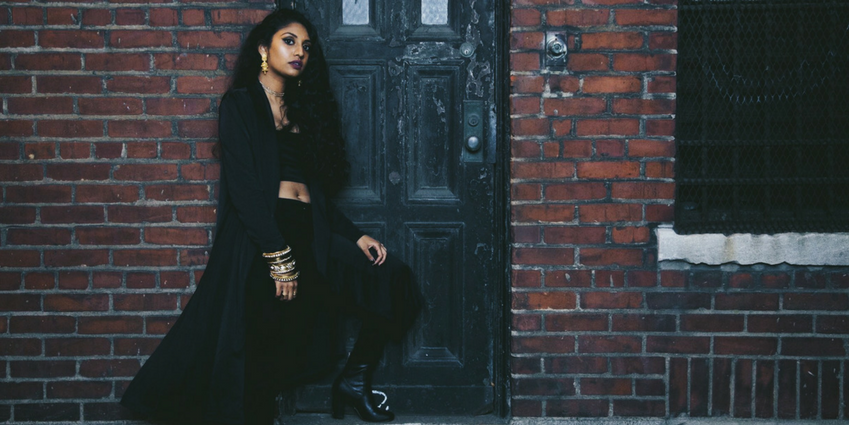 by Ravleen Kaur – Follow @rippinrav
One day, in the middle of fall semester, I logged onto Facebook and saw my newsfeed flooded with links to a brand new website launched by some of my Cincinnati acquaintances. The Smovement was gaining traction rapidly amongst my Ohio desi friends, I recently sat down with the founders of the latest online platform to discuss celebrating and promoting diasporic South Asians and the intersection of our culture with hip-hop, art and music.
Smrithi Ram and Sree Brahmamdam are two Cincinnati-based brown girls with a passion for music, dance, and hip-hop, and they have a growing love for their own South Indian cultures. Below, you can learn more about the ladies themselves, as well as the inspiration and message behind The Smovement.
[Photo Courtesy of Sarah Awwad]
1. Tell me a little about yourselves. Your background, what you're studying, and any aspect of your school and social lives that you think has been vital in shaping The Smovement.
Smrithi is a fourth-year Tamil psychology student at the University of Cincinnati. She was born and raised in California and moved to Cincinnati during high school. She has a background in hip hop, bhangra, and Bollywood fusion dance for 11 years. Sree is a fourth-year Telugu psychology student at the University of Dayton. She has been born and raised in Cincinnati and 12 years of Carnatic music experience. With our combined love for dance and music, we have tried to incorporate our South Indian culture in many aspects of our website.

[Photo Courtesy of Sree Brahmamdam]
2. What is the inspiration behind your website? Any specific artists?
We wanted to create a platform to display our creativity. We were very interested in photography and creative direction, so we thought a website would best display our vision. We also incorporate our love for hip-hop music by recognizing up-and-coming artists in the brown community. Our website gave us the platform to express our opinions on issues that brown women face daily. We love to support other creative designers that sell artwork, clothing and jewelry. We have been extremely inspired by M.I.A, Babbu the Painter, Hatecopy, Hybrid Hues and many others.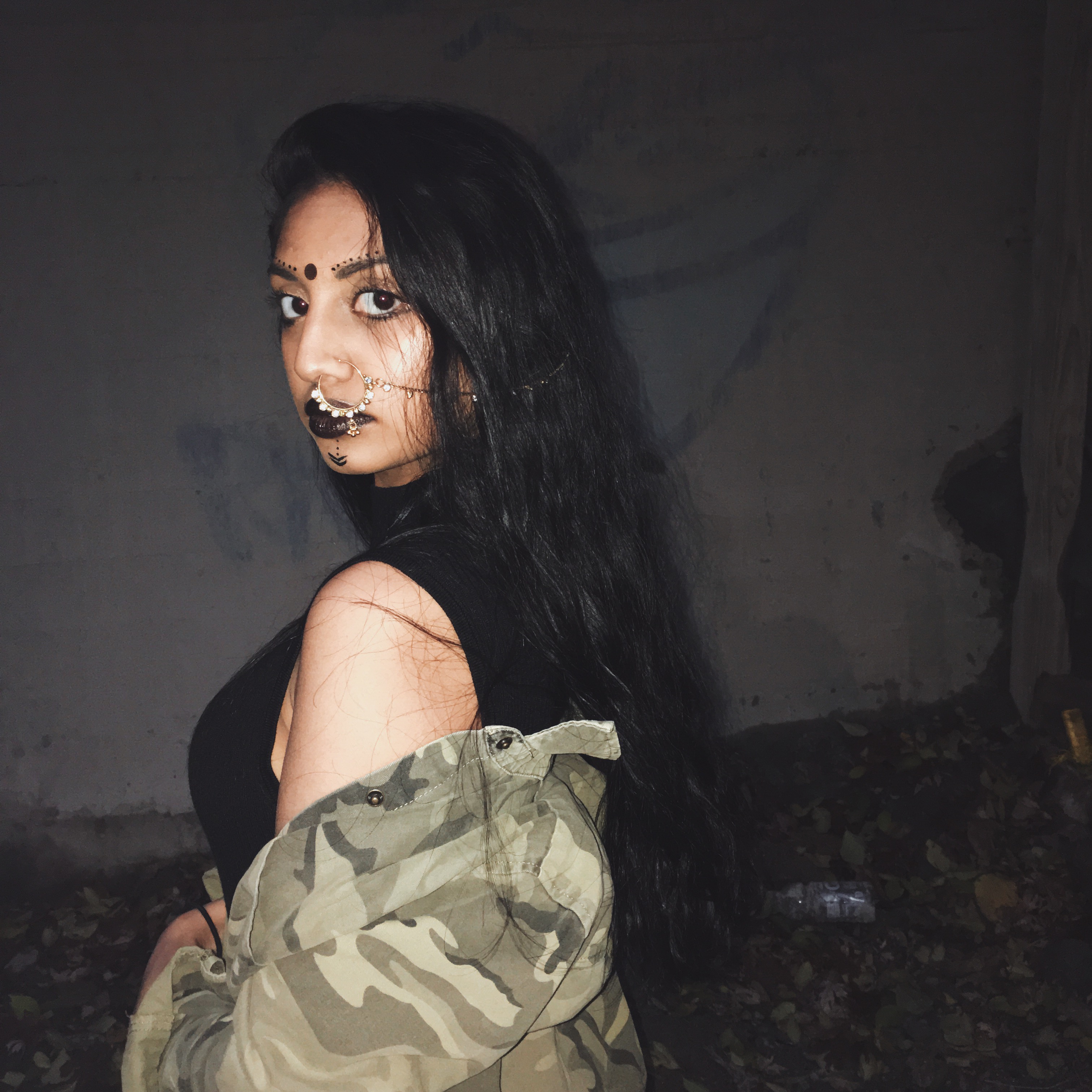 [Photo Courtesy of Sarah Awwad]
3. Where do you get your photo shoot ideas from? Can you talk more about the idea behind Rangeen? It's the first spread of yours I saw and I'd love to know what it's supposed to represent.   
We aim to incorporate Indian jewelry and/or clothing with our urban aesthetic in our photoshoots. The ideas behind them stem from our interests in fashion and being able to blend our cultures together. The idea behind Rangeen came from a think piece written by Sree called "Brown Woman." The think piece talks about the stereotype that North Indian women are more stylish and more beautiful than South Indian women. So in Rangeen, we wanted to make it a point to express that no matter what region of India you are from, we are all equally beautiful. We were able to showcase the four main regions through four different colors and geometric lines on our faces. This symbolizes that even though we are all different, we must still come together.

[Photo Courtesy of Sarah Awwad]
4. Do you feel like you've become more accepting and loving of your own culture and background through this process, or did you have to reach that self-acceptance and self-love point before starting this public journey?
As first-generation Indian women, we felt very lost trying to express our culture in a place where it wasn't necessarily accepted and recognized. We were very involved with our culture in terms of the artistic (music and dance) aspect(s) before beginning this journey. Along the way, however, our love for it grew exponentially and we were able to figure out different ways to incorporate it into our style. We wanted to reach out to other women who are feeling the same way or want to express themselves but don't know how.
5. What do you hope to achieve with The Smovement in the long-run? Would you say it's centered on promoting desi/South Asian fashion, culture, and music? 
We hope to expand The Smovement into a media collective where brown women can come together to guest write and promote their businesses, music, and fashion. We want to be able to collaborate with photographers and creative directors internationally who share our vision. In terms of our goals and dreams, we want to bring South Asian culture into the mainstream media and remove all stigmas associated with it.
Smrithi and Sree are quickly expanding their website with an ever-growing list of think pieces and photo shoots. So far, they have featured local artists in the Punjabi community, such as DJ BAAJ (Harry Bajwa of North Carolina) and have even made playlists consisting of their favorite Telugu and Tamil songs for you to check out!
Join The Smovement, stand up for your rich and vibrant culture, and help empower others to do so, too. Sree (left) and Smrithi (right) are the masterminds behind The Smovement. They've been featured on many other platforms, such as BTYQN, Velvet+Vinyl, and The Blakrein Collective. For all inquiries, please e-mail them at thesmovement@yahoo.com.
---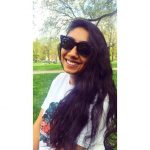 Ravleen Kaur is a student at The Ohio State University studying public affairs and public health. Her hobbies include drinking over-sweetened coffee and performing bhangra in public spaces. She is currently planning to run away from her home state in the Deep South and eventually work in the public health field.