by Komal Kazim – Follow @kazimlikechasm
When I mentioned it to my friend, her eyes bulged a bit. She said:
Oh my god, why? Is everything okay?
And then, quickly:
That's good, though. I mean, we all probably need it.
Her response was the clumsiest I had received to my admission about not being available to go out:
Sorry, I can't. I have therapy.
There was a time when I would have debated telling her, a family friend whom I have known since I was three. Our mothers, despite being friends for decades, are as likely to volunteer that kind of information to each other as they are to seek out therapy in the first place. Which is to say, not at all likely.
In my experience—and, I assume, that of so many South Asians—going to therapy is a shameful thing. It is indicative not of temporal difficulties, chemical imbalances of serotonin outside of our control or, you know, just wanting someone to talk to, but instead of an inherently damaged person. And it's a question of image, as most things are.
People will think I'm abnormal. People will question my parent's parenting. They will be wary. Uncomfortable. They will speak in hushed tones when I leave the table at a dinner party and with loud, disdainful authority on phone calls afterward. That my frustration with the stigma around seeking therapy took up a few sessions with my therapist is some cruel irony.
I never had to tell my mother about this; one of the greatest privileges I've acquired as an adult is my own health insurance plan. When I did casually mention my weekly sessions, she was upset. She asked how and why, despite her best efforts at raising me, I was "still unhappy." She said:
When we were upset, we talked to our family.
I figured it wouldn't help to point out that our family members go to painstaking lengths to hide unpleasant details from each other.
I have always known that I can talk to close friends about it. Most of them either go to therapy, used to go, or have considered it. When I worry out loud to my best friend—about the existential dread of Sunday nights, the looming threat of complacency, the latest boy to wrong me, etc.—she'll say:
I can't recommend SSRIs enough.
And I laugh because it's funny, but it's also reassuring. We won't waste any time pretending everything is fine.
Openness from my friends is what encouraged me to seek out therapy when I needed it in the first place. Eventually, I stopped going out of my way to make up some other excuse for why I am busy on Tuesday nights or wondering whether it's a good idea to talk about it.
(Spoiler alert: It definitely is a good idea to talk about it.)
Now, in conversation I'll say without ceremony or taking a deep breath:
Well, my therapist says…
Yes, it is personal, but it has nothing to do with wanting to air personal information. It has everything to do with giving visibility to something that feels as ordinary and necessary for me as shopping for groceries. The process of normalizing a topic by just talking about it is the simplest concept, and yet so frustratingly rare for mental health.
So when I told this Pakistani friend that therapy helps me make sense of my feelings towards people and situations, helps me avoid burdening friends with emotional baggage, and in general, teaches me about myself, she said:
You know, I always wondered whether I should talk to someone, and I have no idea where to even start looking.
I gave her some tips. I don't know if she will follow through on it, but I do know that there is lightness in discovering that you aren't alone.
May is Mental Health Awareness Month. If you would like to contribute to our #TherapyTalk series, please email us at Staff@0mq.349.myftpupload.com with your submission.
---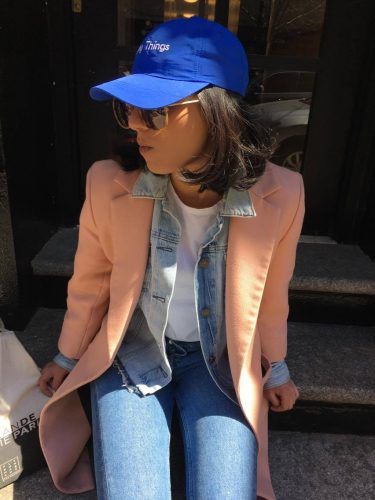 Komal Kazim lives in Brooklyn, NY and works in advertising. She likes anemones and Kanye West and is a diehard poptimist.