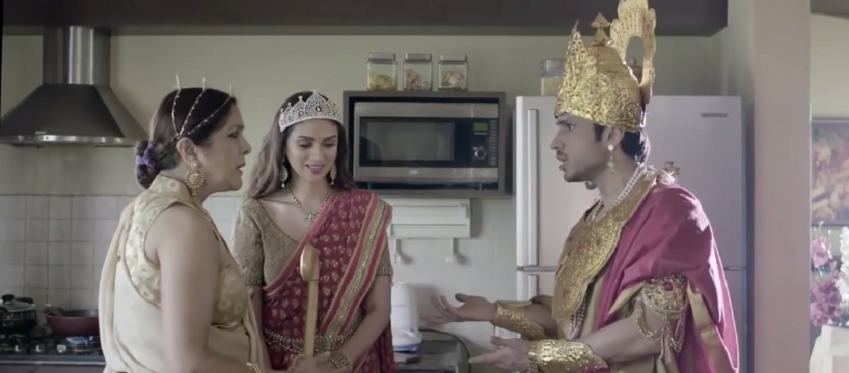 by Sundeep Hans –  Follow @sundeephans
Even if you're someone only vaguely familiar with the classical Indian epic Mahabharata, you'll find 'Mama's Boys' pretty funny.
This short film brings the story of the Pandavas and Draupadi (Aditi Rao Hydari) to the 21st century but leaves them in their ancient clothes (for the most part). Homeboy Yudhishthir (Akshay Oberoi) rocks sunglasses throughout the film and his Polyandrous marriage.
The ridiculousness of the original story of the Pandavas in Mahabharata, where Mama Kunti (Neena Gupta) demands that her son, Arjun (Amol Parashar) share his new wife. The wife who was won in a competition (literally a trophy wife) is ordered to be shared amongst his four brothers. This scenario is amplified in the modern world, and it's the butt of the joke in this short film.
Rounding out the cast are Jim Sarbh and Vivaan Shah, who aptly play the duo of Nakul and Sahdev as gay designers, and Arunoday Singh is the muscle head Bhim. We also get a brief glimpse of Shakuni (the late Razak Khan), gambling with Yudhishthir (ha!).
If you don't know the original story you'll probably be lost. I'd suggest a quick review but I'm not sure if there is a Coles Notes/Cliff Notes version of Mahabharata…so Wikipedia might be your best bet. Or if you're really brave you can stream the latest Indian drama serial based on the story, maybe Suryaputra Karn on Sony or something to get a bit of background (don't do it!).
Hydari, for me, steals the show. Her Draupadi is not being "brave" (I always found her acceptance of her fate and it being lauded as bravery, unpalatable in the versions I've seen) she truly seems intrigued and is relishing the idea of marrying all five brothers.
Overall, though, while there is a lot of 'dude/bro' humor, tons of sexual innuendos (orgies, threesomes, blah blah blah), some tired jokes (Punjabi's love rajma, we get it!) and several clichés, it is a good watch. It must have been fun to make as well because the entire cast looks like they're having a blast.
---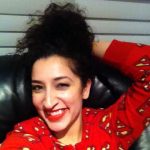 Sundeep Hans was born in Toronto, raised in Brampton, with a slight detour via Punjab. She has a great job, where her work involves collaborating with clinical and community leaders on initiatives around diversity, equity and inclusion in the region to reduce barriers in health care access in vulnerable populations. She has a Master's degree in Global Diplomacy from the School of Oriental and African Studies, University of London, a Bachelor's degree in History from the University of Southern California, and is almost finished with her post-graduated certificate in Ethics. She loves to read, travel and talk to anyone every chance she gets. You can follow her on her blog and on LinkedIn.