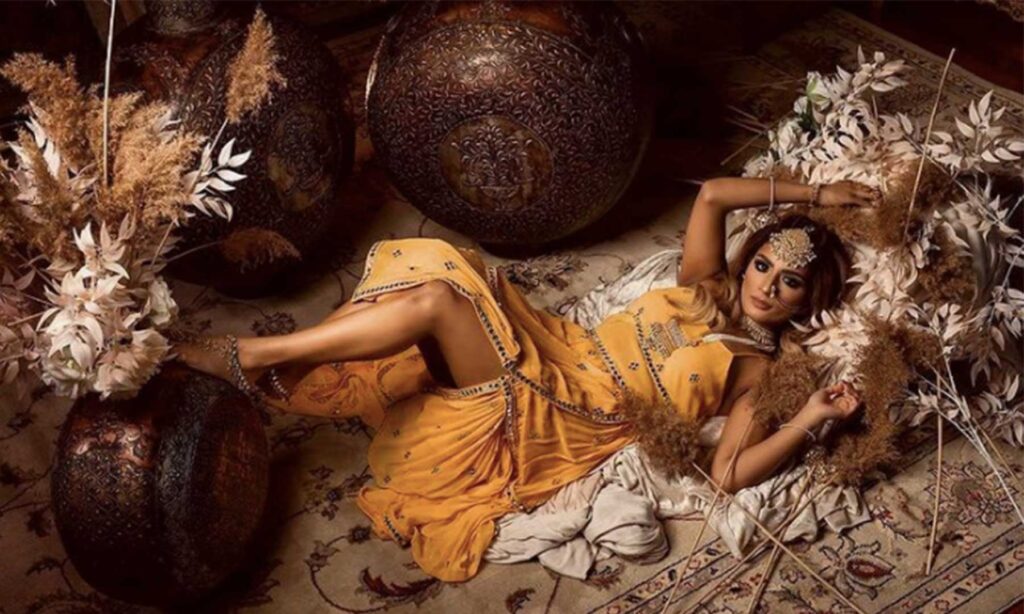 Dancer? Actress? Content creator? — You've got all three of these creatives in Toronto-based Tia Bhatia. Bhatia made her mark in the work of cinema through her work in films like "Dr. Cabbie" and "Anatomy of Violence," but there's more to this actress than meets the eye.
Philanthropy, social media and family fuel Bhatia's drive to see success, and there's no stopping her from making an impact and leaving a unique imprint with her talent.
Here's an exclusive Brown Girl Magazine-style chat with Bhatia on her career, initiatives she's involved in and more!
Tia! You're no stranger to the Brown Girl Magazine audience, but why don't you give a quick introduction of yourself.
I'm a content creator, actress, and a proud daughter. I was adopted at a very early age and brought into a beautiful loving home. I started training in acting professionally by the age of 17 and worked on my first film by 22. I went to New York and studied at the Lee Strasberg Theater & Film Institute, while in Toronto I studied at Armstrong Acting Studios. Entertaining has always been a passion of mine; somehow since I was 3 years old I knew I wanted to be on TV.

I also work with a wonderful organization called World Vision. We work to help educate girls in villages, in India, by making washrooms for them to use. Many girls miss [classes] or are pulled out of school when they get their period because they do not have a safe place to take care of themselves. So this is where I fell in love with the Rise Up Daughters India initiative created by World Vision.
View this post on Instagram
I love that — such an imperative initiative!
Let's start at the beginning of your professional journey — acting. What pulled you toward the world of entertainment?
The thing that pulled me towards entertainment was the idea that I could be anyone I wanted to be on screen. I could be a doctor, criminal, a hopeless romantic and so much more within this beautiful line of acting. As a child I always pretended I was accepting awards; I would mimic actors I watched on TV and I would create my own storylines. I've always had such a colorful imagination.
And that colorful imagination has led you to some amazing acting opportunities already! But of course, there are always hardships along the way, especially in the world of entertainment. Talk to me about what roadblocks you've faced so far.
The biggest roadblock I faced, and something that I have spoken about as well, is rejection. The amount [of times] actors/actresses get rejected, or don't hear back on auditions, is actually insane. Many people go through hundreds of auditions and don't book anything. Then one day they book that role that takes them off in their careers.

The other roadblock in acting was convincing my parents that this is what I wanted to do. It took a couple of years for me to speak up, and on this journey my parents went from being just 'mom and dad,' to being my best friends and supporters.

[But that's not all.] There's another roadblock I need to mention and that's within the world of content creation. When you put yourself online you always know you are going to be subject to some kind of negativity. You think you are prepared, but when it starts happening you begin to question everything. I was irked by comments about my dad's turban; I was irked about comments on how I am just a rich man's daughter; I was irked about comments about my weight. There is so much more, but that was during the initial years.

I am lucky I had a great support system around me, and so I got through it. So whenever I come across any of these comments, it doesn't phase me. I do love responding to hate though because if I can help educate someone, why not?

Also, I do have a slightly sassy side which I can thank my mom for.
Can I just say that I absolutely LOVE your relationship with your mom — she deserves a special mention!
Let's circle back to your thoughts on rejection as one of the biggest roadblocks you've faced as an actress. For anyone reading this today, and going through the same experiences, tell them how you overcome rejection?
Rejection is a part of life in anything you do. It can come in the form of your feelings, at your workplace, and in your own household even. What I learned is that the world doesn't stop for anyone. It's something my father taught me, so I have it in me to always move forward. The world will keep turning even if you want everything to stop for a second. Hearing stories of how my father was rejected and how resilient he was and still is, kept me going. So every rejection is a lesson, and every rejection will guide me in the right direction.

Many people think that because I come from a prominent family, I don't face rejection. Yes, I have the privilege and I will always acknowledge that and speak vocally about it. That being said, it doesn't mean I don't face rejection in the industry. If I didn't face rejection I wouldn't learn what I have learned.
Speaking about learning, what have you learned about representation in Hollywood? How do you feel about representation in the industry today?
REPRESENTATION MATTERS. To see so many people who look like my family and me is such a proud moment. Look at shows like "Never Have I Ever," "[The] Mindy Project," "Bridgerton," "Degrassi" and many more. Growing up I would watch "Degrassi" and learned that people like me can also break into mainstream cinema. As a child, seeing individuals like Melinda Shankar, Raymond Ablack, Kal Penn, Mindy Kaling, etc., gave me an unconditional wave of hope that I can do this too. It's beautiful to see so many people within the South Asian community, consistently breaking barriers. They are paving the way for so many more.
View this post on Instagram
You're right — the industry has definitely come a long way, but of course, representation is a work in progress in Hollywood. What changes would you like to see implemented to make people of color more prominent in the Western entertainment world?
The changes I would like to see implemented to make South Asians/people of color more prominent within the Western entertainment world are already happening, but slowly. We are seeing us play main characters as well. That being said I would love to see more South Asians/people of color nominated in supporting and lead categories. I want to see movies with people who look like me at the forefront. When I say this I think of the movie "Lion." I want producers to get on board with sharing stories of people from different walks of life.
Despite the strides that we have seen people of color make in the west, do you feel that they are still represented in Hollywood through a stereotypical lens?
I do feel there is a change in how people of color are being represented in Hollywood. So many stories are being told with the magic of TV/film. We are learning more and more every single day. Looking at shows now, the stereotypical aspect has been deteriorating. We are seeing South Asian characters without the head nods and the extremely thick accents. We are seeing people of color taking on strong roles that do not have them playing just a victim. We are seeing their stories, sharing their stories, witnessing their battles, and feeling their struggles and pain. We see resilience. There is so much change happening, but I wish it would happen quicker.
View this post on Instagram
Agreed! Ok, let's switch gears a bit…talk to me about your dream role!
Now this is a great question. My dream role has everything to do with Sci-Fi/Fantasy and even period pieces. I am obsessed with the Marvel cinematic universe and obsessed with movies like the "Harry Potter" series, "The Crown," "Game of Thrones," and "Lord of the Rings." My ultimate dream role would be to be a part of the Avengers, a kick ass super heroine. There's just something so magical about being a part of these endless creative storylines.
I think it would be a dream come true for people of color to see a South Asian super heroine in an Avengers movie — go get it, girl! And lastly, before signing off, who is that one celebrity that you'd like to switch lives with for a day? Why?
Reese Witherspoon! Watching her from when I was a child, to seeing how she is on some of the most amazing television shows while also producing them, is boss status. I love the trajectory of her career, and I find her so versatile.
And to think that her journey is still so young! We're excited to see where Bhatia takes her career from here and what she's got in store for her audience!