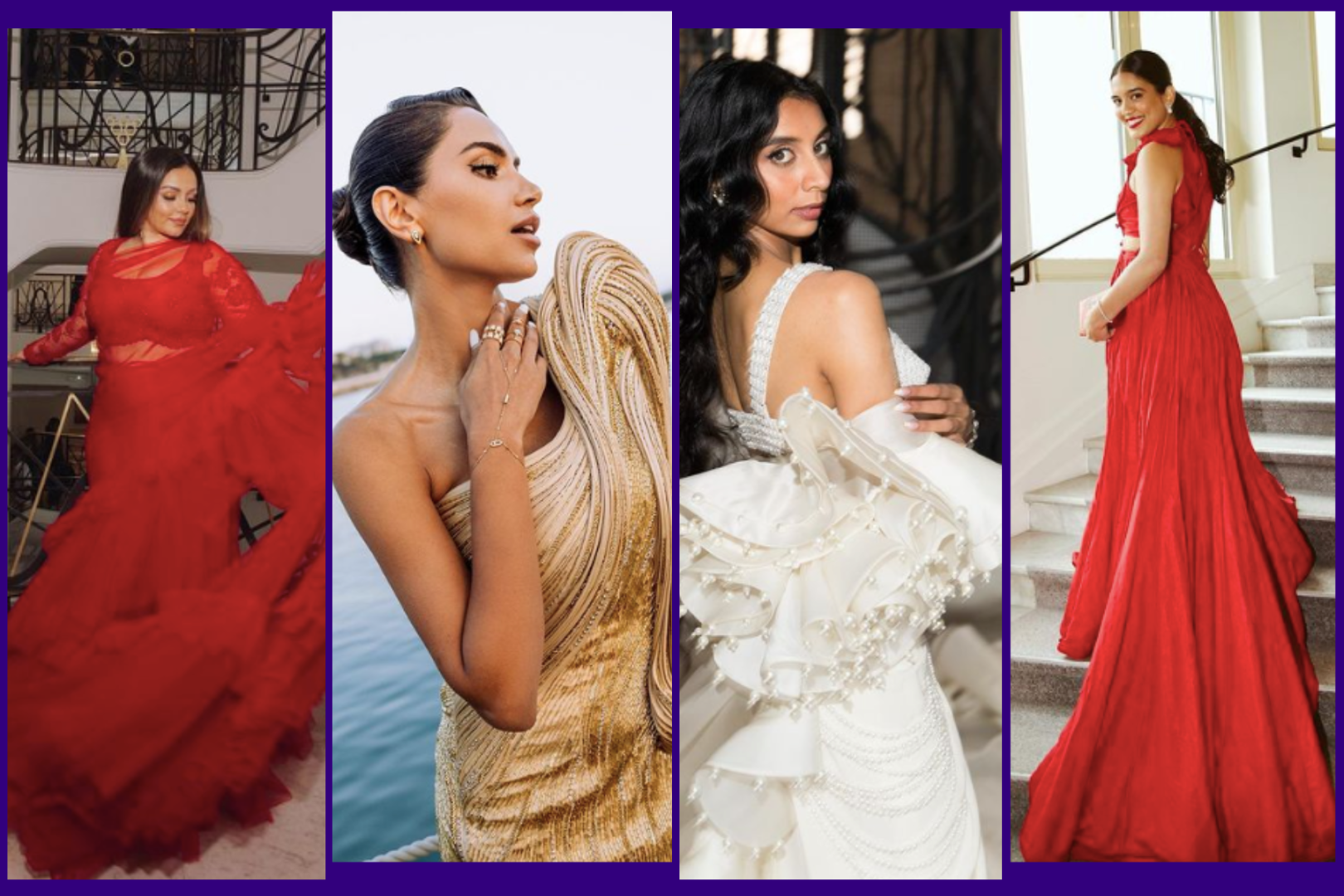 Ever since we can recall, the Cannes Film Festival has been a merger of movies and glamour. On one side, there are hand-picked films — ready to premiere and make their mark in the world of entertainment — and on the other, audiences and paparazzi alike are served epic moments in fashion.
The festival, aimed to preview upcoming films from all over the world, invites a wide variety of guests that span the film fraternity, of course, but more recently, has opened its doors to many digital content creators, including renowned South Asian creatives.
With a more vast guest list comes a more recent debate: Cannes is a film festival and not a fashion showcase. Kickstarting the debate this year was none other than ace Bollywood director, Nandita Das, who in an Instagram post shared:
Sometimes people seem to forget that it is a festival of films and not of clothes!
In short, Das wants Cannes' narrative to continue to focus on films.
But of course, there's been a paradigm shift in the guest list over the last few years; this shift has allowed talents from various industries — including lifestyle content creators, entrepreneurs, etc. who showcase their work in fashion and beauty like fine masterstrokes — to walk the carpet and represent their craft, making space for others in their industry.
Influential names like Dolly Singh, Kaushal, Diipa Buller-Khosla, and Shivani Bafna — all of whom made a raging impact on the red carpet this year — weigh in on the significance of representing South Asian artists/influencers on the red carpet, and how they feel they've been part of this paradigm shift at Cannes Film Festival.
Diipa Buller-Khosla
I believe that each step we take at events like Cannes sends a powerful message of diversity, cultural richness, and artistic excellence. Representation matters, and the presence of South Asian creators on the red carpet at Cannes helps broaden the narrative of beauty, talent, and creativity. It allows us to showcase our unique perspectives, narratives, and contributions, ultimately contributing to a more inclusive industry. By actively participating and making our presence felt, we help create more opportunities and spaces for South Asian creators, encouraging others to share their stories with the world.
View this post on Instagram
Kaushal
Since 2015, the first time I walked the red carpet, till this year I have always been invited by L'Oreal Paris, one of the main sponsors of the event. It has always been such an honor to be invited to the festival through the makeup brand that I have been using for almost two decades, and, before my social media career began. Personally, I feel a sense of acknowledgment from such a prestigious brand, and its head office teams that sponsor Cannes Film Festival, and value the work I have done and continue to do as a South Asian content creator within the beauty space. Makeup, hair, and beauty will always play a big role within the film industry and it's something I have always created my content around which is why I am proud to attend.
View this post on Instagram
Dolly Singh
This is a proud moment not just for me but also [for] my peers and the entire content creator ecosystem given that we have reached such new global stages and presence. Of course, as you said, such film festivals, once considered as an exclusive hub for a congregation of the finest acting talents have, in the last few years, opened their arms to more people from the entertainment industry.

This is not just a sudden phenomenon with a burst of Indian creators at the festival this year but there is increased participation from non-film and non-South Asian celebrities across various spectrums from different sides of the world. Along with the many filmmakers, actors, producers, etc I also met some amazing influencers and entrepreneurs from other sides of the world. It's amazing to represent India and celebrate and champion the advent of the digital ecosphere on such a prominent platform.

The confluence of actors and creators signified the amalgamation of traditional cinema and new-age digital influence, highlighting the transformative power of creative expression and how festivals like Cannes have become more forthcoming and progressive in their approach.

Cannes, like any other prominent festival, boasts of a red carpet that is synonymous with fashion and glitz, and I wanted to use this opportunity to represent all the amazing Indian fashion designers on the carpet besides, of course, attending the screenings. As someone who is just not an influencer but also an actress, I thoroughly enjoyed all the red-carpet screenings and meeting like-minded film talent from around the world at the event. At some point in the future, I would like to be attending Cannes for a film I've featured in.
View this post on Instagram
Shivani Bafna
Creators are often placed into boxes of where they belong and the rooms they can be a part of. Being on the red carpet dismantles the ideology that there's a cap on how far we, as creators and as a South Asian community, can go and what we can achieve.

The Cannes Film Festival has always been viewed as the epitome of a glamorous event — everyone who attends looks like they're living their best lives. I used the platform to share an authentic message of what the experience felt like for me. To represent all of us who doubt our potential, experience imposter syndrome, and are nervous to find their place, yet continue to push through to achieve their dreams!

As the first Indian American influencer to walk at Cannes, I hope I can inspire young women to confidently ask, 'Why not me?'
View this post on Instagram
There's no doubt that the Cannes Film Festival is centered around films, and continues to be a unique space for the global film fraternity to bring their art and showcase their aptitude. But, creators like Bafna, Singh, Buller-Khosla, and Kaushal — a special shoutout to Raja Kumari for being instrumental in paving the way as well — have their own set of responsibilities to fulfill upon their invitation to the prestigious event. Their will to represent their South Asian identities, celebrate their industries, and continue to hold space for their peers makes their presence at Cannes more than just clothes.
All images in the featured photo are from the influencers' Instagram feeds.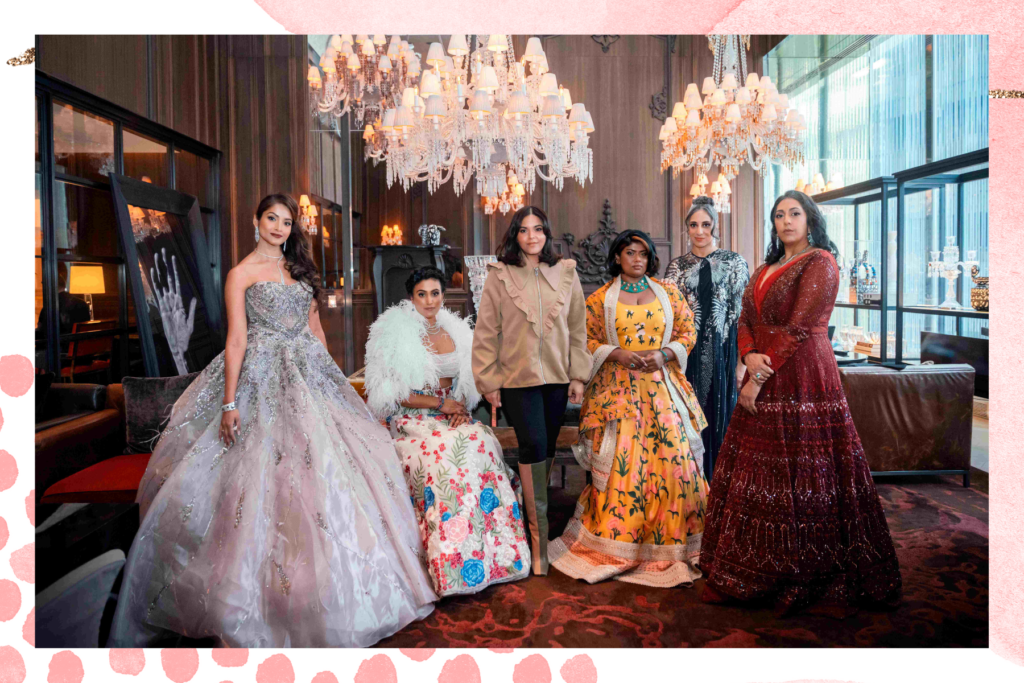 Indiaspopup.com — USA's premier online destination for luxury Indian designer clothing and accessories — is a global platform for South Asian fashion. It curates inclusive, embracive, and conscious trends and styles from the heart of India to its global shoppers. Founded by Archana Yenna, the company honored South Asian women from various walks of life who are leading the path for future generations. The luxury retailer hosted a 'Power Table' dinner at Armani/Ristorante in New York City with South Asian women leading the change in fashion, entrepreneurship, media, entertainment, and journalism.
At Indiaspopup.com, we empower and celebrate women through authentic South Asian fashion and community contributions. As we celebrate Women's Day, we remain committed to sharing inspiring stories of South Asian women achievers and changemakers. Our recent 'Power Table' dinner in New York City celebrated remarkable women — trailblazers of South Asian heritage, inspiring the next generation of female leaders to dream big and chase their aspirations.

— Archana Yenna, Founder and CEO of Indiaspopup.com
View this post on Instagram
The company also honored five South Asian female role models that have been instrumental to the diaspora with their various works in nonprofit, societal causes and community building:
Nina Davuluri – acclaimed filmmaker, activist, actor and entrepreneur
Megha Desai – president of The Desai Foundation
Shoba Narayan – film, television, and theater actor
Hitha Palepu – entrepreneur and author
Cynthia Victor – beauty influencer
Yenna honored these women for breaking stereotypes and spreading positivity on body sizes, health, confidence, and skin tone. Through her work with Indiaspopup.com, Yenna hopes to help women feel beautiful, confident, and feminine, and make progress toward positive change. In a series of photos shot in New York City's Baccarat Hotel, dedicated to the quintessence of luxury and excellence, Indiaspopup.com produced a high tea-themed photoshoot to celebrate its honorees.  The women wore avant-garde clothing donning some of India's most prominent designers while sipping tea, dining on canapés, and enjoying one another's company. Exemplifying Indian royalty, the women championed one another and the power of sisterhood, and shared what womanhood meant to each one of them.
During the two-day festivities, Indiaspopup.com announced their partnership with Sakhi for South Asian Women, an NGO that represents the South Asian diaspora in a survivor-centered movement for gender justice. Sakhi applies a trauma-informed, culturally responsive lens with a long-term commitment to mobilizing a future free from violence. Yenna pledged to donate a portion of sales from the month of March to the organization.
Sakhi for South Asian Women is grateful to Indiaspopup.com for uplifting and investing in our work with survivors of gender-based violence. Nationally, 48% of South Asian Americans experience gender based violence throughout their lifetime, and at Sakhi, we have seen a 65% increase in cases over one year. This support will help us address the overwhelming need in our community and continue our commitment toward a future of healing and justice.

— Kavita Mehra, Executive Director at Sakhi for South Asian Women
To learn more about Indiaspoup.com visit their website.
Photo Credit: Saunak Shah / Video Credit: Swapnil Junjare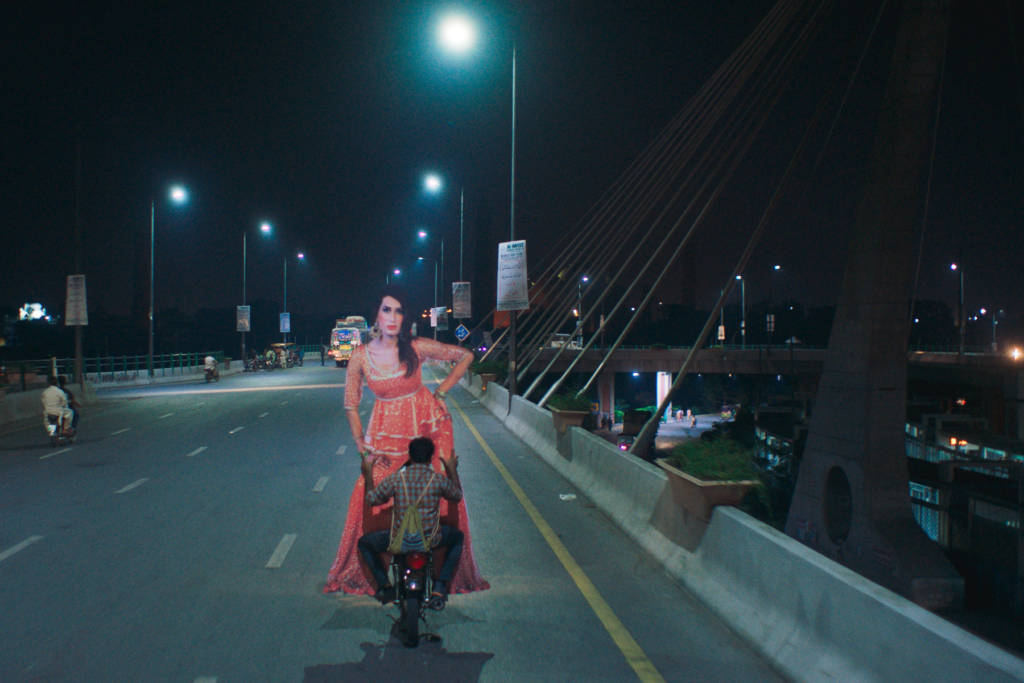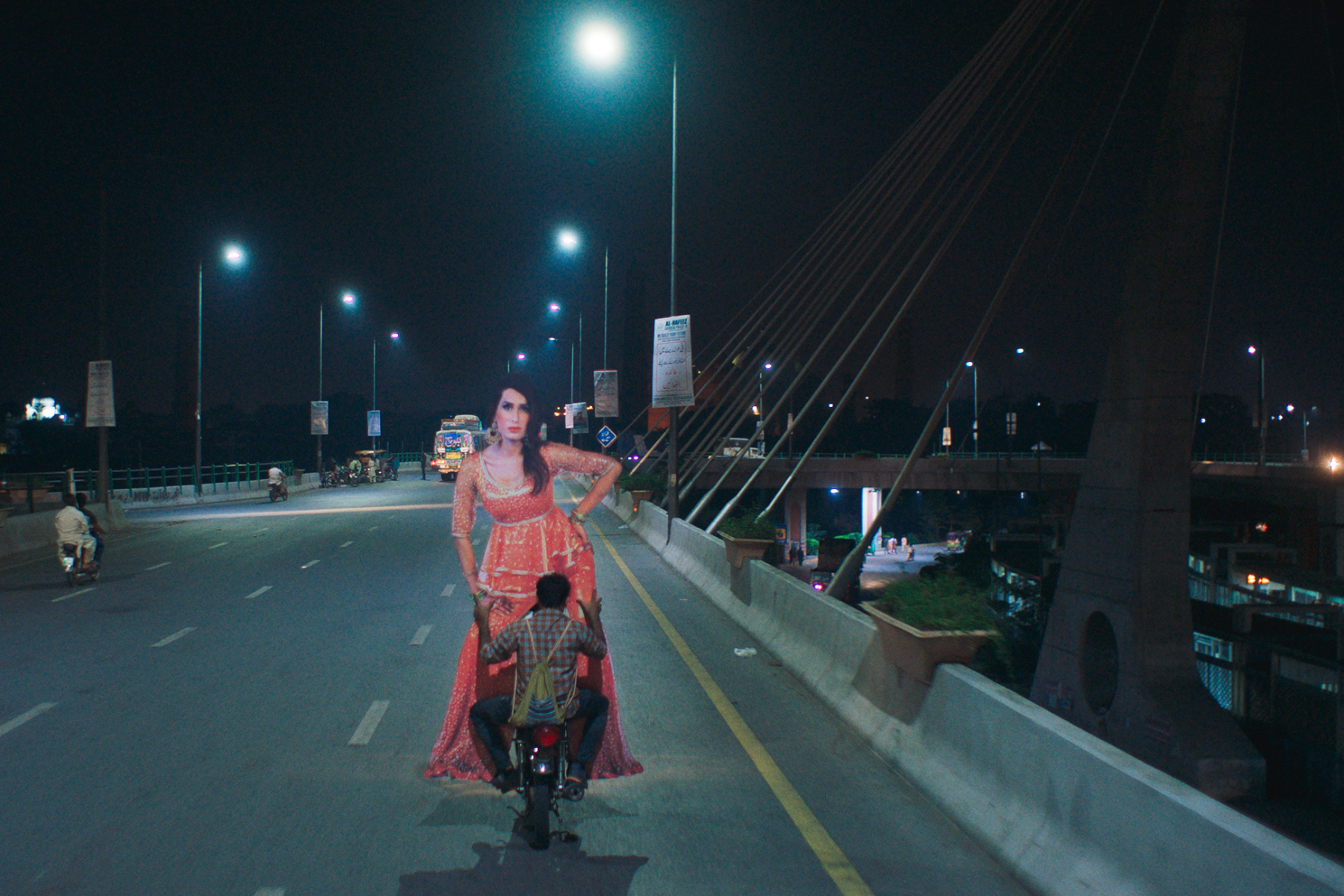 Haider wades his way through Karachi's expansive beach, climbing and tumbling over rocks, in Mumtaz's memory. The vast landscape is perfectly encapsulated in the 4:3 aspect ratio — an unconventional yet welcoming choice. He vanishes into the sea, leaving his storyline open-ended. The screen fades to black. The film comes to a close. The gentle humming and lapping of the waves disappear. However, I stay put. Stumped, and unable to comprehend the masterpiece that Saim Sadiq, director of "Joyland", has blessed Pakistanis with.
The winner of the jury prize at the Cannes film festival, as well as Pakistan's entry for the Academy Awards 2023, "Joyland" has been marred with controversies (and subsequent bans) from the onset of its win. Ironic, since the film's core message promotes tolerance and acceptance. Tolerance for unconventional norms, sexual/gender identities, and human emotions and desires.
"It's so important to narrate these stories in today's world, where we're often divided and seldom united," says producer Apoorva Charan during an exclusive chat with Brown Girl Magazine.
It's her feature film debut as a producer, and she's justifiably beaming with pride.
Joyland is such a win for South Asia, but particularly, Pakistani storytelling. Every person I met, I felt like there was some characteristic or quirk about them that mirrored our characters in the film.
Set in the depths of androon Lahore, "Joyland" primarily revolves around Haider (Ali Junejo) — a meek, unemployed house husband in a borderline, passionless marriage. He's happily helping Saleem bhai (Sohail Sameer) and Nucci bhabi (Sarwat Gilani) raise three kids, while the fourth one breaks Nucci's water in the opening scene. Another girl is born, despite the ultrasound's previous declaration of a baby boy. 
"If I were to receive an award based on my character in "Joyland", it'd definitely be for "best at single-handedly increasing the population of Pakistan," says Gillani, as we howl with laughter during our spoiler-riddled chat with the cast of the film. "I think that, combined with the 'coolest bhabi' — those two will have my name on them."
But Nucci's wasn't just a
bhabi
who pumped out a new baby every year. Sarwat's character was given some level of agency — a woman who reminisced about a career in interior design before marriage and kids while smoking a cigarette in secrecy.
I think my philanthropic work plays a part in how I started saying no to bechari roles. How can I be a role model to these women I'm trying to help, while playing the same characters? The change came about with "Churails" and I vehemently stuck to it. My characters need to have a voice; a backbone.
On the other hand, Haider's wife, Mumtaz (Rasti Farooq), works as a beautician at the local salon, busy dolling up brides in Lahore's unpredictable load-shedding.
Both Haider and Mumtaz seem to have a relatively stable marriage based equally on societal expectations and gender-flipped roles. While Haider stays home, helps in the kitchen, and attempts at searching for a traditional job, Mumtaz carves autonomy and independence for herself. This is in spite of an oppressive family life characterised and dictated by Haider's overly conservative, traditionalist father and patriarch, Rana (Salmaan Peerzada), who wishes for the couple to procreate a cricket team of just boys. 
But Rana, known as Abba Jee, is also layered with his own 50 shades of grey, struggling with loneliness and a lack of intimacy, mirrored in his relationship with next-door neighbour Fayyaz (Sania Saeed). His emotional desires are symbolised by his physical impediments — the former handicapped with "what will people say", and the latter with a wheelchair. The rules that he has for his children are the same that his children have for him, bound by tradition, norms, and society. They are not allowed to stray from what is considered "normal".
The film's women are strong which is pretty much a reflection of the women in Sadiq's life. While Abba Jee shuns the love and companionship that Fayyaz offers, she stands her ground until firmly asked to leave. The complexity of each person's emotions versus expectations is what makes "Joyland" relatable on a human level.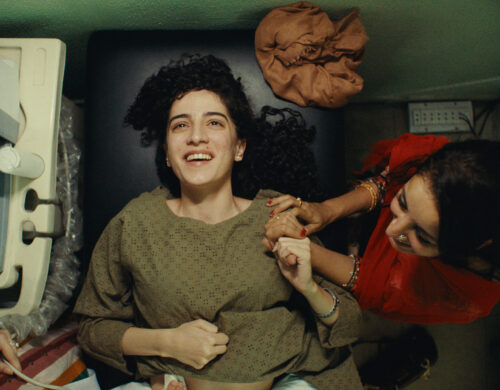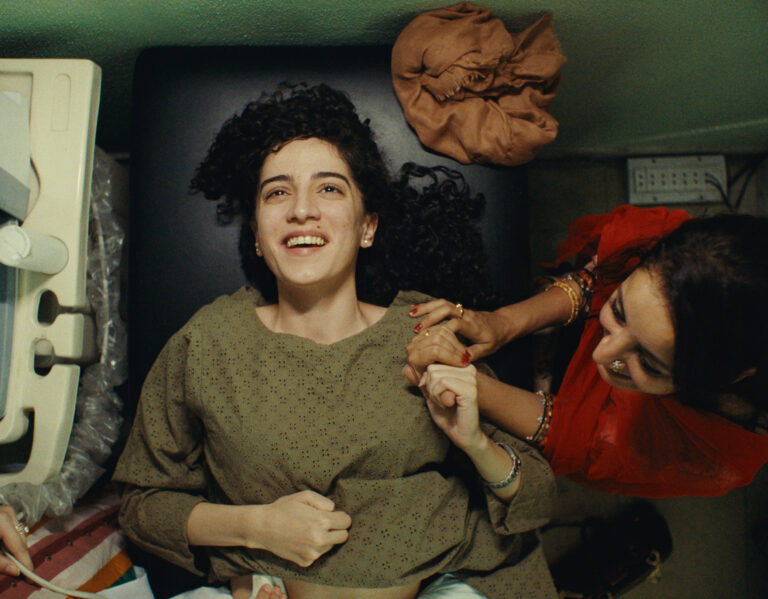 Alternatively, Mumtaz's relationship with Haider is based on convenience and habit, where two people share the same bed but sleep facing away (partially because one of Saleem and Nucci's young daughters crashes with them every night, illustrating the confined space both Haider and Mumtaz are allowed to be themselves in). The dynamics of their marriage drastically evolve once Haider's eye catches Biba (Alina Khan), covered in blood as she walks numbingly into the hospital where Nucci gave birth. The introductory scene mirrored the brutal reality of violence inflicted upon Pakistan's trans community; one of "Joyland's" most haunting moments. 
Mumtaz is asked to quit her job once Haider lands a gig as a "theatre manager" — a cover-up for his job as a background dancer at the nightclub Biba coincidentally performs at. The film portrays the traditional Pakistani marital social dynamic; men must work, and women must housekeep. Even when some level of independence is allowed to a married woman, she must forego her right to a career later in life. Understandably, it leaves Mumtaz devastated.
"It's so strange how that's just an acceptable act in our society," Farooq chimes in, voicing Mumtaz's thoughts. "Even if a woman is good at a 100 things, ultimately, she's expected to quit her job to be a homemaker because that's 'her job'."
With time, Haider falls into a routine and rhythm of working at the theatre and spending more time with Biba, allowing him an insight into the widespread transphobia she's regularly faced with. Biba confides her innermost desire to be what she termed as "a complete woman" in order to land the same dancing opportunities as her counterparts.
View this post on Instagram
Haider's daring closeness to Biba leaves Mumtaz — who at this point is reliant on him as a best friend more than the physical intimacy he fitfully provides her — alone, isolated, and depressed. For Haider, it is liberating to leave problems at home and escape into a secret world centred around his deepest desires. He doesn't want to be a bad person. He doesn't wish to hurt or leave his wife. But his happiness now seemingly lies in dancing and exchanging stolen kisses with Biba. Farooq agrees:
I think Mumtaz and Haider were best friends at this point. They had an unspoken love for each other, which stemmed from the sanctity of their relationship. They might not be in love but they did love each other. In the eyes of our society and otherwise, they were married, but they'd drifted so far apart. There was love but it wasn't possible to return from how distant they were.
This point of no return brings Haider to a crossroads — one where he is torn between his loyalty to Mumtaz and his love for Biba. Ultimately and ironically, in a particularly passionate moment, it is his curiosity pertaining to Biba's sexuality that drives her to throw him out of her life. Defeated and guilt-ridden, he comes face-to-face with a pregnant and non-confrontational Mumtaz, who, by now, is aware of what Haider has been up to but doesn't have the mental capacity to verbally digest his infidelity alongside a child she doesn't want.
Her apprehensions about bearing and raising children are indicated throughout the early days of her pregnancy. The clutching of her stomach, the tightening of the rollercoaster belt during a visit to Joyland park, and her unease during the ultrasound are just a few examples of Mumtaz's angst. 
Abba Jee's 70th birthday was the straw that broke the camel's back. Mumtaz, surrounded by family and friends and feeling emptier than ever, takes her own life. A tragic full circle where one life ends as the other begins. Her suicide is harbingered by Rana's birthday speech as he recalls a palmist once saying his bloodline would end with Haider. 
"Joyland" is replete with polarity. There is a seamless hand-in-hand flow of happiness and devastation, longing and antipathy, birth and death. Pakistani society's struggles with misogynistic gender roles are depicted in the most gentle, sensitive, and nuanced ways. The struggle is also ironic, considering Pakistan has one of the most progressive transgender legislations in the world. Trans people have the right to self-identify their ­gender in Pakistan – a right still denied to the trans community in many progressive countries, such as the UK.
A deeply reflective film with memorable and emotional characters doing justice to their performances. It's currently running in cinemas here in the UK, and we highly recommend watching this poignant piece of art.
Photos Courtesy: Studio Soho/Khoosat Films