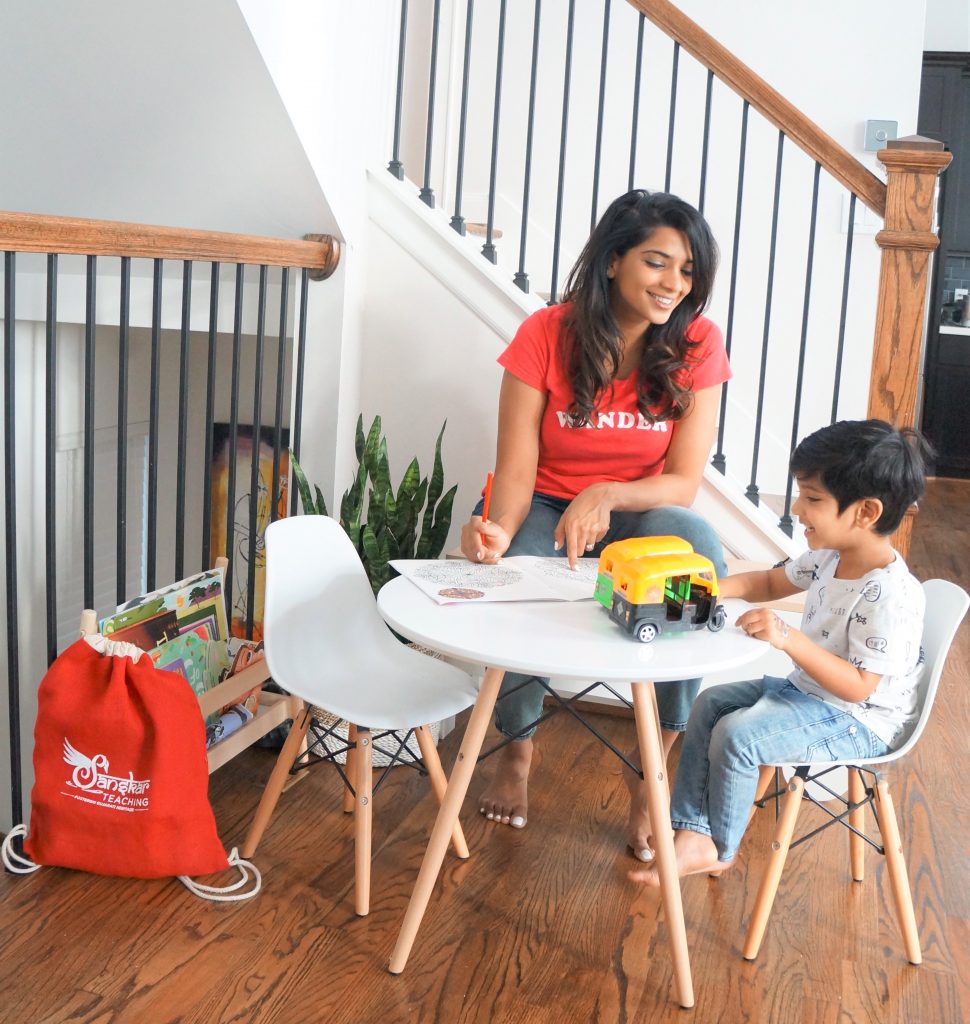 The following post is written by mom and lifestyle blogger Arushi Garg and is brought to you by Sanskar Teaching—an online platform dedicated to preserving the Gujarati culture and language using all the modern tools:  Weekly Live Virtual School plus an online course to do at your own pace. Their site also includes a shop for parents to purchase fun learning products like memory games, flashcards and the Desi Travel Kit ($49.00 USD).
My son and I recently returned from our trip to India, during which I was so glad to finally have two weeks off from work and visit my family in Mumbai, Rajasthan and Delhi. My husband couldn't join us so the thought of traveling alone on a 23-hour journey with a toddler from Houston to Mumbai seemed challenging. Yet by proper planning, packing light and maintaining some ground rules, we made it back safe and healthy, with tons of memories, lots of gifts, and of course boxes full of ladoos.
The first time I traveled with my son to India was when he was only nine months old. That trip was all about introductions with close family members and ceremonies. However, our recent trip was all about experiences and family bonding.
Some of the key highlights of our trip was when Vir marched at the Republic Day parade at my brother's society in Mumbai, his obsession with autorickshaw rides and the need to hop on one every evening with his nani, playing cricket for the first time with my brother, travelling in the Indian railway system, chasing ducks and spotting monkeys at the park in Kota with his cousins, and last but not least visiting my husband's home in Delhi.
I am so happy that not only did my son experience some of the most important parts of our culture but also returned with so many new Hindi words in his vocabulary. I made sure that I was able to expand his learnings from the trip by including educational books, games, tv shows and best of all was the desi travel kit by Sanskar Teaching we used upon our return.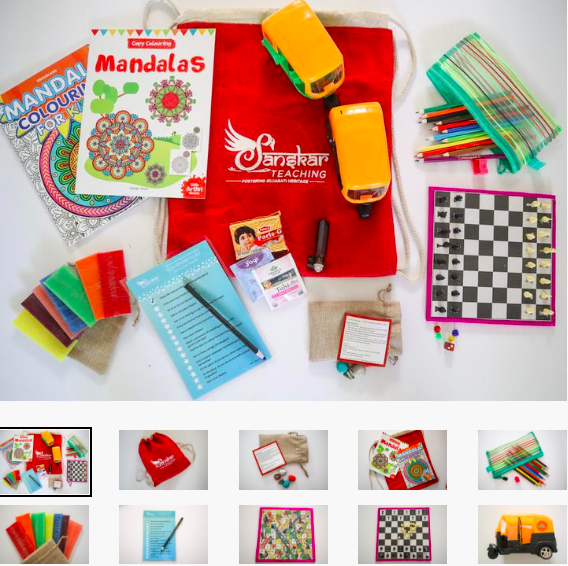 This travel kit was a huge hit in our home upon our return from India as there are some key elements in the bag that brought back some fond memories from our recent travels.
Believe it or not, it also made my husband and I a bit nostalgic, especially after seeing the Snakes and Ladders game. Even though our son is very young to play the game or to understand its full significance, our excitement drew him in.
The desi travel kit is a very well planned and thought-through activity kit for kids. I highly recommend getting one if you are travelling with kids for a long-haul flight or car ride and want to avoid screen time.
I will say the travel kit has something for children of every age and even their parents. The travel kit comes in an eco-friendly Jute drawstring bag that is convenient to carry as a backpack or portable enough to fit in your carryon luggage. These games and activities will surely foster bits of our Indian culture while keeping their busy and you relaxed.
You can also simply introduce them to the travel kit after your trip from India (like I did).
A few of our favorites from the Sanskar Teaching travel kit are:
The color pencils and coloring book: They were compelling enough even I began to  color as I opened it (so definitely fits well in the new-age 'adult coloring' world).
2. The autorickshaw: I love the quality of the toy and how unique it is. Major win for Vir as he loves his autorickshaw as much he loves his construction trucks. We ordered two kits just so that Vir can gift one to his cousin.
3. The ParleG biscuits: No kit for a kid is complete without a snack, and ParleG is truly the favorite in our house. If you follow me on Instagram, you might have seen on my recent stories how Vir loves to dip them in my coffee.
4. The Jetlag essential oil roll-on bottle (in scents geranium, lavender, citrus) and Yogi Bedtime and Tulsi Rose tea: I am carrying the roll-on with me in my travel bag now everywhere. The idea to have the roll-on oil in a travel kit is very much worth it, and I hope they sell it separately too. And even though tea leaflets are available everywhere, I love that the Sanskar Teaching team chose organic tea brands.
5. Snake and Ladders/Chess board game: This is ideal for kids a bit older and it will surely bring back childhood memories if you too grew up playing board games.
The travel kit also comes with a special game called Kooka, which is an ancient Indian game played with five stones. And lastly, the kit includes modelling with beeswax and a scavenger hunt game! I can't wait to introduce those to Vir in time as I am sure he will love them too.
In addition to the desi travel kit, I also had the opportunity to review the Sanskar Teaching Hindi memory game that has a picture with English and Hindi script on each card. We have been practising it every night before nap time (please note this game is not included in the travel kit and has to be bought separately).
Our kids truly benefit a lot from traveling, their little minds are shaped by these experiences. I have travelled with my son to five countries and so far to eight cities. And apart from making wonderful memories, we have always come back home with a new perspective.
After becoming a mom, I realized the importance of exposing our kids to these new experiences for their overall development. Yet at the same time sharing with them our own culture through language, festivals, clothing, food, books, games and activities like above is the best way to pass along our heritage with pride.
To explore 
Sanskar

 Teaching's Desi Travel Kit on Amazon, shop here.