by Amrita Kumar-Ratta – Follow @browngirlmag 
Including an aunty spice meter, adapted recipes, tips and tricks for dating, dealing with family pressure and unwanted career advice, and a humorous take on cultural appropriation, it's basically Cosmo's 'desi graphic novella' equivalent. "Trust No Aunty," first published in August 2017, is the brainchild of Toronto-based Hatecopy artist, Maria Qamar.
Qamar is known for challenging brown aunty culture through her millennial advice-columnist persona. Her new illustrated book offers the perfect combination of humor and encouragement for young desi girls growing up in the diaspora, where every day feels like judgment day at the hands of an army of aunties. "Trust No Aunty" creatively uses pop art – text boxes, bright colors, animated visuals and speech bubbles – to tell its story.
It is divided into six distinct parts, covering all essential aspects of growing up desi (defined by Qamar as "a person of Indian, Pakistani, or Bangladeshi birth who lives abroad). Each part has an associated aunty and reads like a snarky brown girl survival guide. The popular language and funny imagery make the book a light, memorable read.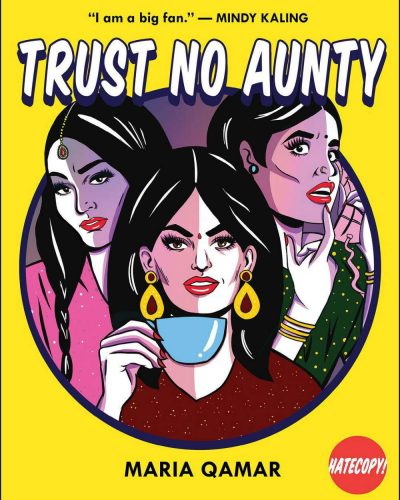 Through the book, Qamar becomes the cool millennial aunty here to advise on how to navigate all of the auntie bullshit that constantly surrounds us. This raw and real voice of reason is ironic, but perfect and necessary. As Qamar subtly implies in the book, we're all on our way to becoming aunties, it's just a matter of us carving our own paths and deciding for ourselves which kind of aunties we want to be.
This book is an important addition to the work of the growing landscape of ambitious, talented, courageous brown girls. It is a source of inspiration, with relatable content for young girls growing up in the South Asian diaspora today. It is a reminder that it is okay to be different, to be a non-conformist, to pursue non-traditional careers and to be a risk taker.
"Trust No Aunty," like any good experiment, also has a few missing pieces. I found myself turning each page, longing for more fusion recipes and more creative, witty how-to guides. As a fellow desi woman, I wanted more interactive survival tips. More than that, though, I wanted more of Qamar's story of rebellion and rebirth. But of course, we haven't seen the end of her. This is really just the beginning.
As Qamar herself has said, the book is "a big inside joke" that's not meant for everyone to get. Rather, it's meant to unify, amplify and encourage community. It's meant to raise self-esteem and subvert harmful stereotypes, both within and outside of desi communities. Above all, Qamar's book illustrates the power of art – the ways in which it can challenge, provoke, inspire and heal.
---
Amrita Kumar-Ratta is a lifelong learner, a passionate traveler and a self-proclaimed transnational feminist activist. She holds a Master's Degree in Global Affairs in addition to a Graduate Certificate in Ethnic, Immigration and Pluralism Studies from the University of Toronto. She is a diversity and inclusion professional, a gender equity researcher, and a fierce social justice advocate, both in Canada and internationally. An active member of numerous municipal planning committees, research advisory groups, and community initiatives in the Greater Toronto Area, she adores social policy research, loves to ask hard questions and is a firm believer in "thinking globally, acting locally". She finds her self-expression in dance, literature and theatre. She recently wrote and performed her own solo show, '50 Shades of Brown Girl' in Toronto and is currently working on identifying avenues for its expansion.