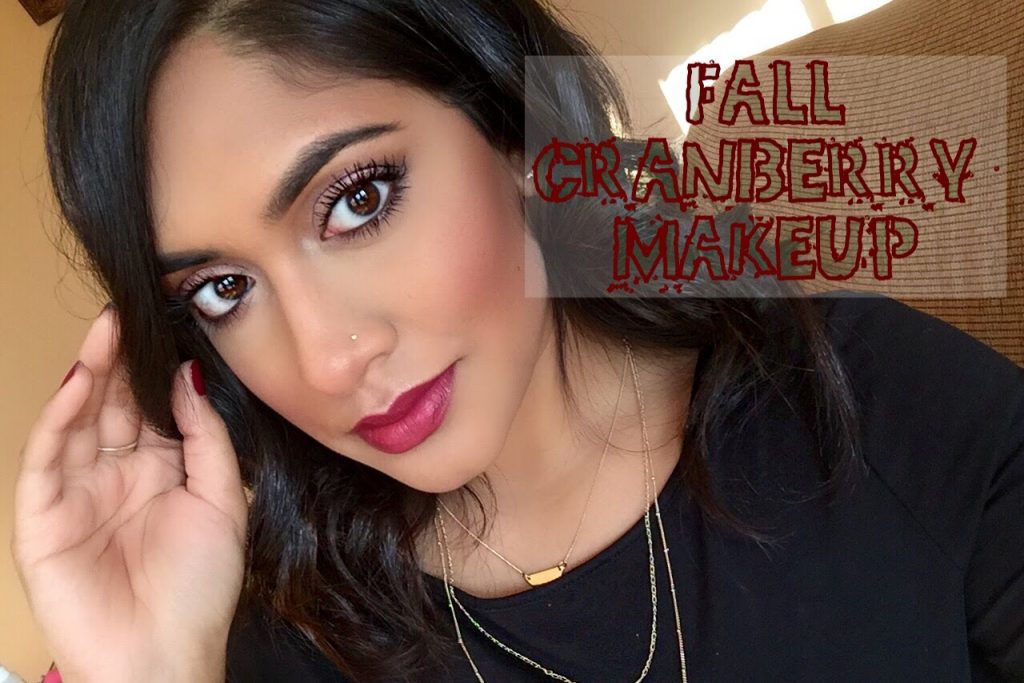 Hi loves,
The color cranberry in fashion and beauty is everywhere so I created a simple and soft look to get you looking on trend without breaking the bank!
I found some amazing products at the drugstore to create this look, which is guaranteed to leave a lasting impression on the eyes and lips. Share your thoughts on the look below! xo
[Subscribe To Our YouTube Channel for more BG Related Stories!]
And for more daily beauty tips and ideas, follow Sapna on Instagram and Twitter! 
_ _ _ _ _ _ _ _ _ _
Products Used:
BlackUp Cosmetics CC Cream -CC01 (Not shown)
Nars Smudge Proof Eyeshadow Base
Used as an eyeshadow base for long-lasting eyeshadow wear and no creasing.
Maybelline Blushed Nudes Eyeshadow Palette
Eyeshadow colors used are shown in the video. Used a few shades dry/wet to more intensity.
Mario Badescu Facial Rosewater Spray
Used this facial spray as a medium to dampen my brush and "foil" the eyeshadow aka use wet to intensify the colors.
Urban Decay 24/7 Glide-On Pencil Whiskey
Deepened waterline with this warm brown eyeliner that stays put both in my upper and lower waterline.
L'Oreal Voluminous Manga Rock Mascara
Literally, SO good at lengthening and volumizing my lashes.
Sephora Serum Concealer -Tatin
Used after eyeshadow application under the eyes to "clean-up" the under-eye area and brighten/conceal my crazy eye bags! This formula is especially so amazing for you DRY skin ladies.
Sephora Bright Set Loose Powder -Banana
Setting powder used in a "baking" technique to set the cream makeup, mattify, and create a poreless finish in areas of the face including my T-zone.
Beauty Blender
Used to set the concealer without providing that cakey look everyone dreads! A new and big fan of this yellow based powder, perfect for brown skin girls!
Charlotte Tilbury Filmstar Bronze & Glow – Medium to Dark
The perfect warm halo-esque bronzer to make your complexion without harsh contouring. There are tiny shimmers in it which give the face more dimension and not look flat.
Nars Dolce Vita Blush
All time favorite blush for years that looks great on ANY skin tone as well as the perfect dusty rose Fall color, a MUST try!
Nyx Lip Liner Nutmeg
Applied as a base all over lips prepping for long wear lip color. I used this darker shade to provide more depth for the ombre-ish lip I was going for.
Revlon Colorstay Overtime Lipcolor -Always Sienna, Perennial Plum
Seriously the perfect lip choice for Thanksgiving and any event if you want a lip color that lasts through all that turkey and lasts at least 12 hours, personal experience. Used the "Always Sienna" shade first but applied lightly and blended in as a stain. Topped with "Perennial Plum" to add dimension/depth not to mention the perfect cranberry lip duo that will last hours and hours!
Special thanks to Hafsa for providing this cover of Ed Sheeran's "Thinking Out Loud."
[Subscribe To Our YouTube Channel for more BG Related Stories]