by Saloni Gajjar – Follow @browngirlmag 
The efficacy of social media is obviously unprecedented today. To use that power for good is what's important. That is exactly why two classical Indian dancers, Srinidhi Raghavan and Sahasra Sambamoorthi's, work matters right now. In their video series, "The Mirror—A Glimpse Within," they highlight three important social issues the world needs to hear about.
Technology is the epitome of modern life. Imagine using it to enhance the beauty of a traditional dance form? "The Mirror" marries the usefulness of this technology with the grace of Bharatanatyam, a classical Indian dance form. It consists of three videos focusing on anxiety, gender bias, and the idea of what home means respectively.
Raghavan and Sambamoorthi, the two dancers who are the brain behind this series, along with the rest of their time, worked hard for eight months to produce "The Mirror." Now, it's finally here.
The two met via Columbia Taal, a South Asian dance team in New York City. After graduating, they collaborated to choreograph and perform "Her Story," which went on to tour ten cities in the U.S., the U.K., and India between 2008-2009. Clearly, this is a team that has always intended to combine their storytelling with their dancing skills.
In "The Mirror," their first video talks about anxiety and mental health, a subject still considered not only taboo but almost non-existent in the world. Raghavan and Sambamoorthi want to shine a light on how while we work so vehemently towards reaching our goals, we sometimes lose the ability to speak up and reflect on our struggles, fearing the judgments others may pass on us.
"In this video, the message is simple – take a breath and look within; you are not alone," they said.
https://www.facebook.com/srinidhidance/videos/10155762681838875/
Their second video is about gender bias, which if you look at what's happening in the world today, is an extremely relevant social issue. About the importance of this video, they said,
"It is a reminder to women to love the woman looking back at them in the mirror. And it's a reminder to everyone that although these biases exist, we have the power to turn these reflections of injustice into glimpses of equality."
https://www.facebook.com/srinidhidance/videos/10155781558903875/
The final video especially tugs at the heart because it talks about diversity and the idea of "home." Raghavan and Sambamoorthi believe it is the essence of "The Mirror." It celebrates diversity because we live in a country of blended cultures, voices, and traditions that come together every single day.
What better way to spread these social messages and to create awareness about Bharatanatyam than using social media aka the fastest tool at our disposal? 
"That's where technology and the medium of film came into play. In this day in age where social media drives so much engagement between people globally, we thought we must use platforms like Facebook to showcase a centuries-old art while casting a wide net and reaching a global audience with our messages," they said.
Raghavan loves that she grew up immersed in Indian dance and music, which has been part of her family for generations. Her mother and aunt, veterans of Carnatic music and Bharatanatyam, set up their own performing arts institute in Chennai called Kalasagara. In fact, her earliest memory is that of her mother getting ready to perform before a show.
It's no surprise then that she herself debuted on-stage in Milan at the age of 5.
"That was the start of what would be a passion in my life going forward," she said.
She continued performing in Europe and India for the years to follow before moving to the U.S. and joining Columbia University, which led her to Columbia Taal and Sambamoorthi.
Sambamoorthi's passion for the arts blossomed when she moved to New Jersey from Pittsburgh. Her mother volunteered for cultural programs and she would often tag along. After she witnessed a snake dance on stage, one that is glamorous but also full of sinuous movements, she was smitten. It became a dream of hers to excel in the dancing and to one day run an organization that promotes the classical arts.
Enter Navatman Inc., an organization that aims to create a hub and home for the South Asian arts in New York City, emphasizing on Indian classical dance and music. Sambamoorthi credits her inspiring time with Columbia Taal for giving her the push to start Navatman with co-founder Shridhar Shanmugam. Through her time learning classical dancing, she's peeled back several layers of what it really means. "Classical dance is not just a passion," she says, "it is a part of who I am as a person."
With the experience and passion, these two have, "The Mirror" is an inevitable success. They have always wanted to make the art more accessible to larger audiences. In this series, a true mix of the old and the new, they may have used new media for this goal but they have also retained the integrity of Bharatanatyam.
"We wanted to juxtapose this traditionalism with modern day images and spoken word in English. The reason for this was twofold: (1) to show that the traditional can co-exist with the modern and  (2) to draw parallels between our Indian heritage and the contemporary American setting and to show that social issues transcend the boundaries of time, geography, and cultures," they said.
For "The Mirror—A Glimpse Within," veteran Bharatnatyam dancer and teacher Usha Raghavan has composed the music, which has been recorded in studios in London with Prathap Ramachandra (konnakol and mridangam), Thilakasakthy Aaraamuthan (vocals), Jalatharan Sithamparanathan (violin), and Pitchaiappah Gnanavarathan (flute). Videographer Kevin Chiu has directed and edited the series.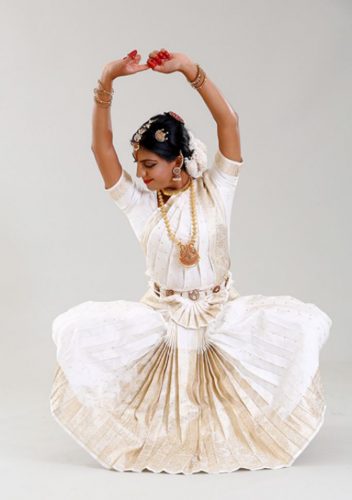 Srinidhi Raghavan started learning Bharatanatyam nearly thirty years ago and has performed globally over the decades. Born into a family of dancers, she was exposed to Bharatanatyam early on and formally started learning the art from her mother and guru, Usha Raghavan, and from guru Malathy Thothadri at the tender age of four. She had her arangetram in Chennai in 1998 and her experiences with dance have spanned several cultures and countries, including those of the UK, Switzerland, France, Italy, Liechtenstein, Barbados, Canada, the US and of course India, during the prestigious December festivals in Chennai.
Known for her "precise nritta and apt abhinaya" (the Hindu, an Indian National Newspaper), she is also recognized for her innovative choreographies and original works, which often explore contemporary themes via traditional Bharatanatyam pieces.
Srinidhi's wide and extended exposure has added an eclectic element to her delivery which, when combined with her traditional style, results in a unique reflection of elegance and experience. Critics have described Srinidhi as "a strong woman, so relaxed and confident that performing her intricate dance is a breeze, as easy to sing as a lullaby."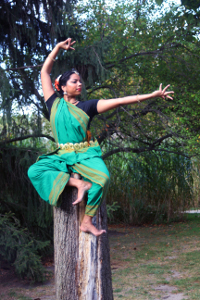 Sahasra Sambamoorthi's passion aligns accordingly with Sridhar's; to reignite the fire of the South Asian performing arts within the US. Sahasra's knowledge started from her Bharatanatyam training at the late age of nine – but this did not stop her from absorbing the style almost immediately, having her arangetram only four short years later and performing in India at prestigious venues such as the Krishna Gana Sabha and the Kartik Fine Arts in Madras two short years after that under the smart and able guidance of guru Smt. Kalaimamani Ramya Ramnarayan.
From a young age, she knew she wanted to remain in the field not only as a dancer but as an arts administrator, and her time on Columbia University's South Asian fusion dance group Taal only furthered that ambition. Sahasra consequently co-choreographed and co-produced Her Story, a powerful dance drama about the lives of women legends in Hindu mythology with alumnus Srinidhi Raghavan. The unpredicted success of the show led her to start her dream in Navatman, Inc and further her education by garnering her MA from New York University in South Asian dance, history, and anthropology.
Though Sahasra was both born and trained in the US, this has only served to widen her ability to connect with both Indian and non-Indian audiences. It has also helped her gain accolades and scholarships, such as the New Jersey State Council of the Arts Folk Arts Apprenticeship, and has been called by reporters as a "young trailblazer…on the crest of the wave leading us towards a new understanding of South Asian arts in the United States."
---
Saloni Gajjar is a recent alum of NYU's Magazine Writing Program. Her passion lies in pop culture writing, as is evident in her work with magazines like Marie Claire, Interview, and Complex. Her goal is to show the arts as a medium and mirror of the society, much beyond just entertainment.