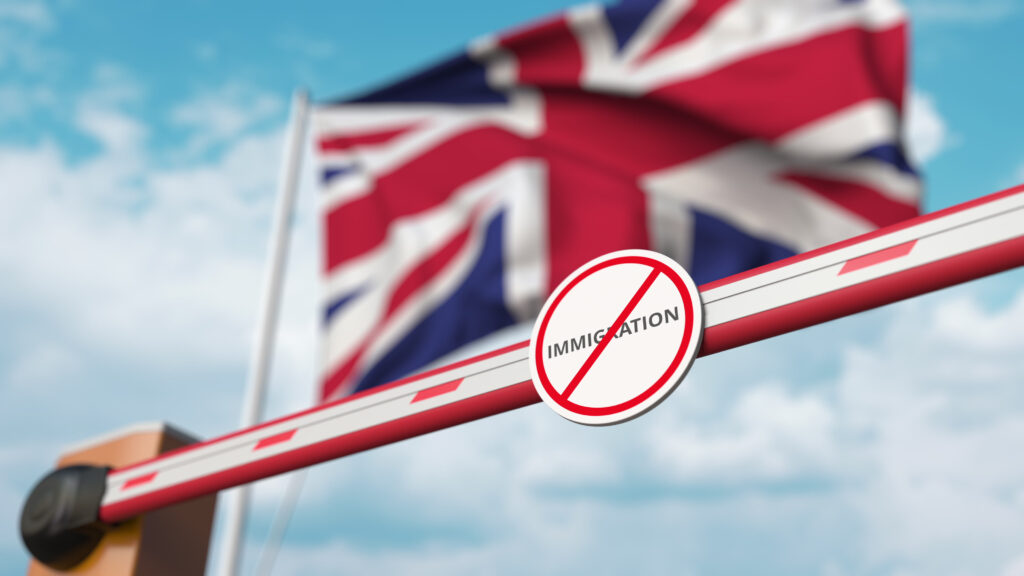 By Safeera Sarjoo and Aisha Taras
It was revealed that UK Home Secretary Priti Patel was cautioned by two senior colleagues to stop targeting immigration lawyers after calling the British asylum system 'broken.'
Her comments came after 20 migrants were taken off a deportation flight bound for Germany after the UK Government faced a number of last-minute legal challenges.
This isn't the first time the Home Office (HO) clashed with or spoke out about legal interventions preventing migrants from being transported out of the UK.
Back in late August, the Home Office tweeted "small boat crossings are totally unnecessary and we continue to return migrants with no right to be in the UK." It went on to say that many flights were planned, in order to return migrants to the countries they came from and included a video clip stating the current asylum system was "open to abuse," allowing lawyers to "delay and disrupt returns" of people.
The tweet, which caused outrage among legal professionals and has since been deleted, highlights the Government's determination to dehumanize mostly non-white migrants.
Immigration lawyer Harjap Bangal explained to Brown Girl Magazine,
The message from the Home Office was clear. Immigration lawyers are somehow responsible in frustrating the Government and its attempt to remove asylum seekers. The video was viewed more than 1.5 million times before it was taken down. Its point was made. As a result of the video, many lawyers received abuse from anti-immigration campaigners and troll accounts.
He went on to say,
Lawyers like me are activist lawyers — immigration and Human Rights lawyers. The Home Office is referring to those who act in cases against the Government, particularly in cases involving asylum, refugee and human rights law. Lawyers like myself who stop the HO from breaking the law, who successfully go to court and plead their clients' cases in front of an impartial judge. The HO hates that — being told that they are breaking the law. We only succeed if the Home Office acts unlawfully.
The recent intervention has no doubt brought up feelings of resentment from the Home Office with a spokesperson saying:
The Government's efforts to facilitate entirely legitimate and legal returns of people who have entered the UK through illegal routes are too often frustrated by last-minute challenges submitted hours before a scheduled flight. These claims are very often baseless and entirely without merit but are given full legal consideration, leading to removal being rescheduled. This can effectively result in the timing out of a return due to stringent Dublin Regulations.
The Home Office seemed to have forgotten that crossing a border with the intention to claim asylum is completely legal under UK law. Why an authenticated social media account, speaking on behalf of the government, would publish such an embarrassing point, is hard to see.
Secondly, it failed to see how its behaviour would mean tacit approval of far-right groups, such as Britain First, taking matters into their own hands. There is evidence of this, following an incident where a group of far-right protesters entered a hotel in Bromsgrove, where migrants were staying, banging on doors and demanding to interrogate the occupants. The Independent referred to them as "far-right activists," in their reporting, although their actions were illegal and police were called to have the protestors removed from the property.
The language and stance used by the Home Office create a hostile attitude towards migrants. It also means the role of an immigration lawyer becomes more necessary than ever. Gurpreet Singh Johal explains the role his line of work plays:
Immigration lawyers are crucial to society, as they represent the rights of clients who have been forced to flee their homes in order to seek protection. Immigration rules have become more and more complex, to the extent they have restricted individual rights to family life and often individuals have lost a lot of money in Visa applications. Often returns or deportation decisions have been unlawful and the Courts have deemed many decisions to be unlawful, which has resulted in policy changes by the Home Office.
The Windrush Scandal was a glaring example of the lack of empathy our Government has towards migrants. Recently, Sky News followed a group of migrants in an overcrowded dinghy on a perilous journey across the English Channel, which was reported as though watching an entertaining sports game.
The desensitization in their portrayal was similar to news helicopters that reportedly circled the burning Grenfell Towers, filming live while occupants begged for help. Had the migrants begun sinking, would the reporters have just carried on filming that too?
At the end of the day, people will have their opinions about political turmoil in previously colonized countries, or the ethics behind accepting asylum seekers. But when people can demand, in full seriousness, that stranded people on boats be turned away, it is imperative that immigration lawyers, as well as the public, continue to hold the government accountable.