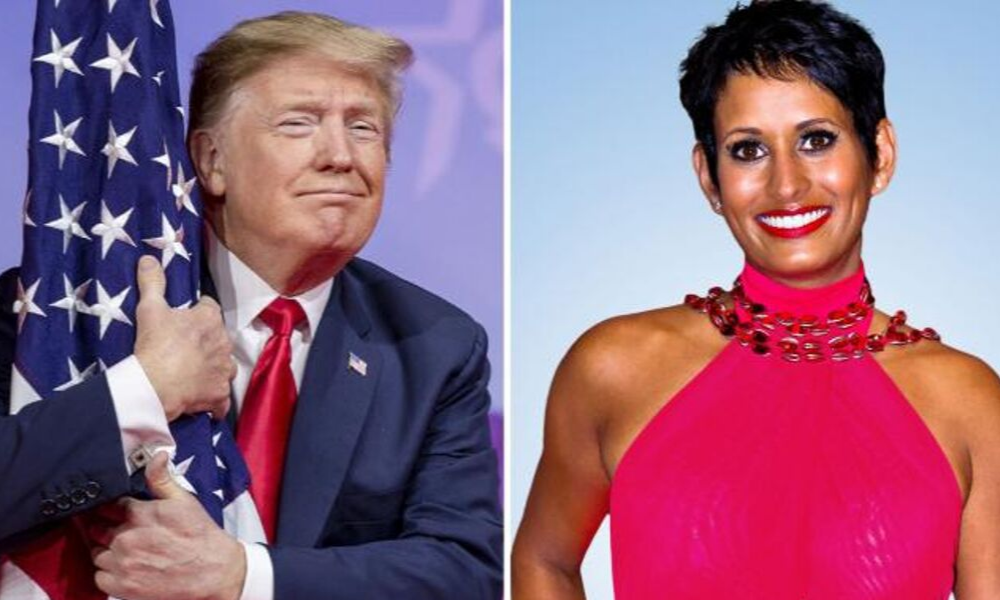 Unless you've been hiding under a rock (or just hiding from Brexit developments — we don't blame you) recently, you'll know that the BBC has been embroiled in a race row. The incident in question — an impartial editorial sector of the corporation demanding consequences for breakfast news presenter, Naga Munchetty's comments about President Donald Trump tweeting a, frankly, racist phrase. Specifically, him telling four congresswomen to "go back to the totally broken and crime-infested places from which they came." The women are all US citizens and three were born there. Munchetty was prompted by her co-presenter, Dan Walker, to comment on the tweet, and this gave way to the emotional response which has been at the centre of a controversial complaint. Despite being pressed for her opinion, it seems this was not well-received.
"I've been told as a woman of colour to 'go home'…"@BBCNaga shares her experience as we discuss the reaction to comments made by President Trump. pic.twitter.com/u0HL5tEdgt

— BBC Breakfast (@BBCBreakfast) July 17, 2019
Munchetty, quite rightly, suggested that the comment was "embedded in racism," based on her personal experiences of hearing almost exactly the same phrase. And black and brown people across the globe identify almost exactly with her reasoning. So many of us will have heard the phrase before, generally followed by a derogatory term relating to the colour of our skin. But instead of recognising the racism that every BAME person in a white-majority country could smell a mile off, the BBC chose to persecute their presenter, arguably the most prominent female broadcaster of colour on breakfast television. This ruling inspired journalists from within the corporation, and even Members of Parliament, Sajid Javid, to take a stand. If Munchetty, a brown woman in the U.K., was to be pulled up for calling out racism, where does that leave racism in the eyes of the BBC? And where do we, BAME women, fit into the country we grew up in?
C'mon BBC. This is ridiculous. It's perfectly understandable why she said what she did. https://t.co/UV1J3MsnTl

— Sajid Javid (@sajidjavid) 26 September 2019
The complaint itself was that Munchetty had breached the editorial guidelines on impartiality. That is, she acted outside the realms of her role as a news presenter — she brought emotion into a highly emotionally-charged debate (how dare she!), drawing on her personal experiences. She was furious, we were all furious. In essence, she presented an image of the BBC that was too biased, and when the BBC is already under fire for charging pensioners for the TV licence and giving too much-unbalanced coverage, this seemed like the perfect opportunity for them to stop the perceived liberal bias plaguing the corporation. It's certainly backfired!
Despite doubling down on the reprimand, with senior bosses defending the decision, less than a week after publicly condemning Munchetty, the BBC have done a u-turn and withdrawn the complaint. After mounting public pressure, as well as political and internal support for the presenter, the BBC knew they had a lost cause on their hands. Because while the complaint about editorial impartiality may be important, it's not as important as standing up to blatant racism, especially when that kind of hate speech comes from someone as influential as President Trump. 
Notably, Munchetty has been silent on the entire issue of her reprimand and reprieval. Other journalists have spoken out in her defence, and their support has been instrumental in the BBC's Director-General Tony Hall's decision to reverse the sanction and bring Munchetty back on-air.
The BBC needs to admit it was wrong, withdraw the finding and apologise.

BBC racism row: Naga Munchetty complaint was also about co-host Dan Walker https://t.co/ZiwwuufCAH

— Krishnan Guru-Murthy (@krishgm) 30 September 2019
But despite the supposed resolution, with a "happy" ending, the whole debacle has raised some uncomfortable questions about the BBC's lines, and whether they should be redrawn. When a public institution, respected the world over, is caught legitimising racism, it sends a message, just like the one Munchetty called out. Despite the BBC insisting that it "is not impartial on racism", but when a woman of colour is persecuted for reporting the news and drawing on her own experiences, it suggests otherwise.
The overturning of this reprimand is a welcome change, but one that should not have needed to be made in the first place. Words matter. The heated rhetoric surrounding Brexit, from both sides, has been cited as a potential cause for increased violence in the U.K. When our politicians and trusted corporations talk in a certain way, or react in a particular way, it allows the average 'Joe Public' to feel justified to act and speak in a similar way. We have certainly come far in race relations, but it's clear that we have much further to go. With rulings like these, making women of colour feel unable to voice their opinions again, we may even be going backwards.
Munchetty was away from our screens for the short duration of this debacle, but who knows if the repercussions could be more severe next time. Especially with the right-wing administrations in the U.K/ and the USA, both. It's a reminder to us all not to be apathetic — get furious. Call out racists. They might feel emboldened right now, but when confronted, they're almost always cowards.