by Amrita Kumar-Ratta – Follow @browngirlmag 
"I always thought that going to India was the gift.  But then, I realized, so was coming back."
What do we really know about reverse culture shock? How do we honestly talk about the everyday confusions and contradictions of feeling a sense of 'home' and 'belonging' at a time when these concepts are hotly contested and when so many of us have roots in more than one place?  "Undercover Indian" is a new solo show, written and performed by Ankita Kumar-Ratta. The performance delicately explores the trauma of reverse culture shock and unpacks the meaning of 'home' in a manner that is both heartfelt and humorous.
The show's protagonist is Ankita herself, a fiery young woman born and raised in Canada, embodying the polite, bureaucratic and over-scheduled Canadian persona but confused by her constant association with India by those around her.  With little knowledge about the country of her roots, at 22 years old, Ankita finishes her undergraduate degree and is convinced by her mother to travel to India. Instead of pressuring her to go to Law School, to become a Doctor, or to get married, Ankita's mother encourages her to spend some quality time learning about her family's past and reflecting on what she imagines for her future.  This is the starting point for "Undercover Indian," an autobiographical story that challenges the notion of what it means to be civilized and modern, it explores what it is like to be in-between a country that is often referred to as the third world or developing and another known for its ice-cold climate and excessively polite disposition.
This immersive and site-specific show takes place in a yoga studio, where audience members are invited to meditate on yoga mats and chairs, experience the sounds of Om and the light of burning candles, and take in the magic of Ankita's movement and dialogue.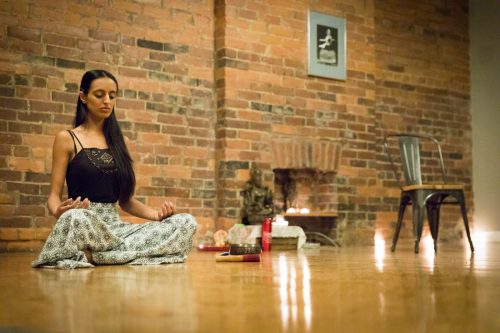 [Photo Credit/Ameel Mohammed, Soul Goodness, Inc.]
Indeed, the ritual of yoga purposefully frames the story of "Undercover Indian." Throughout the show, Ankita takes the audience on a yogic journey between Canada, her birthplace, and India, the country of her roots. Each asana represents a different chapter of her story, providing delicate but deeply existential commentary on civilization, resilience, love, environmentalism, and connection. 
Throughout her performance, Ankita brilliantly portrays more than 10 different characters, each with their own body language, vocabulary, and tone of voice.  She flows seamlessly from being her bubbly but confused self to being the wise and hilarious yoga teacher who sports a thick Indian accent while taking audience members through various postures.
Additionally, at different points in her story, she transforms into her calm and universally connected Kathak dancer mother, her animated older sister, her rugged Indian love interest, her prophetic nani, her bookish nana and her stern-but-dedicated British boss at a waste management NGO in North India.  Ankita embodies each character with such ease that audience members are fully transported into the colorful and paradoxical world that she has developed on stage.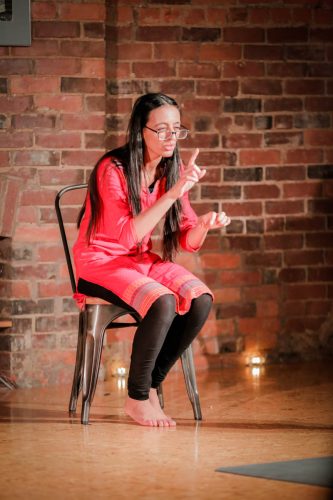 [Photo Credit/Ameel Mohammed, Soul Goodness, Inc.]
The show's director, Tracey Erin-Smith, deserves a notable mention for inspiring Ankita to bring "Undercover Indian" to life. An award-winning performer, writer, teacher, and the founder and artistic director of Soulo Theatre Company, Erin-Smith has dedicated her life to supporting individuals as they transform their raw experiences into a story fit for the stage that is both entertaining and healing, where the personal and the universal merge on stage.
"Undercover Indian" is Ankita's deeply personal story about learning to look at Canadian culture through a new lens, and ultimately, about the beauty of finding a home in two different parts of the world. Ankita and Erin-Smith have come together to create a show that is thought-provoking, hilarious and witty —a piece of theatre that invites audience members to take risks, breathe, and come out of the show feeling a little more connected to home—however, they may define it.
The show ran as part of the Shen Development Festival on November 19, 2017. It will also be performed at Indian Institute of Technology's Mood Indigo Festival in Mumbai, India in December 2017. The playwright and performer, Ankita, is a theatre artist, dancer, and arts educator based in Toronto.
"Undercover Indian" is her artistic debut as a young, emerging voice in Toronto's theatre scene. For more information about Undercover Indian, please visit the show's Facebook page.
[su_divider]
Amrita Kumar-Ratta is a lifelong learner, a passionate traveler and a self-proclaimed transnational feminist activist. She holds a Master's Degree in Global Affairs from the University of Toronto and works at the nexus of human rights and social inclusion. She adores social policy research, loves to ask hard questions and is a firm believer in "thinking globally, acting locally". She finds her self-expression in dance, literature and theater. She is Ankita's animated older sister and is extremely proud of Undercover Indian, which she describes as a window into her younger sister's soul.