by Faria Akram – Follow @followingfaria 
"What's the first thing you think of when you hear the phrase 'Unsung Echoes'?"
I asked my friend one evening. From the beginning, I had been intrigued by the name and wanted to see what others' thoughts were.
"Well, 'unsung' means they don't get enough credit right, like an unsung hero?" she said. "So Unsung Echoes sound like stories that deserve more, to be heard more."
And she captured it perfectly.
'Unsung Echoes' is the title of a blog that focuses on the stories of women. Started and maintained by Alefiyah Shikari, a photographer in Chicago, it began as a project highlighting women in her mosque.
"You go to a mosque and you see people, but do you really know them?" Shikari said. "Life is tough enough. I wanted people to share their stories so someone else reading it can relate."
"Being a woman is to be the giver and receiver of human life. She is synonymous with God and at the same time a uniquely Divine created to be." | Photo Courtesy of Alefiyah Shikari ]
The posts are simple—a paragraph or two (or more) of text along with a picture, all provided by the interviewee, answering the same question—"what does it mean to be a woman?"
"As women, we're always told how to act and how to be and i was just tired of it," Shikari said. "We are all women, but we have to be respected as individuals too. We all experience challenges and failures, and a lot of men don't realize the challenges women go through."
Unsung Echoes is not just a project men can learn from, but one they can participate in as well. Men are welcome to submit stories of the women in their lives, Shikari said, and she's had a few submissions come in. Amongst both men and women, the responses have been incredibly diverse.
"No two women will have the same definition of what being a woman means to them, and that's kind of the point," Shikari said. "Their reasons are so different, even when it comes to the guys, and most talk about their moms."
["People often associate the word "tough" with men. However, in my eyes, I don't know many tougher than my mother. Immigrating to this country at the age of 5 from India, my family, like many, had meager beginnings. Both my parents worked hard to provide for the family, but the culture that we came from dictated that men and women have distinct roles. From a young age my mother not only worked full time, but would also make sure the house was clean, our homework was done, food was made every day, shopping was done, and much more." | Photo Courtesy of Alefiyah Shikari]
As the blog grew to be an opportunity for people outside of her mosque to partake, in, Shikari says the platform has been an outlet for her as well.
"We're all going through challenges – it's a reminder for me that I'm not alone and we can all be there for each other." Shikari said. "It's about creating more passion and support amongst peoplel in general."
As for the future of the blog, Shikari sees it going far.
"People have so much to share – I can't stop," she said. "I have to keep going, and I hope it gets even bigger."
If you're interested in being highlighted on Unsung Echoes, check out the contact section of the website. You can also reach out to Shikari directly at @ASLphotography on Facebook, Twitter, LinkedIn, and Instagram.
---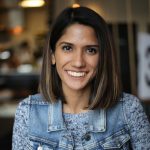 Faria Akram is a tiny and tough Texas native with a passion for helping others. She is a managing editor at Brown Girl Magazine and vice-president of marketing at MannMukti, an organization focused on South Asian mental health awareness. When she's not working, Faria can be found choreographing dance routines in her room, planning adventures with friends, or watching "Kuch Kuch Hota Hai" for the millionth time. She loves sparkling water, reading, meeting new people, and sharing their stories with the world.