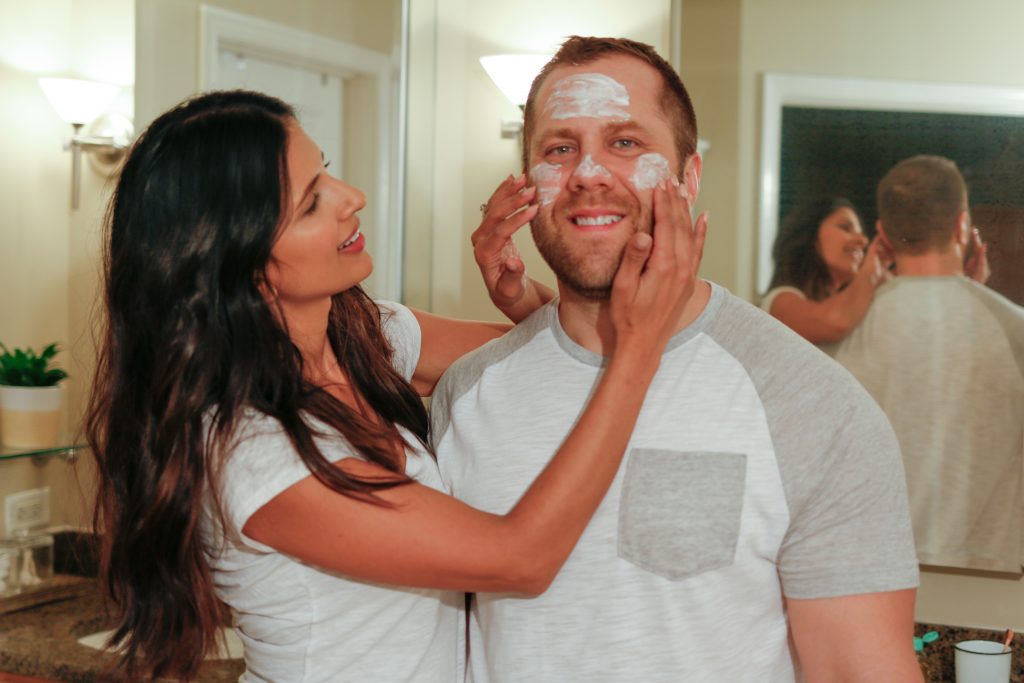 The following post is brought to you by Vasanti Cosmetics — a line of cosmetics and skincare products made in Canada that make beauty inclusive, accessible, and inspiring.
Vasanti Cosmetics is one of the oldest South Asian woman-owned beauty brands — started by three sisters and one childhood friend (all sisters by any measure) more than 20 years ago — and today I am proud to say we've done a collaboration with Brown Girl Magazine. I absolutely love to support women-owned businesses, especially South Asian, that too, from Canada!
Every Sunday, I like to take some time out to do self-care, which usually includes drawing a bath and trying out new skincare products I'm testing for my blog. I asked Tom to join me this time and test out one of Vasanti Cosmetics' best selling products — their BrightenUp! Exfoliating Cleanser, which is known to be popular for both men and women. Lucky for me, Tom, my husband, who participated in his very first collaboration, is a big fan of a good skincare product – he often consults me before he buys something – or he may just steal it from my medicine cabinet (true story)!
There were so many amazing reviews (more than 200,000) online, so I had hyped it up quite a bit in my mind. Luckily it did not disappoint. It is packed with all natural ingredients — including Papaya Enzyme and professional microcrystals that exfoliate and deeply clean the skin, and then aloe to soothe the skin after. I have combination skin, but my cheeks are very sensitive, prone to large pores and redness, and Tom has normal to oily skin and he can get acne breakouts if he doesn't keep up his routine.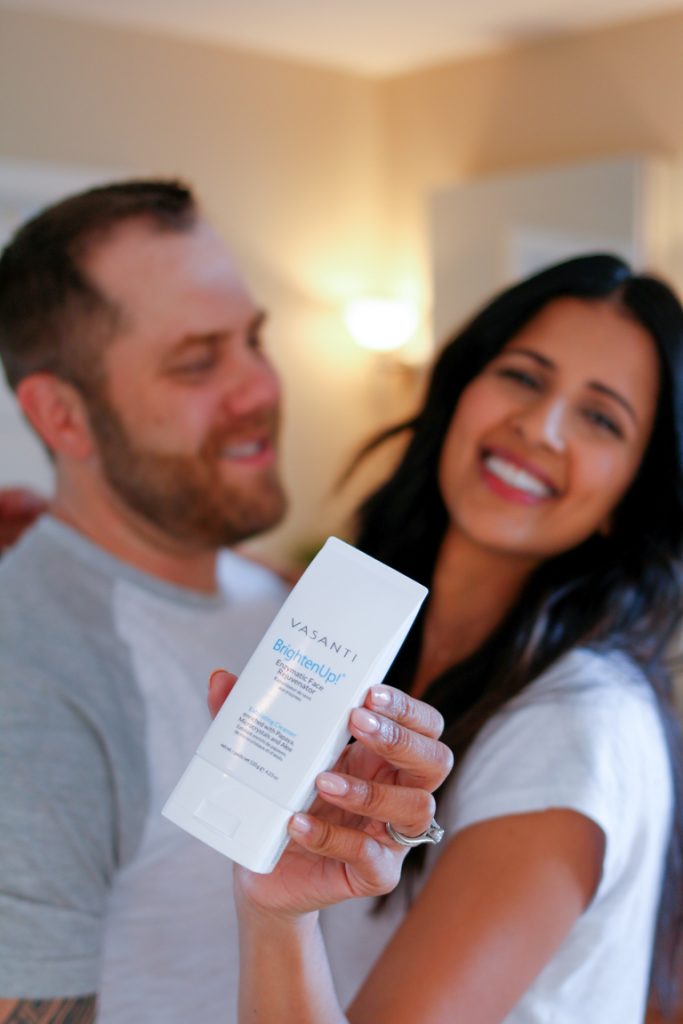 Below are all the benefits of the cleanser:
1.  Removes dead skin
2.  Reveals a radiant complexion
3.  Gives you an at-home microdermabrasion facial
4.  200,000+ positive customer reviews all over the web
5.  Enriched with papaya, professional microcrystals and aloe
6.  Fights dull skin, dark spots, scarring, wrinkles and more
7.  See results after just one use
The Powerful Formula:
1. Papaya enzymes break down dead skin cells for easy removal, helping smooth your skin's surface, which uncovers a healthy glow.
2.  Dermatologist-grade Microderm Crystals are the same as those used by dermatologists (no plastic beads), which gives you the exfoliation of a microdermabrasion treatment at home.
3.  Aloe vera, coconut, and panthenol along with a mild cleansing gel, allow for a powerful yet gentle cleansing and soothing action.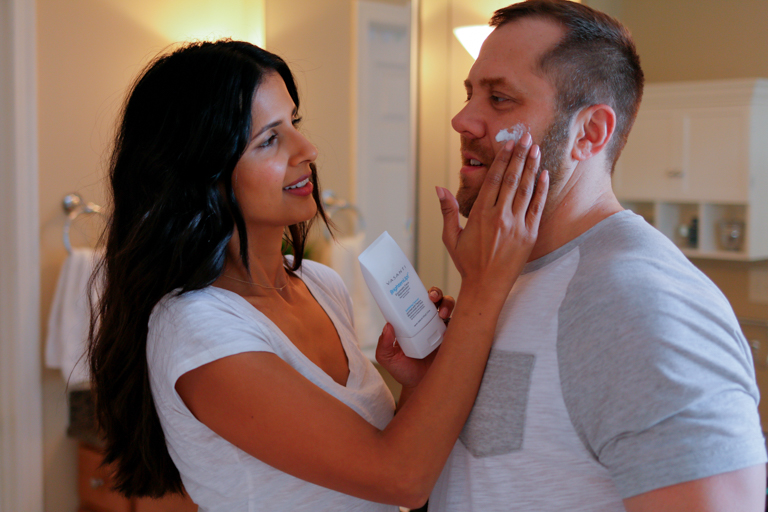 Tom was really into the fact that the texture of the microcrystals in the scrub made his skin feel extra clean – he hates when it feels like you splashed some soap and water on your face. My sensitive skin didn't get irritated and my face looks so much brighter immediately after. I even scrubbed my hands with whatever was left and got a little hand treatment bonus out of it. I also liked that the product packaging and scent are neutral. It's a major plus that it doesn't look like too feminine, which I'm sure Tom appreciated (because let's be real, men are sensitive about using anything too girly, amirite?).
The BrightenUp! Exfoliating Cleanser is proudly made in Canada. It is not tested on animals, is vegan-friendly, gluten-free, 99% natural, paraben-free, sulfate-free, and contains no plastic beads.