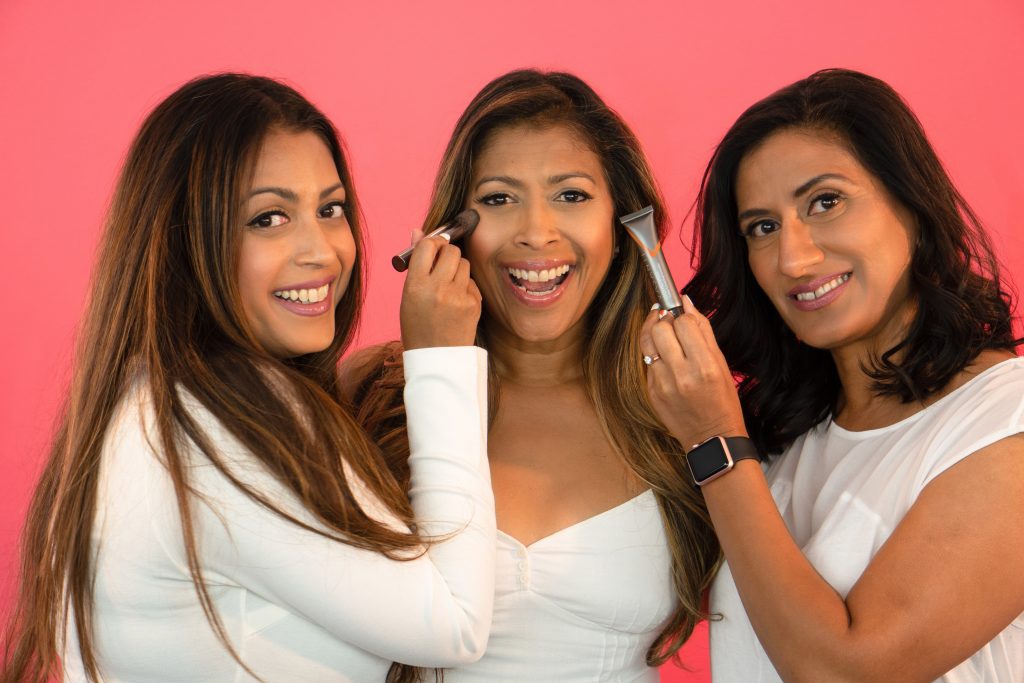 The following post is in partnership by Vasanti Cosmetics — a line of high-performance skincare and cosmetics dedicated to making beauty feel good.
The Vasanti Cosmetics brand is the story of four sisters: Pinki Gosal, Monal Patel, Gargi Patel and Priti Patel. A group of South Asian women who, fueled by the lack of representation in the beauty industry and being part of a community that was constantly disregarded, stepped up and carved their own identity by creating an effective and high-performance beauty brand. 
Their story began when Pinki Gosal, co-founder of the brand, had a horrific experience at her first job out of university.
"[I] moved to Chicago, landed a job at a high-end makeup studio (owned by an ex 60's model) and was super excited to meet the owner on [my] second day of the job," Gosal said. "In walks, the owner, takes one look at [me] and says, 'Who's this? Get some concealer on her!' Makeup artists then rushed over to [me] in a panic and tried to conceal [my] dark circles with the darkest concealer shades they had. After many trials, nothing worked and their darkest shades looked ashy on [my] South Asian skin tone."
This led Pinki and her sisters [to ask] themselves the question, "why doesn't makeup look good on me?" and before you know it, the inspiration for creating an inclusive, wearable and high-performance cosmetic line began.
Each sister acts as a foundational pillar for the Vasanti brand by bringing a distinct flair and set of specialized expertise to the table. From marketing strategy to product development to finance and operations to sales, they individually own their jurisdiction to sustain a well-balanced synergy for the growth of the company.
Vasanti Cosmetics mission is to solve multiple pain points centered around middle skin-toned women. With an array of products targeted to fair and deep skin tones, the sisters saw a gap in the industry to serve women who fall within the middle range. They aim to identify effective solutions for dark circles, ashy and grey complexions and color variation for middle skin tones. 
View this post on Instagram
"Our advantage is that we began focusing on inclusivity 20 years ago, and we formulated all of our products with skin tones in mind. One shade in our range can actually work on multiple skin tones, because the formula is carefully crafted to complement skin," Gosal said. "We never created shades simply to fit a larger skin tone range, we always put thought into how the shades perform for every skin tone. We also offer cosmetics that are super comfortable, light-weight and easy to use."
The sisters attribute their rich Indian culture for guiding the storytelling initiatives of their brand.
"Our culture has shaped who we are and how we think about things. When we think about our culture, we reminisce on clothes, music, food and family relations. All of these things are known to be joyful, colourful and energetic experiences. We are so proud to come from such a rich culture and it definitely comes through in our brand," said Gosal.
The Vasanti sisters tapped into their target audience to carve out the path for product development. Gaining an understanding of what is missing from the market and the lack of satisfaction of the South Asian woman offered Vasanti an opportunity to create products that would resonate and harness a greater impact than just another cosmetics line.
"Most [South Asian] women struggle with dark circles, they say it's hereditary in their families and have a hard time matching shades to their skin tones," Gosal said. "They also suffer from discolouration and pigmentation, often causing darker chin areas and uneven complexions. This is why finding beauty products is often tough for the middle skin tone range, because the most popular formulas in the market are dulling and ashy for the women with these skin concerns."
By honing into the needs of the market and tuning into the needs of their community, the team was led to the development of the widely popular Liquid V02 color corrector. With an unwavering belief in the product, the Vasanti sisters have maintained the formulation for the past 18 years. It's only this past fall, the team re-launched the Liquid V02 with brand new packaging.
View this post on Instagram
"It's the first time we're truly promoting this product at such a big scale. We've been hosting photoshoots for the last two months at our head office in Toronto with real, everyday women who are looking for dark circle solutions," Gosal said. 

"We have also been promoting the product heavily on social media and it has gained a lot of attraction! We are receiving such a positive response from this campaign and many people are discovering Liquid VO2 as their life-saver dark circle solution."
Since dark circles and hyperpigmentation plays to the insecurities of a large portion of South Asian women, including the Vasanti sisters, it was important for this team to share their secret and solution with a larger audience.
"Liquid VO2 is also one of the first products that started the brand 18 years ago," Gosal said. "Vasanti Cosmetics was created with the intention to find a dark circle solution for middle skin tones, so this product is very important and close to home for us."
View this post on Instagram
Vasanti wants to be able to reach as many South Asian women as the brand can at a global capacity, including India. In the short term, the team is dedicated to building a strong presence in Canada, USA and UK regions while cultivating a strong community of their supporters.