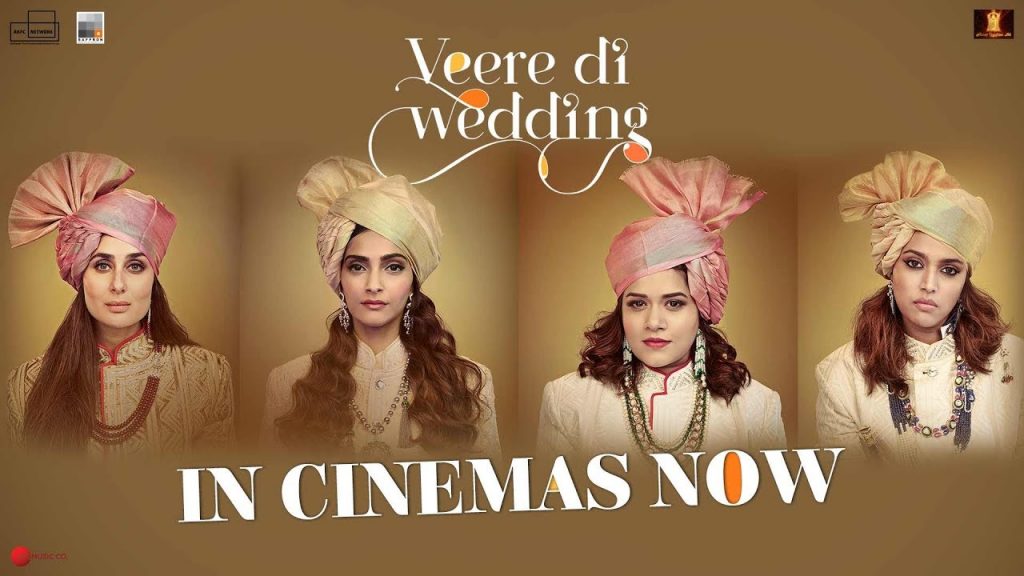 This past weekend the much anticipated 'Veere Di Wedding' finally made it's way to theaters, and after a lot of hype, we finally got to see it on the big screen! This is the 3rd movie that Rhea Kapoor has produced for her sister, Sonan Kapoor-Ahuja, and stars the likes of Kareena Kapoor Khan, Sonam, Swara Bhasker and Shikha Talasania. With its female-centric, modern trailer, 'Veere Di Wedding' was promised to be the film that many women had been waiting for. So, was the movie actually worth it?
'Veere Di Wedding' follows the relationships of 4 long-time friends, Khalindi, Avni, Sakshi, and Meera, as they gear up for Khalindi (Kareena Kapoor Khan) to get married to her long-time boyfriend, Rishabh (Sumeet Vyas). Without giving too much away, Khalindi has grown-up with the idea that marriage will just never be the right option for her, and every aspect of prepping for this outrageously extravagant wedding has her running closer and closer to the door.
Her friends' lives aren't fairing too much better. Avni is a successful lawyer who's mother only cares about her getting married. Sakshi is about to get divorced and is being haunted by age-old, ridiculous stigma thanks to her failed marrige. And Meera is still trying to move past the fact that her father could not support her marriage to a white, American man.
From the runaway bride, to the forever single, the divorcee and the mother, this movie tries to relate to women in all different situations. It takes a look at the themes of love, trust and friendship.
For me, the real hero was Swara Bhasker in her role of Sakshi Soni. She brought excellent comedic relief and realness that the movie needed! I also loved Vishwas Kini in the role of Bhandari. Can we get a movie of this guy next?
The costumes were definitely beautiful and goals for all of the weddings coming up this year, but someone please explain to me why the obvious product placements were so necessary? Kareena says she's calling an Uber, I don't need you to show me a full minute of her using the app and waiting for her driver.
Overall, this movie was alright. It definitely had elements of the feminist anthem we were hoping for, but there are problematic moments not shown during the "female-empowerment" marketing. For one, sexual taboos prevent Swara Bhasker's character, Sakshi, from being able to get a divorce on her terms throughout most of the film. And unsurprisingly, Shikha Talsania's Meera bares the brunt of fat jokes from her supposed best friends.
All that aside, it's a great movie for a girls' night in when you're thinking of sipping on some cheap wine and eating Doritos. It's fun to watch along and relate to the issues that some of the characters are facing. Whether that be seeing yourself in the commitment-phobe Khalindi, or perpetually single Avni.
It's not a movie that we'll be talking about for ages to come, but a good watch if you want to chill with your girlfriends.