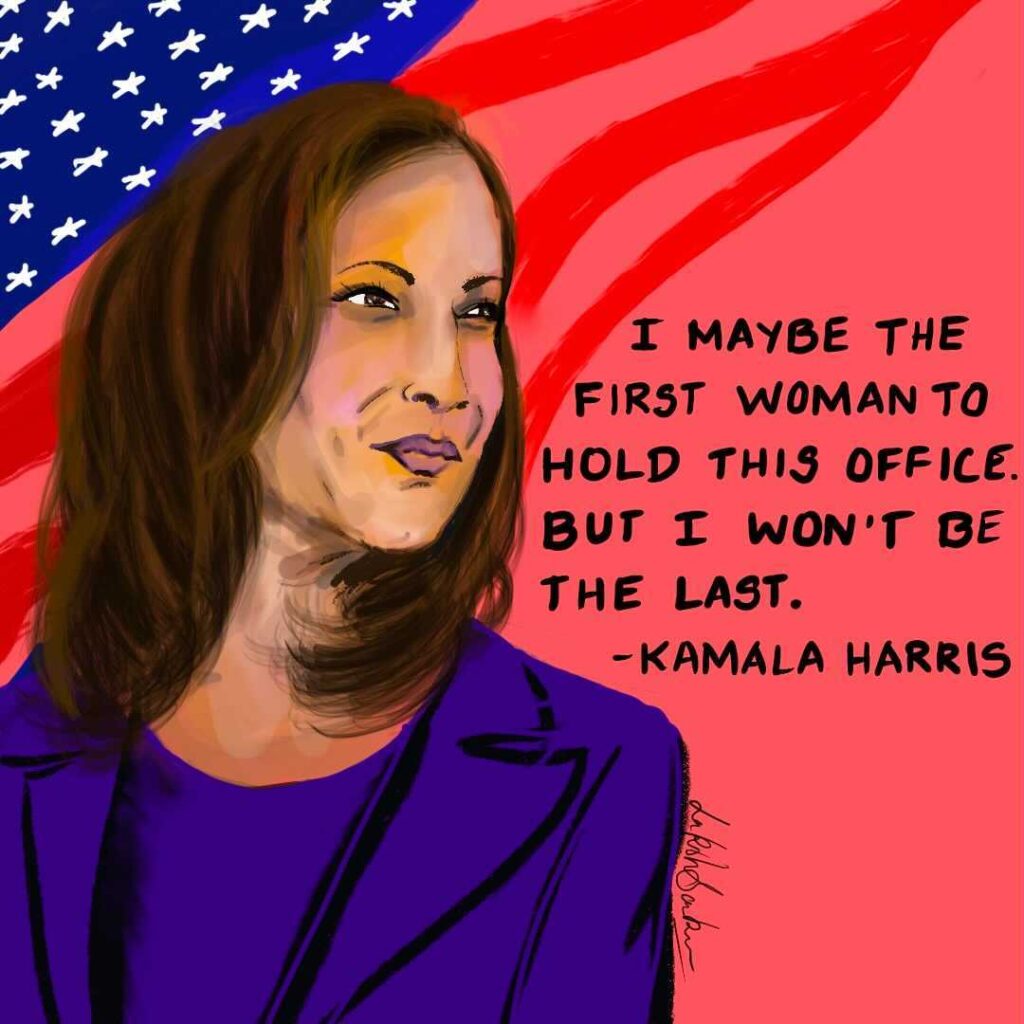 I'm sure I wasn't the only one with big expectations for U.S. Vice President Kamala Harris' Vogue cover. In the midst of the Capitol Hill storming, continued political unrest and rising COVID-19 infection rates, it may appear frivolous to focus on this fashion magazine's cover image. But, the truth is, there was finally an air of excitement during a troubling start to 2021.
What was unveiled, though, was another example of a woman of colour making history, yet not being afforded the same respect and consideration as other previously featured women.
The cover had Harris standing before a messily draped green and pink backdrop (a nod to her Howard University sorority). Dressed in a Donald Deal jacket, her trademark Converses and pearls, her expression appears candid. She is smiling but looks caught off guard. It's not the final product many would have hoped for.
View this post on Instagram
Harris's team was reportedly not happy with the choice of image Vogue ran with. According to a source quoted by CNN, they believed the cover would instead 'feature her posing in a light blue suit against a gold background.'
Vogue did initially use this as the cover for its digital edition, but, following widespread backlash over the image, it is now the new cover for a limited edition to be published after Inauguration Day. Despite this, the damage is already done.
Evening Standard trainee reporter Emma Loffhagen questioned whether we should even be focusing on the Vogue cover, given the mammoth task at hand once Harris takes office. However, if we don't hold publications accountable, especially when they fail to properly represent women of colour — and powerful women at that — this cycle is doomed to continue.
The fashion magazine and its editor-in-chief, Anna Wintour, initially defended the original print cover in a statement:
The team at Vogue loved the images Tyler Mitchell shot and felt the more informal image captured Vice President-elect Harris's authentic, approachable nature — which we feel is one of the hallmarks of the Biden/Harris administration.
A bigger hallmark surely, though, is how we will see the first-ever female Vice President of Black and South Asian descent sworn into the United States government. This is a point Australian journalist Virginia Haussegger seemed to miss as she questioned how the cover was an "insidious diminishing of Harris" that "reduced" her. She wrote,
Reduced her to what exactly isn't clear. A normal person? A woman in a hurry, with things on her mind? A working woman who loves a comfy shoe?
That's the problem though. Vice President Harris is not a normal person. Haussegger and Wintour both fail to realise the way women of colour are constantly represented. Black women are often subjected to both gender and racial microaggressions, such as being called assertive and intimidating when they speak up and share opinions.
South Asians are underrepresented, labelled as 'terrorists' or seen as subservient. This was heightened following the Brexit vote in the United Kingdom and Donald Trump's tenure as President. Racial-based hate crime in the UK grew by 11 percent in 2018/19, with just under half of those cases (78,991 in total) targeted against Muslims.
It's not the first time Vogue has come under fire for its diversity problems. In 2020, Beyoncé's mother, Tina Knowles-Lawson, called for the publication to hire more black photographers, with an article by Priya Elan in The Guardian reporting how "Under Anna Wintour's editorship in the US, which began in 1988, Tyler Mitchell remains the only black photographer to have shot covers, including Beyoncé in 2018 and actor/singer Zendaya in 2019."
Perhaps Vogue's choice to go with the blatantly weaker cover speaks to how it views women of colour in powerful, progressive positions? Rather than elevating these achievements, Wintour's decision diminishes the significance of Harris' victory, which has been celebrated globally, from the US all the way to her maternal ancestral home in Thulasendrapuram, South India.
Wintour may have expressed a desire to do better, but all she has done is lend lip service to this and backtrack on her word when the perfect opportunity presented itself. To add insult to injury, Wintour told The New York Times opinion writer Kara Swisher that "all of us felt very, very strongly that the less formal portrait of the Vice President-elect really reflected the moment we were living in."
Perhaps she hasn't been paying attention. A string of deaths in the African-American community brought racial tensions to an all-time high in 2020: a year where a global pandemic resulted in business closures, more than 2 million global deaths and insufficient structures to deliver education and keep frontline workers safe.
'Less formal' is not what is needed right now. Competent leadership and an emphasis on people's health and wellbeing is. The alternative cover of Harris captures this perfectly. Her direct stare to the camera and confident smile is reminiscent of what we have seen from the Vice President recently and personifies the reassurance people need right now.
View this post on Instagram
This isn't about reducing women to their looks and criticising what they're wearing, but holding a notable publication accountable for their portrayal of a woman it profits from. Perhaps this brush with reality will give Vogue the reset they so badly need. Whether they like it or not, Harris is the first woman in this office and as she states, "I will not be the last."