by Vinny Anand
When I was a kid, my mom said any time a camera was around, I would run around in front of it like a madman…who knew that would turn into a profession?
I started out as an economics major at George Mason University and graduated into the corporate lifestyle with a job at an IT Firm with a nice salary, pension and even health insurance (artists don't usually have health insurance, so now I understand the benefit it provided). My life was comfortable and it was killing me! I was slowly dying inside and realizing the trap society was trying to ensnare me in;
Corporate job equals savings, which equals buying expensive things like a house that results in a 30- year loan, which means STUCK!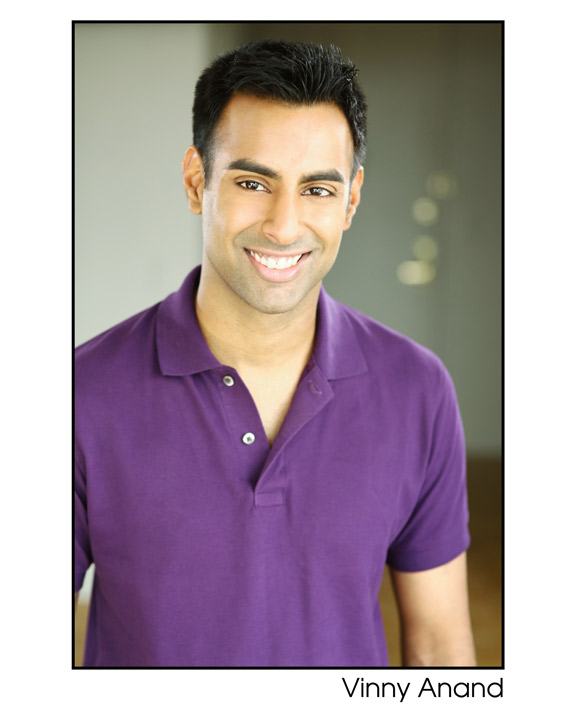 I had to break out and it wasn't too hard since I was fired from three corporate jobs in less than a year. I felt like I had been in three bad relationships. They start out well enough, but after a couple of months I got dumped because I still had some soul left. I would say things that bothered "the man." Like in a team meeting, once, when asked for suggestions to make the 'team' better I said, "we should have a mascot" and was fired shortly thereafter.
Realizing corporate America wasn't for me, my best friend and I started our own real estate investment company, complete with credit cards and whiskey. A year later we owned half a dozed houses in the Richmond, VA area which we bought for pennies on the dollar and fixed up with loans from banks (that's right, we were the ones who created the Financial Meltdown of 2008). We didn't realize that they would want their money back with interest.
The lethal combination of having a lot of cash and being 22 year olds didn't work out too well for us and as soon as the recession hit, we lost everything and were completely fucked financially. Our friendship went to shit and our business had to be shut down.
After being hit by this setback I did what any normal 22-year-old would do, moved to NYC to pursue my dream of becoming an actor/comedian. I came to NYC in 2009 with no money and a friend's couch to sleep on (comfortable ass couch too!).
Here I am five years later living the life of my dreams – not my parent's dreams, though I have played doctors in commercials so they are proud enough. I have worked with top stars like Kevin Bacon, Tina Fey and Tracy Morgan (fuck Wal-mart!) in commercials and TV shows. My comedy career is on the rise with recent gigs at Gotham Comedy Club and hosting/emcee-ing the American India Foundation Gala in Richmond, VA on November 15, 2014 (oh, you fancy huh? Yes, yes, I am fancy, thank you).
The two truths I have learned in life are:
1) If you live in NYC. know where public bathrooms are.
2) Like my man Einstein said, "life is like a bicycle, to keep your balance you must keep moving." Aim high and take actions every day to meet your goals and you will be surprised at how life opens up.
[divider]
To find out more about Vinny Anand, visit his website www.vinnyanand.com and 'like' his Facebook page!