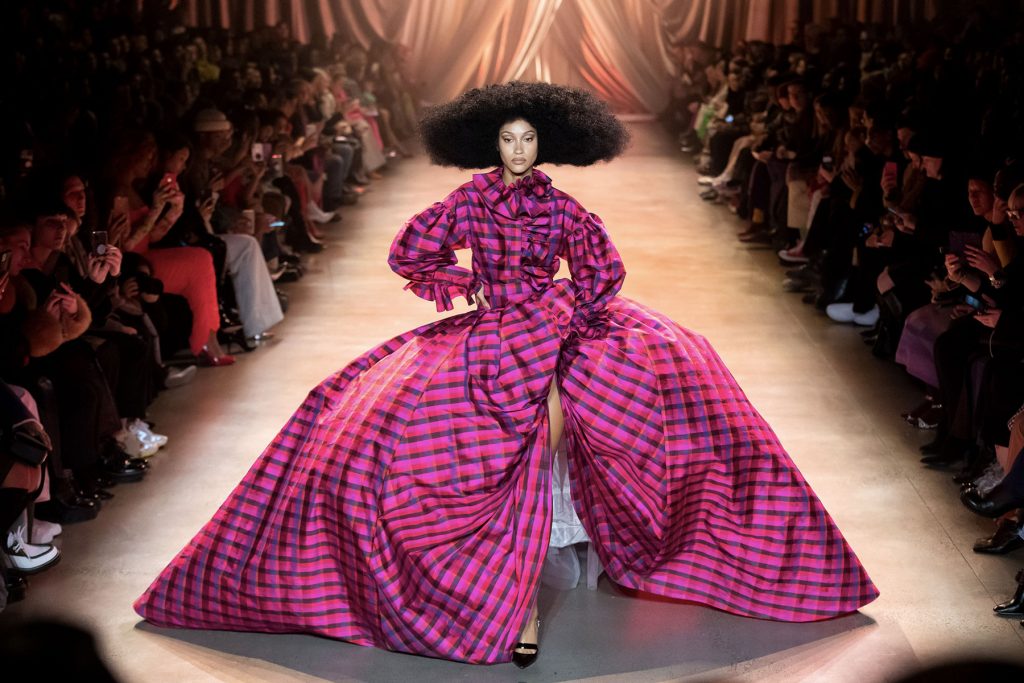 Today marked the beginning of a truncated and virtual New York Fashion Week Spring 2021. The shows run from September 13 to September 17. Who would have thought that we'd be replacing media pits, front row seats, and the glitz and glamor of fashion week with a more laid-back and comfortable approach?
View this post on Instagram
How many times have you heard the statement, "from the comfort of your home" in the past few months? Most, if not all, of the activities in our lives, have transformed into things we can do in front of the screen. From grocery shopping to ordering essential products online, businesses and consumers alike have resorted to using online platforms. The pandemic has affected many industries, and the fashion industry is no exception.
Aside from PJs or face masks, what else were we buying online? Controlling our fingers from hitting that "add to cart" button, we keep asking ourselves the golden question, "where would I even wear that now?" Many online stores and boutiques are displaying models at home and how they are wearing the merch even while approaching the "new normal." The fashion industry, however, is indeed unstoppable and is motivated to reach its audience. In addition to demonstrating creativity, the line of fashion is also a business and the show must go on. The designers and other artists involved in making such fashion also need support amid the pandemic. Thus, New York Fashion Week Spring 2021, like many other fashion shows this year, is thrilled to showcase the fashion week virtually.
So, how is that going to work? I mean, without celebrities and paparazzi in attendance, what is the point? Representing and showcasing one's work needs a platform and an audience for sure. However, now more than ever, the virtual platform is one such lucrative and attractive destination for many businesses and consumers. What better way to enjoy fashion week, support our designers, and get front row seats from the comfort of our home? There's that phrase again!
View this post on Instagram
The fact that it is on a virtual platform means that the audience can participate from all over the world, making it bigger and better than ever. In addition to the wide audience outreach, the fashion show will be debuting talents like Anne Klein. Other designers are looking forward to displaying their collections in the form of virtual look-books and videos.
There are many lines, big names, and newbies alike, which will be participating, but many, including Michael Kors and Marc Jacobs, will not be. While it certainly creates a void, it will be exciting to see how the other artists will be sharing how they strategized showcasing their collections in such circumstances. In a time like this, when new and upcoming designers may be struggling to bring their brand to the forefront, a virtual New York Fashion Week will aid in highlighting those who are imminent in the world of fashion — designers sitting out this week are helping the likes of Maisie Wilen, an L.A.-based label that won a prominent grant as an emerging designer from Kanye West.
What will be more interesting to see are many of the designers collaborate with Lowe's! Yes, you heard that right. This partnership is truly so fitting during these "stay at home" months. Fashion is a way to express ourselves and I can bet that you have been rearranging some things around your house to feel like ourselves! While backdrops of the world's most beautiful buildings and attractive color schemes have always been a treat to the eyes through the elaborate sets at New York Fashion Week, it would be more relatable to see house features from Lowe's as a part of the background this time around!
The virtual aspect of the shows this week is a symbol of what fashion truly is and should be: accessible, relatable, and adapting. Now, with just one click, you can not only buy that dress and save it for when you finally meet up with your friends (of course, while maintaining social distance and wearing your masks) but also get front row seats to one of the world's best fashion shows.
Day 1 looked promising with designers like Jason Wu and Tadashi Shoji streaming their collections for the world to see; for those craving a vacation, Wu brought a tang of Tulum to the runway!
View this post on Instagram
Here's to more of virtual fashion this week and the start of what will be a ground-breaking season of fashion and style. There are plenty of virtual fashion shows to come this season!