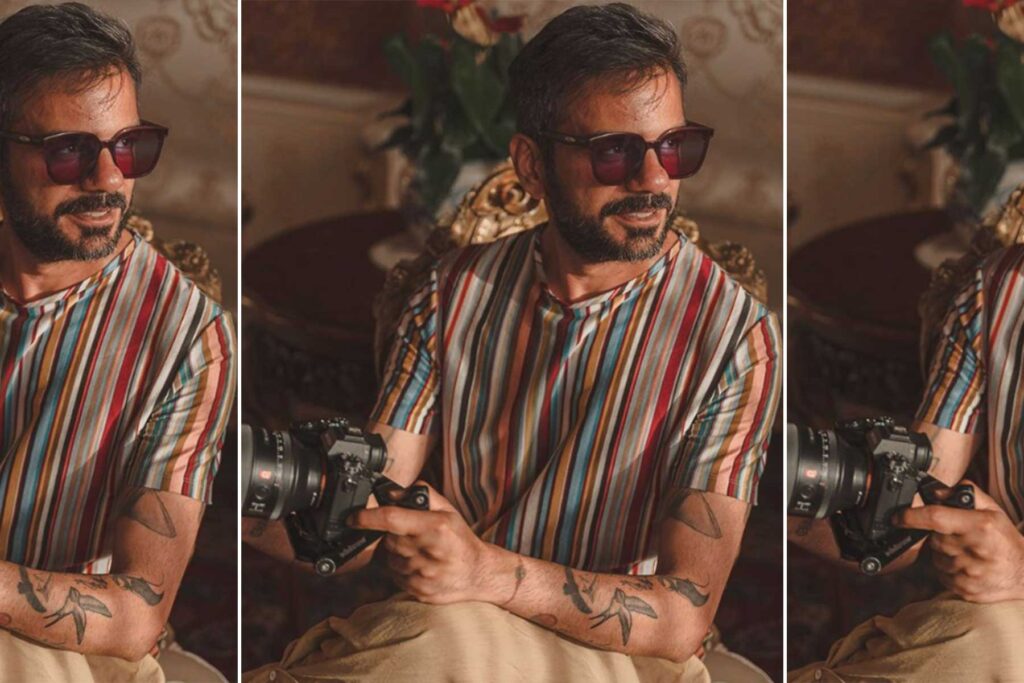 As soon as "Peer Vi Tu" starts playing on my Spotify shuffle, I am instantly reminded of when I watched Anushka Sharma walk toward Virat Kohli with Italy's scenic villa as the backdrop. I am sure we all agree that every wedding has a song that is reminiscent of the time we had on the dance floor, during the first dance, or the multiple dance practices before the main event. The maestro behind setting the stage full of raw emotions, personable tunes, and picturesque snippets as part of his wedding films, Vishal Punjabi, is coined as India's Wedding Filmer.
If you are a bride or groom-to-be, an aspiring filmmaker, or just love all things weddings, read on to learn more about Punjabi's journey and beyond.
Share a little about your background! How did you start your career with Shah Rukh Khan?
I used to work for a company on website designing which got a few awards back in London (home). Shah Rukh Khan, here in India, was on a hunt for designers for his own company's website and he somehow found me. He called me asking me to join. I thought it was a joke and hung up. Thank God he called me back and that's how I made it to India.
View this post on Instagram
What prompted you to start wedding filmmaking?
After working in Bollywood for 10 years, I felt myself getting lost. Shah Rukh [Khan] was making a film called Ra.One. And I wanted to make documentaries for a bit. In between, I took a two-year sabbatical [from] Bollywood to find myself again. I started making documentaries and enjoyed the process. So, when I came back to India I wanted to film those. But, Shah Rukh was making such a big film — Ra.One — at that time. And, I actually got married at that time. [Soon after] I quit my job after working for 10 years.

When I got married, because I just quit my job, I couldn't afford a videographer. So, I told myself, 'Oh! I wanted to make a documentary, which is non-fiction! Let me start with a wedding film!' I made my film as a present to my wife as an idea that I wanted to experiment with and I really enjoyed making and editing it. Of course, since it was my own wedding, I enjoyed it even more! Then I realized while doing this, that there is TOO much joy in this, I can do this forever. So, I started doing wedding films and was coined The Wedding Filmer. Ta-da!
What is Vishal Punjabi's favorite wedding moment?
Usually, the expression on the bride and groom's faces when the wedding is done and he's finished putting the sindoor in her hair. The expression of relief that they are finally together is quite sublime. You see that again during the first dance [at] the reception because that's when they actually celebrate the fact that they are together. The expressions are priceless…the best laughs, the best smiles, the best twinkle in their eyes at that moment.
View this post on Instagram
Weddings are an integral part of South Asian culture. Do you think the same? Why or why not?
Yes, there are individuals who save money their whole life to spend on their wedding. Instead, many in the West would put it in a college fund or buy a home. In India, we spend it on weddings, which is quite epic. I think it is changing now [though]. People who are getting married in this century are feeling more like taking care of expenses themselves, having weddings on their own, spending on things and people that matter to them — you know, not inviting people that they don't meet very regularly. I think COVID also helped change that perspective. Since COVID, wedding sizes have reduced. A lot of couples are not inviting extended family and want to keep it tight-knit to keep everyone safe. So, yeah, COVID has brought a lot of change in that perspective. And, it's not a bad thing. It's a good thing. Weddings will always be important. Birth, we have no control over. Death we definitely have no control over. The one thing that we have control over during our metamorphosis is our wedding. That's why we strive to make our weddings so special. Normal people do not have Filmfare awards, etc. The wedding day is the day they get to celebrate life, their achievements, all their dreams, their relationships — all their wishes come together during this special time. It is an excuse for all of us to celebrate and party. And, why not? Who wouldn't want this!? Isn't that what the world cup is all about?
What's the backbone of a wedding film?
The music we create! Music is the core element because that's how we feel. When we hear so much at a wedding, it's nice to feel that [music] without the cheese and familiarity of a Bollywood song. That's why we create music for our films, it makes them unique and it gives them a structure and a backbone. [The music] allows it [the film] to flow the same way your memories would because you can actually feel better when you watch a memory and go through it [as you lived the memory]. We strive for that very feeling.
View this post on Instagram
On that note, I adore the way you not only capture the true essence of a wedding but also provide an endearing soundtrack that is connected to the couple. How does that process work?
I keep my ears open at a wedding, not just my eyes. So it's very important to hear what plays at a wedding. What kind of songs people sang at the wedding, what did people dance to, and which song did the bride enter to? I also pay attention to the cultures represented at the wedding. Was it a Sikh wedding, or a Muslim wedding? Were there duas included, were they lyrical? What kind of artists came and performed? That will give you a good sense of what kind of music sense I am catering to. And then I start thinking about the bride and groom and about what they say and why they want to say what they say. What is the purpose of the film? Is it for them, for their future children, for their parents, or is it for society? So, I have to think about all of these perspectives and take them into consideration and then start creating a music track. This is why I think my music works for weddings because there is a process that is very real, very authentic, and that is basic to who we are. That's how our films become [what they are].
What's your take on destination weddings?
No one wants to [get married] in boring places. Everyone wants to [get married] somewhere beautiful and when COVID hit, there was a lot of struggle for people getting married. So, they got married at home. But now that borders are opening and countries are investing back into the hospitality sector, [it] is an opportunity for all to thrive. Thailand used to be a prime location for Indian weddings, so I think that is picking up again. It's what the world needs. Some love being spread around the world. It's nice when people travel for weddings. Airport anxiety and all of that kind of goes away when you are thinking about going somewhere with people for a fun purpose. I just came back from a wedding in Valencia and I think it was stunning. For people who can afford it, why not celebrate and have a long big holiday with the people you love? It's the best way to celebrate it.
Recipe for your idea of a perfect event?
The perfect event for me would be in the evening, during the sunset. There is beautiful light and no need to have a generator and all that jazz. I think live music plays an important factor in putting on a perfect event. So, getting an artist that truly connects to you and syncs with you [so] your loved ones can enjoy that process as well. I think as Indians we love our drinks, so it'll be nice to have a bar and a bartender who makes delicious booze that is not too strong. People should really enjoy [themselves] and have a good time while they are there. And, [of course], really good food. That would really make the world go round. Then, a small little area to dance where everyone can go a little crazy for the night to take a turn. And, I think that would be a perfect event, a night where you and your friends/family can enjoy what's happening.
View this post on Instagram
If you are looking to get married or know someone who is, save/send this article over! Vishal Punjabi, we wish you all the luck for the upcoming winter wedding season!