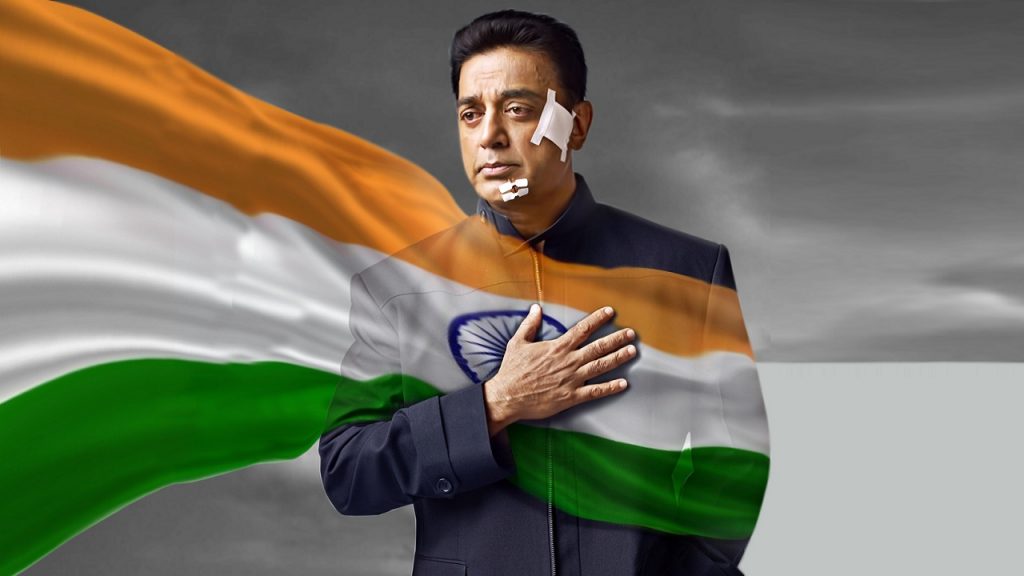 Warning. Spoilers ahead for "Vishwaroopam" and "Vishwaroopam II."
"Vishwaroopam" is a Sanskrit word. It is an event. In Hindu religious texts, the term refers to the universal form (roopam) of God, in which the beholder can see the entire universe (vishwa.) Its revelation is splendiferous and catastrophic, depending on the depiction. The term has since evolved (especially in Tamil and Telugu) to mean 'true identity.'
In Kamal Hassan's 2013 directorial venture "Vishwaroopam," the term is co-opted to refer to the revelation of the protagonist's real identity, his transformation from overly effeminate, Kathak teaching, Tamil Brahmin Vishwanath, to Muslim RAW agent Wisam Ahmed Kashmiri.
Shooting for Vishwaroopam 2 and Hindi Vishwaroop 2. Last stint. Exciting. OTA CHENNAI makes the nation & me proud. The only Academy that trains Lady officers in India. I Salute the ladies and especially my most favourite lady ..India. Maa tuje Salaam. pic.twitter.com/Ym8wFagQdJ

— Kamal Haasan (@ikamalhaasan) November 30, 2017
Though billed as its sequel, "Vishwaroopam II" not only finishes the story, but fleshes it out. It functions as a curious amalgamation of prequel/sequel/companion piece.
That said, viewers who didn't watch the first movie won't be completely lost, but those who did will appreciate what they saw five years ago even more. I definitely did. Both of the "Vishwaroopam" films are not without flaws, but they are, on the whole, good movies.
Kamal Hassan is a better writer than he is director, crafting a story that is compelling even when riddled with plot holes. It is strange to contemplate that he who is known as 'Uiaganayagan' (hero of the world) for decades of drama and comedy has decided to be an Akshay Kumar-esque action hero in his golden years — but Kamal Hassan has. With "Vettaiyadu Vilayadu," "Dasavatharam," "Thoongavanam," and now the "Vishwaroopam" films, Hassan's attempts grow bolder and more ambitious as he ages. However, credit must be given where credit is due. Even at 63, the man does a lot of his stunts, and doesn't look bad in a leather jacket.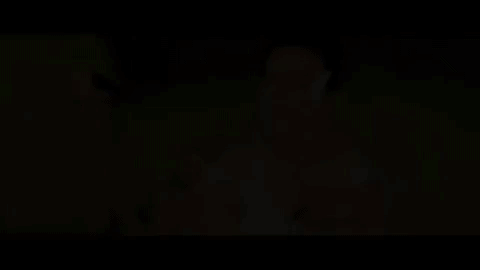 If only that was enough.
"Vishwaroopam I" was a well-crafted thriller with a hell of a twist that ended abruptly, ending in a montage of scenes that were already shot and the promise of a sequel. "Vishwaroopam II" ended up being little more than a well-intentioned, but ultimately misguided exercise on multiple fronts. An old man's attempt at holding on to his fading hero status, a writer's semi-successful attempt at crafting a non-linear narrative, and an action movie's attempt at being 'Something Different.'
First things first. Lofty though his moniker may be, Kamal Hassan has earned his reputation of being a 'Serious Actor.' He has done a plethora of legendary, remarkable films, from "Nayagan," to "Apporva Sahodarangal," to "Moondram Pirai" ("Sadma" in Hindi,) to "Pushpak," and scores more. Here too, although he is mostly convincing as dashing super-spy, I couldn't help but wish that he had cast someone else. I'll admit to wanting someone younger, not because I don't think there are action stories to tell featuring older characters. I'll happily watch the "Equalizer" series, "Red," "Taken," and even "Mission Impossible: Fallout," because even if those roles aren't necessarily written for older characters, they're portrayed by men who bring a lot of maturity and gravitas to the proceedings. (Not Tom Cruise, obviously.)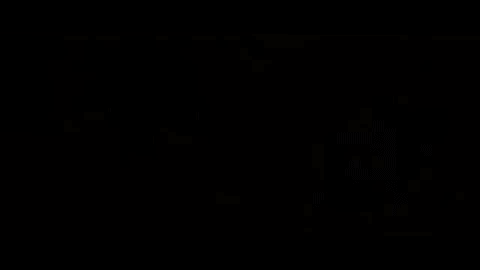 It's a little creepy to see Hassan romance much younger actresses, be it the relationship faked to get him court martialed and into RAW without suspicion, or the real relationship that develops between he and his wife (after she stops thinking that he's gay.) It's also downright painful to see some of the stunts being blatantly computer generated.
Which brings me to the underlying feature of "Vishwaroopam II," which may not be a feature at all, but rather a bug. A privileged, Brahmin Hindu man wrote a movie that featured a lot of Bad Muslims — this isn't anything different. However, the fact that the protagonist is also himself Muslim gives Hassan a fair few opportunities to pontificate on the ills of Islamaphobia. As a Hindu, I cannot speak to the Muslim experience, but I can imagine (as a person capable of empathy) that representation of Muslim characters in mainstream Indian cinema is somewhat lacking. Muslims are always villains, murdering indiscriminately, staring menacingly into the camera with kohl-rimmed eyes and stroking their beards.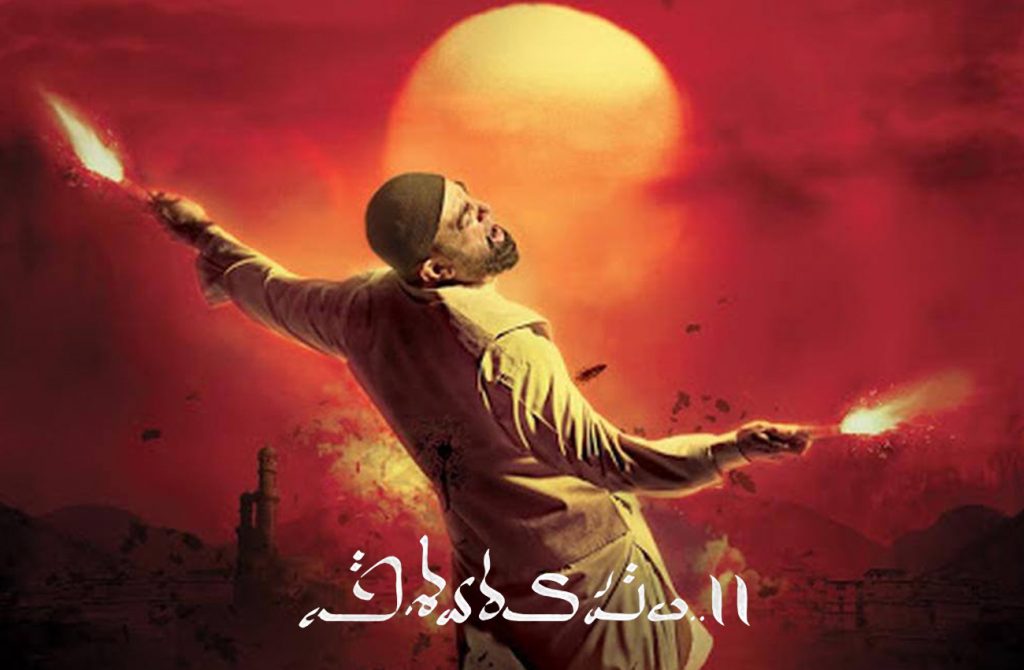 Nevertheless, am I happy that the hero is a Muslim? Yes. Do I wish a Muslim writer and Muslim actor were given the chance to make that representation? Yes. Am I satisfied with Hassan's attempt at that representation? It's really not my place to say.
As much as I appreciate Hassan trying to be an ally who speaks out against the often horrific discrimination that Muslims endure all over the world because of the actions of a few — it seemed hollow. Hassan bashes the viewer over the head with one visual after another, making sure they know that Wisam is the Good Muslim, whereas the terrorists are Bad Muslims. Wisam sheds blood for his country, the terrorists for their misguided interpretation of their religion. Hassan to me doesn't seem the right vehicle to deliver that message, authentic as he tries to make it. Moreover, any effort in empathy or 'ally-ship' is sullied somewhat because of the company that the Good Muslim keeps.
Short tangent: Both "Vishwaroopam I" and "Vishwaroopam II" suffer from what I personally like to call 'UNS,' or Udit Narayan Syndrome. It is a condition that music directors and directors alike are afflicted with, wherein they force people who don't know Tamil to speak (and dub their own voices!) and/or sing in Tamil. Every character in "Vishwaroopam II" speaks Tamil, with varying degrees of success. Rahul Bose, besides skillfully playing a one-eyed, fear inducing villain, does a remarkable job delivering Tamil dialogue. Other side characters, one of them being Shekhar Kapur, are less adept. Characters who speak with a thick North Indian accent immediately disturb the viewer's immersion in the story, a problem that started with I and continues with II.
I bring up the Tamil that the characters speak for a good reason. One of the film's fundamental flaws is that the Good Muslim is further distinguished from the Bad Muslim by the company he keeps: Hindus (or Americans/Englishmen.) What's more, a majority of these Hindus are Brahmin. It's not apparent in Hindi, which features dialogues written by Atul Tiwari, but it is painfully obvious in Tamil. Hassan had most of his Hindu characters speak in chaste Brahmin Tamil, from military officers to corrupt bureaucrats. Perhaps defense of people that are often discriminated against is more powerful coming man of privilege (wealthy, Hindu, and Brahmin.)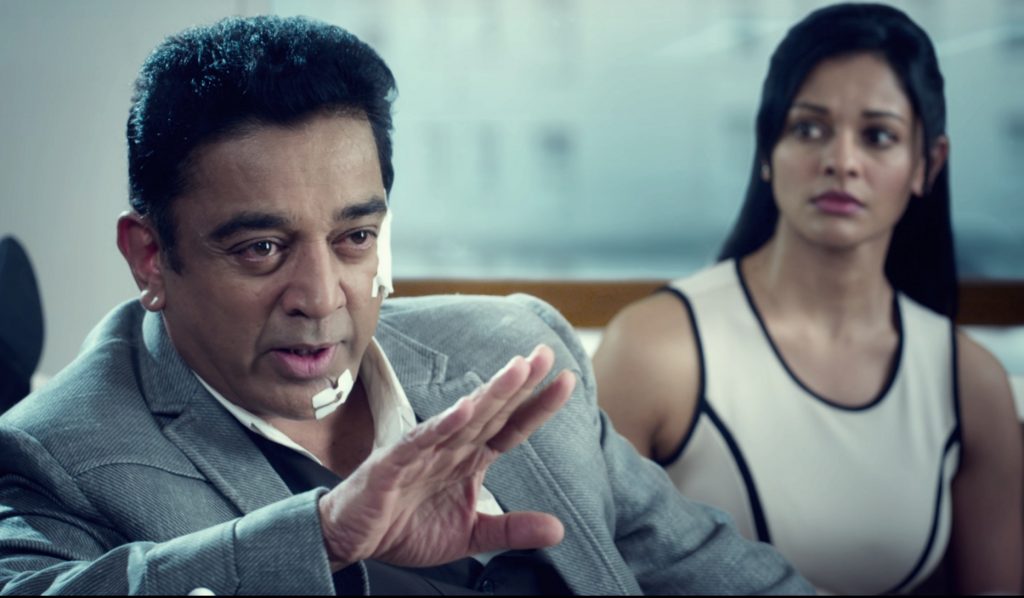 But if I've learned anything from the complex race politics of the Western film industry, it's this: It's ALWAYS better to give the historically downtrodden and disenfranchised the chance to tell their story on their own. Being an ally in the truest sense of the word means fighting for societal change in partnership, using your privilege to increase that of others — not appropriating a narrative and trying to tell their stories for them.
And still. And STILL. Despite this litany of failings, "Vishwaroopam II" is still a pretty decent movie, all things considered. There are many standout performances, especially by Waheeda Rahman, Andrea Jeremiah and Rahul Bose. Kamal Hassan is a magnificent actor, a great writer, and a decent director.
Ardent fans of Hassan will enjoy this movie, and people like me will appreciate it for the attempt that it is.