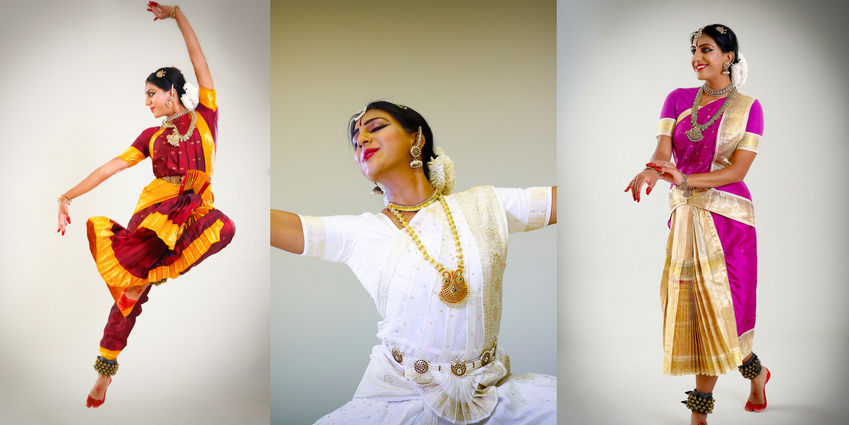 The following post is brought to you by Voices, a Bharatanatyam solo by Srinidhi Raghavan, on Sunday, February 12 at Dixon Place in New York City. For tickets, $25 adults and $20 for students, click here. 
Descending from a line of trained classical dancers, Srinidhi Raghavan harnessed a passion for the Bharatanatyam dance form at a young age–she was only five-years-old when she began–under the instruction of two talented gurus, her mother, and aunt. With an affinity for classical art forms naturally swimming through her veins, it is no surprise that Raghavan has become a celebrated Bharatanatyam performer herself.
Her Bharatanatyam show, "Voices," choreographed in partnership with her mother, Usha Raghavan, premiered in London last year and was received with resounding positivity. Now, New York City has the great fortune of bearing witness to Raghavan's artistic mastery.
Brown Girl recently spoke to Raghavan about her passions, Bharatanatyam, "Voices" and her plans for the future.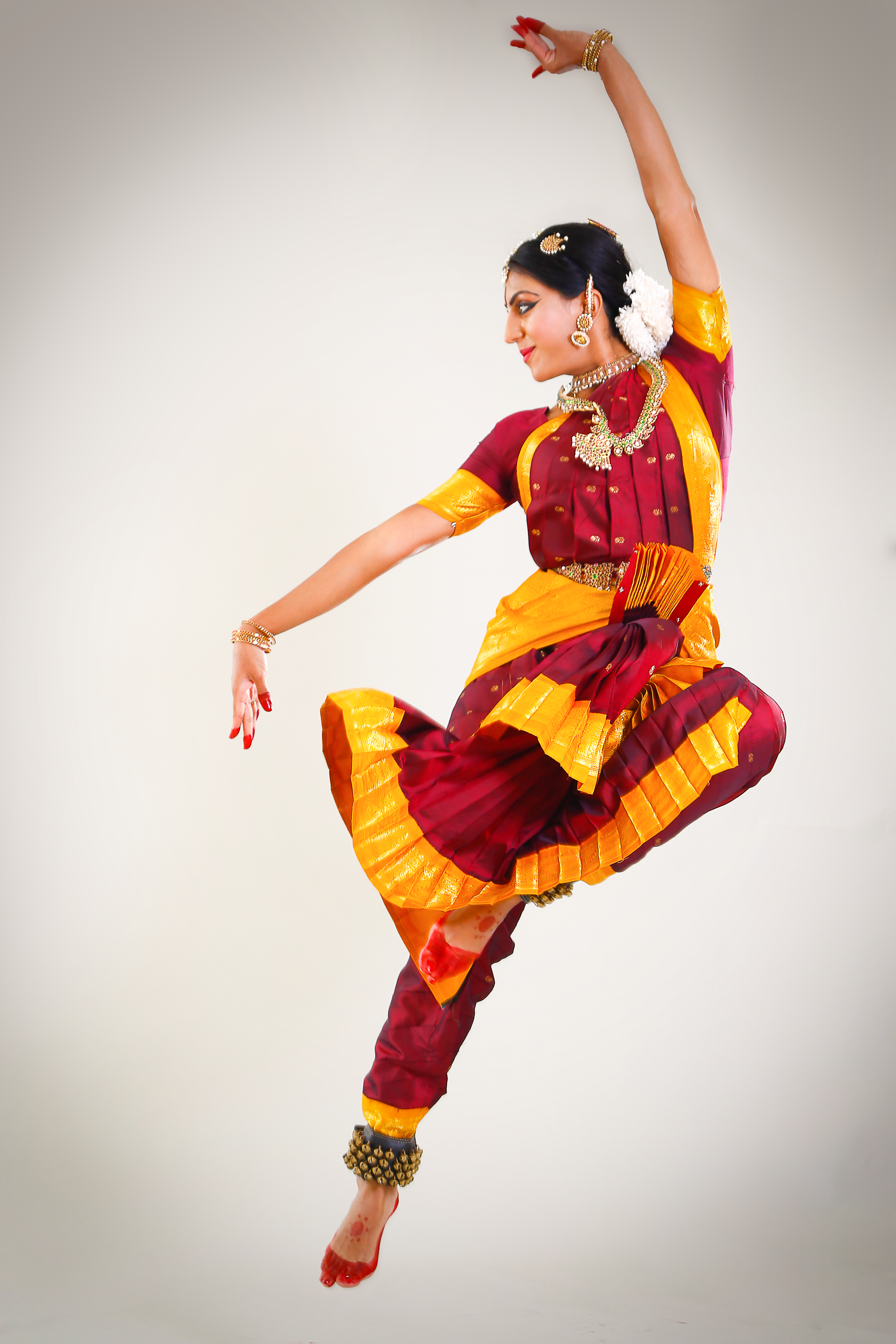 [Srinidhi Raghavan; Photo Source: Jeyakumaran Kandiah]
1. Tell us a little about yourself and your background. How did you become involved with Bharatanatyam dancing?
Srinidhi: "My family has been rooted in the classical Indian arts for generations. My grandmothers were both trained in Carnatic music. While they themselves were sadly discouraged from performing professionally after they were married, my maternal grandmother focused on training her three daughters. That is how my mother, Usha Raghavan, and my aunt, Malathy Thothadri, first started learning Carnatic music and Bharatanatyam— art forms they fell in love with. In 1972, after years of rigorous training and performing, they started their own performing arts institute – Kalasagara in Chennai, which, to this date, has taught thousands of students in India and from across the globe. This was the foundation for my own passion.

I grew up immersed in dance and music. It surrounded me every day from morning to night as I watched my mother, as well as aunt and cousins, teach and perform, day in and day out. We moved a lot when I was young – I lived in several parts of Europe and India. So having a strong sense of 'home' was tough. This is where dance came into the picture.

My earliest memories are of me staring at my mother getting ready before a show. The memories are vivid. We would be backstage in a theater in Paris or Rome. It would be right before my bedtime. I was probably two or three years old, clutching my favorite blanket and watching my mom glamorously put on the finishing touches in her costume. I would hear the pre-announcements to the show, and my mother would swoop down and give me a hug and a kiss. I would crawl into a traveling crib or mattress in the corner of the dressing room while my mother tucked me in. The sounds of the bells on her feet would be one of the last things I heard as the music wafting through the backstage curtains lulled me into sleep. Dance was therefore a constant theme in my life. It grounded me – it was familiar, comfortable, a way of life.

As I grew up, however, it became more than that. My first on-stage debut was a small piece I performed in Milan when I was five years old in a show for Teatro Tascabile di Bergamo (TTB). It was a small five-minute solo piece, but I remember the feeling as if it were yesterday. I loved being on stage. That was the start of what would be a passion in my life going forward.

I had my arangetram (which literally means "ascending the stage" in Tamil and implies a sort of milestone after years of intense training) at the age of fourteen in Chennai. At that point, I was obsessed with this art form. The more I learned, the more I wanted to learn. The more I watched other dancers perform, the more I wanted to dance. I was thoroughly inspired. In the years that followed, I continued to perform in London, Paris and other parts of Europe both in solo and group shows, as well as throughout South India, including during the eminent December festival season in Chennai in age-old sabhas, such as Karthik Fine Arts, Indian Fine Arts, and Sri Parthasarathy Swami Sabha."
(Sabhas are prestigious cultural organizations dedicated to recognizing and promoting talent in the Indian Classical arts from across the globe).
"When I moved to the States from London to go to Columbia University, I joined their South Asian dance team, Taal, which I then led in my junior and senior years. Not only did this team form the basis for some of my closest friendships and mentorships, but I also realized what 'pushing boundaries' and exploring the deeper meaning of art and fusion meant. I learned how to choreograph, explore music, and dance with my heart while promoting the art to a broader audience.

When I graduated, I teamed up with another dancer who I became close friends with through Taal – Sahasra Sambamoorthi (co-President, Navatman, Inc.). We choreographed, produced, and performed in Her Story, which then went on tour in ten cities in the US, the UK, and India between 2008 and 2009. This is when I realized the passion I had for creating original work – fleshing out a theme that was close to our hearts (in this case, the theme was the concept of 'unconditional love' and how that transcended generations), researching lyrics from ancient Indian texts, working with musicians on setting the score, choreographing as the music evolved, and making the art 'accessible' to a more modern audience while maintaining its traditional roots.

At this point, I would say that Bharatanatyam is fully a part of me and who I am. The art inspires me and helps me see the beauty in the world. It both provides me with perspective and helps create a vision for how I want to lead my life."
2. For our readers who may not be aware, what distinguishes Bharatanatyam from other classical dance forms?
Srinidhi: "While there are several distinguishing features of Bharatanatyam, I would say that the two main ones are (1) how this dance form combines theater and expression with 'pure dance' and (2) how this art form is rooted in ancient and spiritual texts, and yet so relevant to us in this modern age.

With respect to my first point, it is important to note that 'Bharatanatyam' is a compound of two words – 'Bharata' and 'Natyam.' 'Bharata' stands for 'Bhava,' 'Raga,' and 'Talam.' 'Bhava' implies expression, 'Raga' means melody, and 'Talam' means rhythm. The word 'Natyam' means dance in Sanskrit. The harmonious combination these three elements of dance is what I love about Bharatanatyam. In this dance form, you see intricate rhythmic foot-work, intense (yet graceful) body movements and expressive storytelling all come together. It also allows me to reinterpret works that are centuries old, which brings me to my second point.

The foundations for Bharatanatyam can be found in the ancient Indian scripture on performing arts – the Natya Shastra, which is about 2,000 years old. For centuries this art was performed by Devadasis (temple dancers) within temples. It was then banned by the British during Colonial rule in the early 1900s. The dance was revived in the 20th century after Indian independence and the traditions were reintroduced outside temples. The art form has not only had a long and tumultuous history, but it is also codified very specifically. There is a lexicon that defines every possible pose, footwork, movement, look, and hand gesture. There are clearly defined parameters for how the art can be presented. And yet, there is so much scope for improvisation and interpretation. The more I dance, and the more I observe other dancers, the more I realize how much one can innovate. How the idea of such a prescriptive – almost scientific – code can allow for so much modernization amazes me. And that is what I love about this art."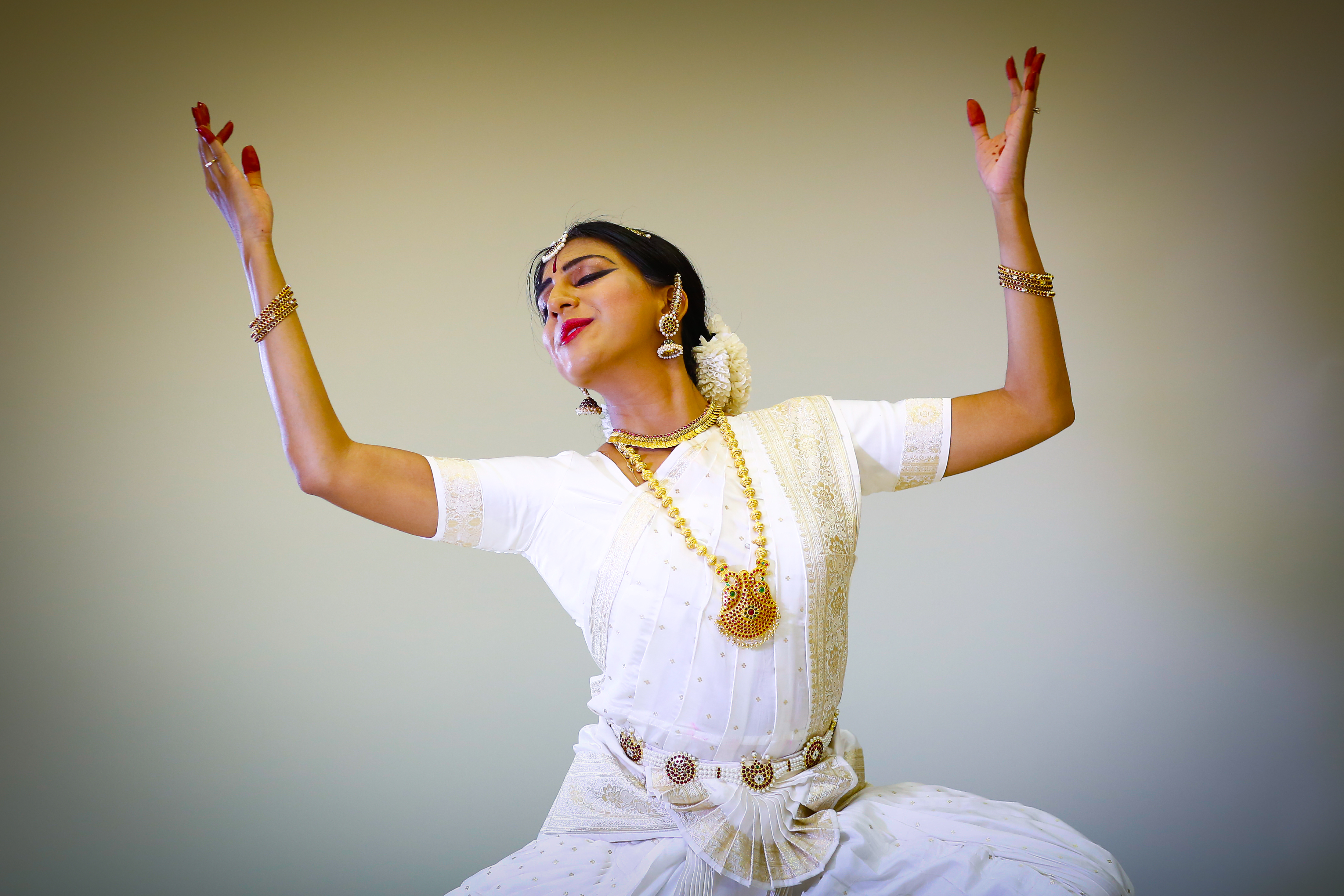 [Srinidhi Raghavan; Photo Source: Jeyakumaran Kandiah]
3. Dance related or otherwise, who are some of your inspirations or idols?
Srinidhi: "First, I would have to mention my mother and my aunt again. They are not just my gurus, but also trailblazers. I am inspired every time I think about how my mother has pushed boundaries and grown this art in Europe over the decades (her students span not just the UK but also Italy, France, Switzerland and parts of Eastern Europe and the U.S.) and how much my aunt has done for Bharatanatyam and Carnatic music since the 70s. I am lucky to have been born into this family.

But I would also say that I find inspiration in art everywhere. We just visited the beautiful city of Tanjore in South India and I was floored at the beauty of the thousand-year-old Brihadeeswara temple. That was inspiring. That said, I was also inspired by the Grand Canyon, as old as the earth itself. I was inspired by a song I heard at a small concert while on vacation in South India, but I am equally inspired at a jazz show in the Village in NYC. Whenever I see the work of nature or when I see someone else's inspiration unfold in front of my own eyes, it pushes me to do my best work."
4. Tell us about "Voices." How was the idea for the show conceived?
Srinidhi:  "'Voices' is an original production that I created under my mother's artistic guidance.

In early 2016, I was talking to my mother about a pivotal moment in my life and how I made an important personal decision. I mentioned an "inner voice" – something like a conscience, but more so a constant whisper that gently nudged me into doing something that I later came to be immensely happy about. And that is what led to us talking about the notion of 'Voices.'

The voices are everywhere. Sometimes, they are whispers and sometimes they are deafening cries. I was also most curious about the inner voice—the one that no one else can hear. The voice that cautions us, tries to protect us, but often misguides us, too. I wanted to explore stories where characters we often grew up hearing about from the Ramayana or Mahabharata heard these voices and how they reacted. The show explores these moments and what happened to our protagonists when they made a life-changing decision.

We then researched Sanskrit lyrics and their word by word meaning from Valmiki Ramayana as well as the Mahabharata, spoke to Sanskrit research scholars to double check the meaning and then worked with musicians to set the score for the two main pieces on Dasaratha and Kunti."
5. Aside from the rehearsal of choreography and other visual semantics, what other preparation was undertaken with respect to executing your concept/vision for the show?
Srinidhi: "The whole show was a cross-continental effort. I was in New York City, and the musicians as well as my mother – the artistic director of the show – were based in London. Logistics were immensely difficult, especially as creative work needs time to flourish. I found that I had to establish a rigorous schedule. I woke up at 5:30 a.m. for daily weekday practices at 6 a.m.. I practiced until 7:30 a.m. before rushing to work. Late night logistics sessions (marketing, brochure write-ups, lighting and costume decisions) which often extended past midnight were physically exhausting but emotionally exhilarating nonetheless since I loved what I was working on.

I would also say that researching and scripting a show in a language like Sanskrit is extremely difficult. To be accurate in my understanding and interpretation and then explore the artistic boundaries of the stories meant immersing myself in the music and then improvising and trying new choreographies every day.

Lastly, since I was performing in London with live musicians, the music kept evolving. In Bharatanatyam, the dancer plays off the musicians and vice versa on stage. There is a lot of improvisation, though the dancer and musicians do not explicitly communicate with one another on stage. For us to pull this off sitting an ocean apart during the months leading up to the show, it required constant communication and the use of technology (thank you to Whatsapp, Skype and Google chat!) to make this happen seamlessly."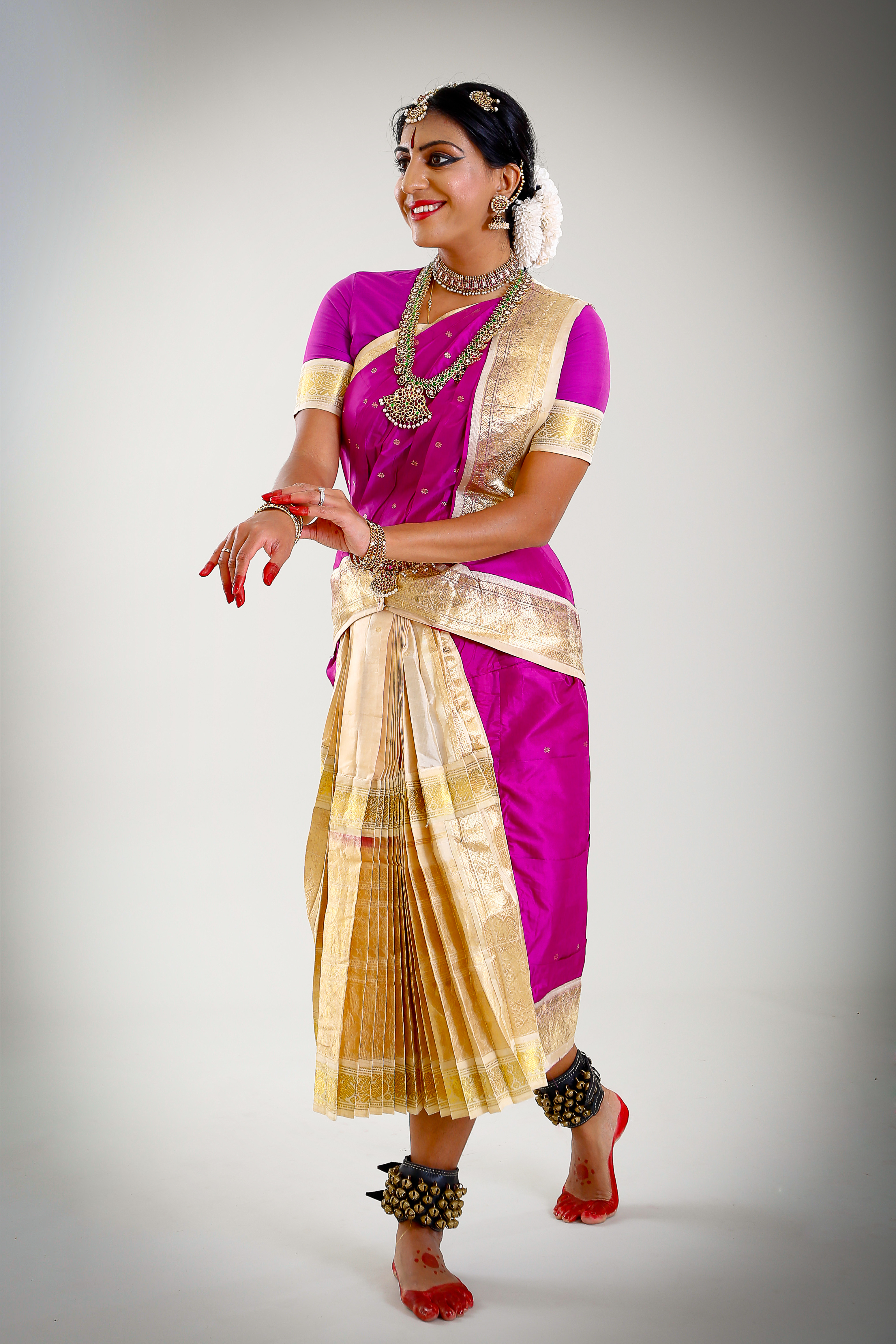 [Srinidhi Raghavan; Photo Source: Jeyakumaran Kandiah]
6. What has public reception of "Voices" been like thus far?
Srinidhi: "I am humbled to say that the reception has been great so far! The review in Narthaki is probably the most comprehensive one that captures some of the effusive feedback I got from a sold out audience."
7. After New York, where will you be taking the show next?
Srinidhi: "After my show on February 12th, 2017, at Dixon Place in New York City, my goal would be to perform across the United States. I also hope to perform in India this year."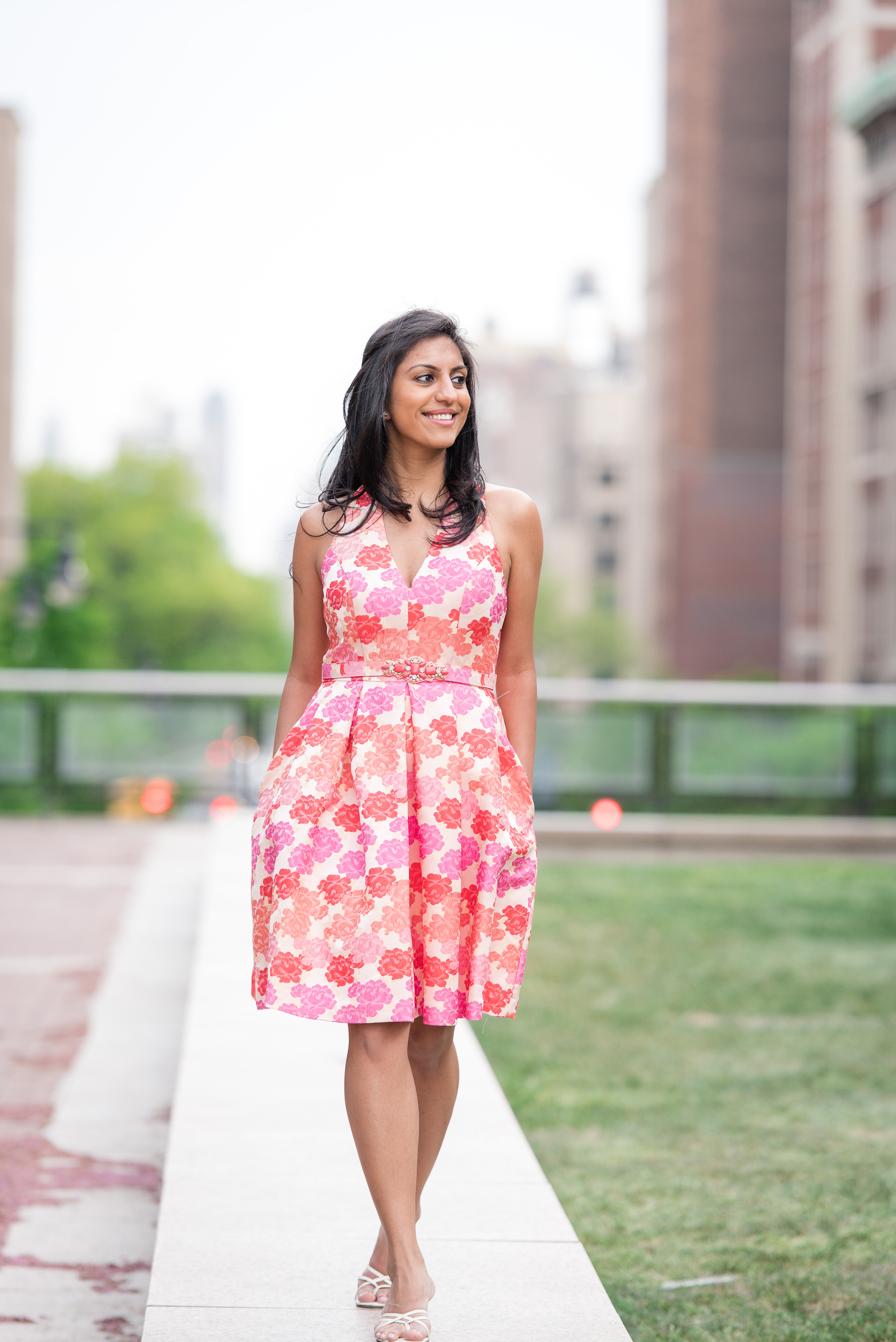 [Srinidhi Raghavan; Photo Source: Ajit Singh Photography]
8. What has been the most memorable "Voices" moment on tour thus far?
Srinidhi: "For me, every time I have my first full orchestra rehearsal before a show, I am moved. The music has all come together, and the choreography feels 'complete' (it's never really complete as there's always room to modify and evolve). It's an emotional moment, and that's the first time I lose myself in the music and the emotion of it all.

I remember the first full orchestra rehearsal I had in London two days before my show. This was right after I flew in from New York City. I was so jetlagged, but I could feel the music carry me through the next four hours of rehearsal. It was so wonderful."
9. How would you like to see Bharatanatyam evolve, either with respect to performance or perception, if at all?
Srinidhi: "I would like to see the perception of Bharatanatyam evolve in the United States. I grew up in Europe where I saw Indian dance take more of a mainstream position in the arts field over the decades. In the United States, I feel like people are still getting to know the art in pockets, and it is finally becoming more popular. I would love for this trend to continue as folks learn more about the art and the rigor, precision, and innovative thinking behind each production."
10. Do you have any other projects in the pipeline?
Srinidhi: "Yes – I am currently working on a video series with Navatman, Inc. We are in the process of conceptualizing, choreographing and producing work that speaks to socially relevant issues in the United States. Stay tuned, as we will bring that to you very soon!

Separately, I am working on several other solo productions, which I hope to premiere in the United States later in 2017."
---
"Voices," premieres in New York on Saturday, February 12 at Dixon Place. The show is clearly the culmination of generations of talent from a family that has shared the beauty of the dancing art committedly throughout the world. We can't wait to share our experience attending the show next month. Hope to see all of our New York readers there! Get your tickets here. See below for a full biography on the abundantly talented Srinidhi Raghavan.
---
Srinidhi Raghavan started learning Bharatanatyam at the tender age of five from her mother and guru, Usha Raghavan, and from guru Malathy Thothadri.
Since her arangetram in Chennai in 1998, her experiences with dance have spanned several cultures and countries, including those of the United Kingdom, Switzerland, France, Italy, Liechtenstein, Barbados, Canada, the United States and of course India, during the prestigious December festival in Chennai. Such exposure has in turn added an eclectic element to her delivery which, when combined with her traditional style, results in a unique reflection of elegance and experience.
Throughout her four years at Columbia University in New York, Srinidhi pursued her interest in dance by participating in and leading the South Asian dance troupe at Columbia, Taal. As president of Taal, Srinidhi successfully led an intercollegiate dance showcase and fundraiser in New York involving universities from across the United States.
In 2008, Srinidhi, along with Sahasra Sambamoorthi, Co-President of Navatman, Inc., choreographed and presented a dance duet, 'Her Story,' on the theme of a woman's unconditional love at the prestigious Peter Norton Symphony Space: Leonard Nimoy Thalia Theater in Manhattan. Not only did the world premiere in Manhattan sell out two weeks prior to opening, but the duo then embarked on a global tour and performed in nine cities in 2009 – Newark, Baltimore, Washington D.C, Boston, Chicago, Ottawa, Manchester, London, and Chennai.
Srinidhi continues to perform in New York and  London in several solo and group shows, often presenting works that are her own choreography. Her most recent work titled 'Voices' premiered in London in September 2016 to a packed audience at the Bharatiya Vidya Bhavan in West Kensington. This thematic Bharatanatyam solo is an original work that explores the impact of society on an individual's decision-making process by highlighting stories from ancient Hindu texts. 'Voices' will premiere in New York on Feb.12, 2017 at Dixon Place.
---
Check out a sneak peek of "Voices" below:
"Voices" is made possible by:
Nattuvangam: Usha Raghavan
Vocal: Thilagasakthy Aaraamuthan
Mridangam: Prathap Ramachandra
Violin: Jalatharan Sithamparanathan
Sitar: Jasdeep Singh Degun
Tabla: Janan Sathiendran