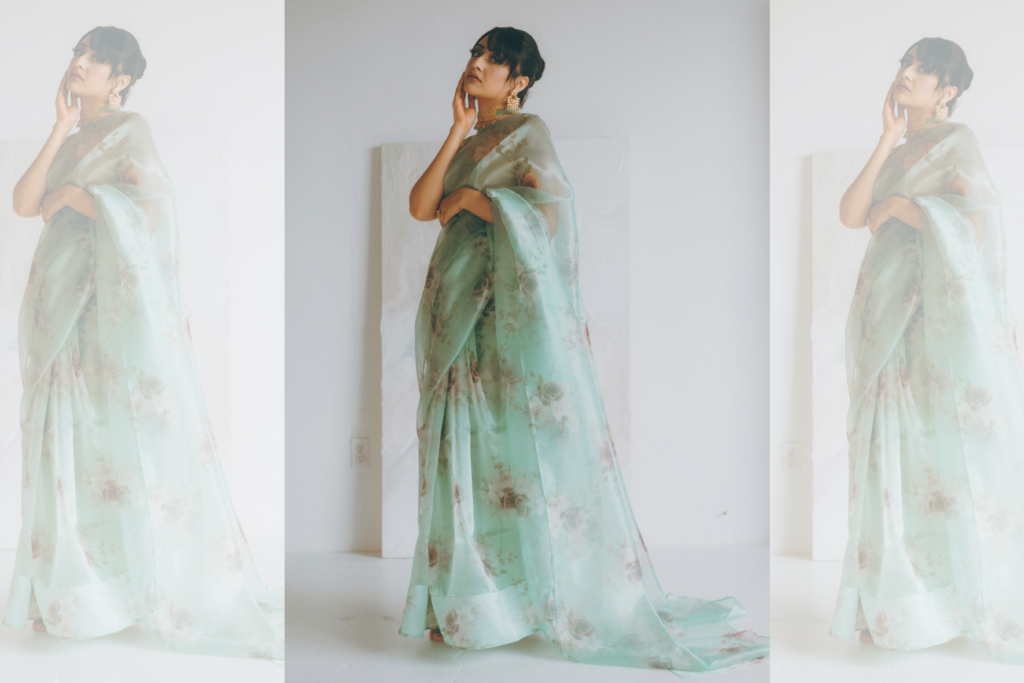 The following post is brought to you by The Saree Room, a modern experience to shopping South Asian clothing and jewelry online. Browse their newest collection — The Era Edit — of six sarees in partnership with Ankita and inspired by her family. 
How many of you have shopped for your desi outfit at a random aunty's basement, stock piled with hoards of kurtas and lehengas, probably brought in a bunch of suitcases, across from India? For many of us desis living in Canada, this is normal practice, but for Adam Meghji it offered the opportunity of a lifetime. Back in 2015, Adam's life partner, and now business partner, Sofi Kassam, had a similar shopping experience that costed her a significant $500 to go through and that, to her, was reason to celebrate because she had "cracked a good deal." When in reality, the outfit would've costed her far less in India. Adam couldn't help but notice this gap in how the South Asian diaspora was shopping for cultural outfits miles away from their native land and set out to launch The Saree Room.
"As the society moves towards fast and efficient yet sustainable fashion, the South Asian industry, in particular, hasn't moved in that same direction and there is a big opportunity, which is part the reason of our success, in that women would like to have a more modern shopping experience," Meghji points out to what triggered his entrepreneurial instinct in an exclusive chat with Brown Girl Magazine.
View this post on Instagram
"Most Indian or South Asian fashion is all final sale, and that has been the tradition forever. But it's not  the sort of business model that is typical now. You don't see women purchasing jeans that way, you don't see women shopping at Aritzia that way. You also don't see women waiting three to eight weeks for an outfit that may or may not come in the same colour or the same size they had thought it to be. [With The Saree Room] we are trying to bring that modern shopping experience, that you would find at any other Western brand, to South Asian fashion and that has been the basis of our business and is our philosophy moving forward."
In it's efforts to accelerate the South Asian fashion experience with changing times, The Saree Room not only offers it's customers the opportunity of free exchange but also has a 15-day return policy. It designs all of it's pieces in-house, with manufacturing set-ups back in India and is fairly more easy on the pocket compared to other diaspora-catering brands.
"We control our entire supply chain, from design all the way to delivery to the customer. We design every single one of our pieces in house and we have dedicated factories in India that exclusively work for us and produce all of our pieces and these factories are more modern in their approach compared to what is typical in India," Meghji adds. "I travelled all the way to India and I helped set up those factories in a way that they would become more efficient, produce less fabric waste and have higher turnover on the number of pieces per hour which helps us cut costs from the production side. Also our goal make less money per unit but sell more and make the money up in volume." 
However, pitching a digital and Westernised shopping platform to customers who were fairly accustomed to paying a premium for a rather mediocre buying experience has been no walk in the park for the duo. Selling fashion was not the challenge, selling the idea was the real battle.
"The biggest challenge has been being different and not being your typical South Asian brand. When I say we design in house, we are affordable, we have a 15-day return policy, it doesn't sound revolutionary because it's the standard across the world but in the South Asian industry it is different," Meghji states. "So to show and demonstrate people the differentiating factors that we have to offer has definitely been a challenge."
View this post on Instagram
Now in it's fifth year, The Saree Room crossed a million dollars in sales – a considerable feat for a start-up that is still early on in it's journey. And while the pandemic has in no way been kind to small businesses, it worked for a business like The Saree Room.
"When we started our business five years ago, I remember my parents said why would anyone buy this stuff online? It's not how you do it. You go in person, you negotiate," Meghji reminisces. "But ever since Covid, even the older generation is now realising that you can buy food online, you can buy goods online. It's not as weird for them as they thought it to be before the pandemic. We are seeing 338% growth in our sales and it's partly because the pandemic has made buying online less stigmatised, more so in the industry we work in."
Exponential growth is not the only milestone The Saree Room is currently excited over as a company. In one of its many firsts, the team is collaborating with Toronto-based social media influencer and style icon, Ankita for a brand new collection dubbed "The Era Edit."
View this post on Instagram
A collection of six unique, timeless sarees, Ankita's vision for The Saree Room promises to take you through South Asian fashion's glorious evolution through the decades with it's vintage appeal, much like Ankita's personal sense of style.
"Designing a collection is something that I always wanted to do and I wanted it to be sentimental and inspired from the looks I created using my grandma's sarees. For a lot of the looks that I create on my page, the sarees actually belong to my Nani and have been passed down to me. So I just knew, the collection had to be inspired from her," says Ankita of what the collection means to her during our virtual conversation.

"If you go through my feed, [you'll see] I absolutely love things that are vintage, regal or royal and my style is heavily influenced by my role models, who are my nani and my mom. This collection kind of brings that aspect out," she adds. "And each saree holds a different memory, whether it's me just seeing a photo of my grandma and my mom in their sarees and wanting to recreate that or the memory of how I felt seeing them wear sarees at an event. It's just a very special and personal collection and represents who I am."
View this post on Instagram
Ironically, Ankita was also the first ever social media influencer that The Saree Room collaborated with at the start of their journey. At the time, Ankita, too, was just taking her first steps towards social media stardom. Over years of constant collaborative work, it almost became the natural, most obvious choice for The Saree Room to reach out to Ankita for such a project. But then Covid hit and what was meant to be a seamless process was marked by delays, setbacks and uncertainties.
"It's been quite interesting planning this collection during a pandemic," Ankita recalls with a laugh, more a sound of happy relief. "We've had a lot of delays especially with the Covid situation in India. We were planning to launch before the summer so as to get ahead of the wedding season but we had to push it forward. On top of that we were planning everything virtually. We only recently got together and looked at the pieces again in person and coordinated the shoot. It was definitely different and special at the same time because I don't think many companies have designed an entire collection virtually and it has turned out beautifully."
Unlike The Saree Room's earlier collections where the outfits are designed in a similar vein around a concept, each piece in The Era Edit is different from the other and unique as a standalone whilst still following a single theme. Meghji explains how the collection, though a reflection of Ankita's love for her grandmother treasure trove of sarees, quickly evolved into a "journey through time."
"I think on the first call the idea was set that we wanted to do a collection inspired by Ankita's Nani but as that idea evolved, we started thinking of different eras, different decades part of her journey. We are launching six sarees and each one represents a different era, a different moment in time – back from the 50s all the way up to the 2000s," says Meghji. "It's very easy to tell how that journey went when you keep the sarees side by side. It's really a timeline."
This particular aspect of the edit speaks directly to the ethos of the brand – that of versatility. Typically, outfits from The Saree Room are wearable, versatile, re-usable and can be worn as separates. For instance, their simple white Zara blouse can be paired with a lehenga, a skirt and a saree. Similarly, each piece in this collection can be multi-purposed and can be dressed up or down depending on the occasion. It's perhaps why both Meghji and Ankita feel that the collection isn't meant for just one certain personality.
View this post on Instagram
"This collection is so versatile, there is a bit of everything for everyone. We have flowy, light, delicate, printed sarees that can be worn for any sort of event and then we also have a saree that's full of sequins, so there is something for everyone and every single event regardless of their style. I don't think we made this collection for just one type of a woman. We wanted to make sure that we filled in every box and that it's not just something that I would wear," Ankita adds.
If you're looking to spruce up your desi wardrobe, the collection is already up for grabs on The Saree Room's website. And if you are wondering how to ace the styling game in one of these coveted pieces, Ankita will be serving up plenty of inspiration on her feed.
Post the launch of The Era Edit, The Saree Room is in for an era of some super exciting changes themselves. The team is planning to launch two physical showrooms in Canada and if all falls into place, then hopefully two showrooms in the U.S. And Meghji assures they'll be nothing like you've ever seen before, including a fair share of up and coming technology as part of its overall experience.
Also, The Saree Room is hoping to branch out and expand it's fashion scope to include collections for the bride herself, by the end of this year. These will be different from what's up on the roster at the moment in that they will be significantly heavier and embellished but still affordable like all other pieces The Saree Room sells.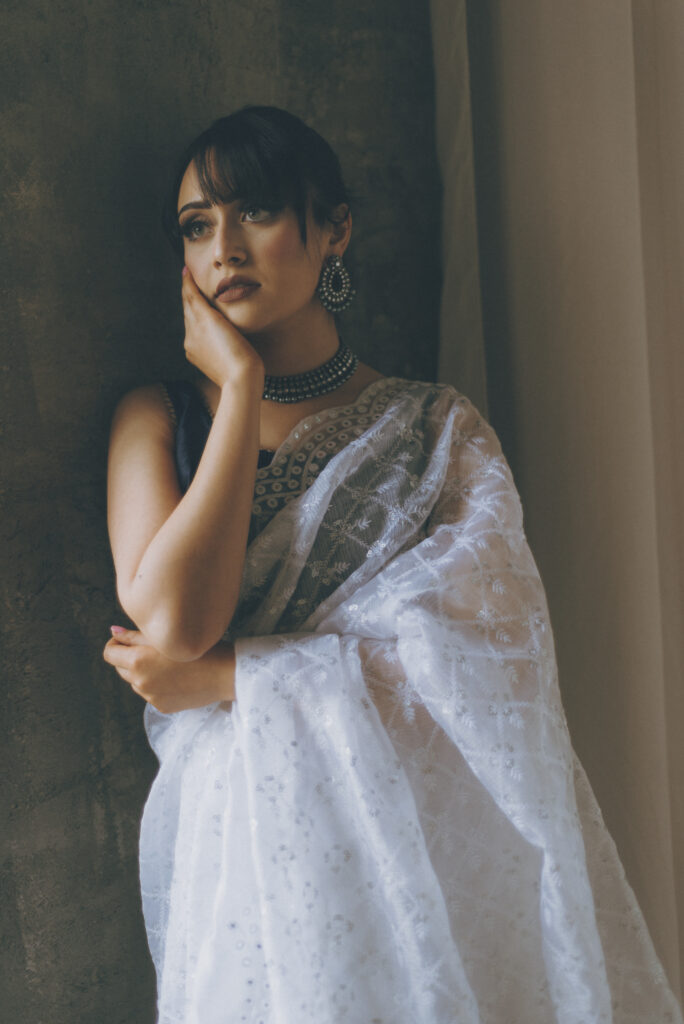 "I just feel it's not right for companies to charge a significantly higher amount for an outfit than it originally costs just because it has the word 'bridal' attached in front of it," Meghji points out as we end our conversation, admitting that it could be controversial for him to say this as part of the business community.

"A South Asian wedding has so many events and personally I don't agree that a bride should have to spend upwards of $10,000 for all her outfits. What we want to provide is something that is embellished and beautiful but still simple and affordable. Our business model is not that we want to make the most affordable things but we definitely want the experience to be better and more comfortable. It's not fair that as a man I can just go in and buy reasonable suit that fits me perfectly well, but women still struggle to do the same with South Asian fashion."
It's safe to say, we're all here for affordable bridal wear and as far as a digital, hassle-free shopping experience is concerned, with the way the pandemic has changed the functioning of the world, the road that The Saree Room is likely headed in the right direction.
Check out their new collection here!