While preparing dishes for my family, I always find myself thinking about which ingredients are in season and what my grandmothers prepare, accordingly. Seasonal cooking was something that our grandmothers did out of need, but even in this day and age when everything is available year round, some of those seasonal recipes still make sense.
Take these besan ke ladoos; they are filled with nutrient-rich ingredients like chickpea flour, semolina, edible gum, fennel seeds, roasted nuts, and ghee (clarified butter). Besan is easy to digest, high in protein and folate content, has a low glycemic index and it's gluten-free. Since it's also known to help prevent birth defects of the brain and spinal cord, you'll often find pregnant women eating besan in many forms, sweet and savory. Semolina is high in energy and easy to digest. Edible gum, called gondh in Hindi, is often used during the winter months and by the elderly as it helps strengthen joints. Fennel aids in digestion which is helpful during the cold months when meals tend to be heavy and hearty. Nuts are added as they are high in protein and energy. All the ingredients, combined, provide a very nutritious dessert (and yes, there's such thing!).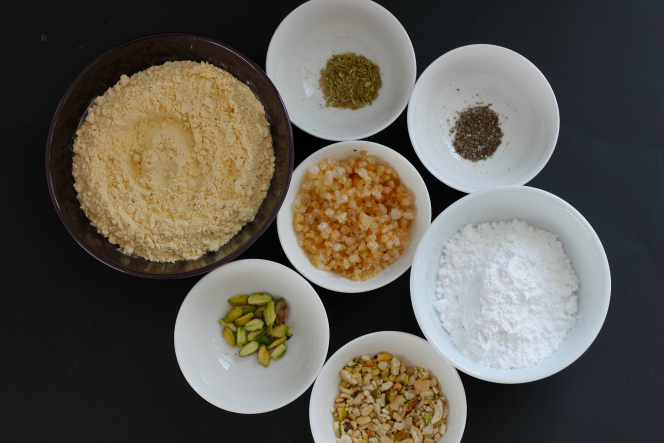 Below, I'm sharing a simple recipe for energy-filled besan ke ladoo. If you're gluten-free, omit the rava since I  only added it for texture, and it's not mandatory to the recipe. These ladoos can last for a few months if cooled and stored properly in an airtight container.
INGREDIENTS
1 cup besan
1 tablespoon rava/sooji
½ cup powdered sugar
? cup + 1 tablespoon ghee, melted
1 tablespoon gondh
2 tablespoon cashew, chopped
2 teaspoon pistachio, chopped
1 teaspoon sounf
½ teaspoon cardamom powder
METHOD
Start by dry roasting the nuts and fennel on medium heat for 2-3 minutes, mixing frequently. Remove from heat and reserve for later.
Dry roast the besan and rava on medium-low heat until the flour is fragrant and starts turning darker in color. Remove from heat and reserve for later.
In the same pan add a tablespoon of ghee and fry the edible gum until it pops and almost doubles up in size. Drain on a paper towel and keep aside.
In the hot pan add the besan and rava. Add the ghee, cook on a low heat. Stir continuously until the flour is fragrant and the color turns pinkish golden-brown. The mixture will become light and fluffy when it is ready.
Mix in the chopped cashews, pistachios followed by the edible gum and cardamom powder.
Turn off the heat and add the powdered sugar, mixing constantly.
Let the mixture rest until warm (don't cool down completely or else it will be difficult to form the ladoos).
Take a small amount in your palm, a little more than a tablespoon and shape them into round balls to make the besan ladoo. Repeat and make about 16.
You can leave as is or garnish with chopped pistachios.
To store, cool the besan ke ladoo completely and keep them in an airtight container.
[su_divider]
Nisha is the founder and editor of Love Laugh Mirch, an Indian inspired lifestyle site where she shares her take on traditional recipes, approachable DIY's, culture stories and motherhood moments. Her favorites include Bollywood movies (the sappier the better), recipes that are passed down through generations, mango season and a hot cup of kadak chai. You can often find her on Instagram @lovelaughmirch cooking dinner while having a dance party with her little one.