"Sikhs are warrior-saints," Sonya Kaur said in an assertive, proud voice. At the heart of Sikhism, the religion is the idea of striking a balance between strengthening the body and cultivating the soul. Not only is it a core value of Kaur's religion, but also one of the reasons many Sikhs' are motivated to run.
On the morning of the New York marathon on November 2, Kaur and her team of volunteers tracked one particular runner on their mobile devices: Simran Jeet Singh. They were waiting for him to pass the 21-mile mark by a fluid station they had set up against the backdrop of whipping winds.
"He started 30 minutes ago, and knowing Simran, he is probably at mile three or four," Kaur, a software engineer, gave her prediction on Singh's progress. A veteran runner herself, she first met Singh at the 2011 City marathon, which they ran together. Since then, she has been involved with various community initiatives, including the Surat Fauj Running Club that Singh founded in 2013.
Singh was one of 35 Sikhs running in this year's marathon, an estimate provided by the Runner's World magazine. With a focus on empowering and raising funds for hundreds of community programs, according to the marathon's official website, the 2014 NYC marathon united a record 71,000 people around "participating in community fitness."
This year, Singh ran to raise money for the National Stroke Association (NSA), which provides stroke education and programs for stroke survivors, after his father survived one a few months ago.
Singh said he does not follow a set pattern when endorsing a cause.
"Whatever is striking my heart, I create awareness for," he said.
One year, he supported a large cancer organization because his close family friend died from the fatal disease.
Running a total of 20-25 races since high school and four long-distance marathons, the 30-year-old thinks of himself as being "privileged" for having the ability to run, which he uses to create buzz around certain issues.
Although supporting the marathon's message of universal social justice and raising proceeds for the NSA, Singh goes beyond that frame of reference by remembering and raising awareness for a community-specific tragedy that occurred 30 years ago.
In 1984, mobs murdered upwards of 3,000 Sikhs in New Delhi and other cities across northern India. A separate state-ordered raid on the holiest Sikh temple also left many thousands dead. The warfare led to the assassination of Prime Minister Indira Gandhi by her Sikh guards in a retaliatory move.
It is in remembrance of those killings that Singh and his peers were on the ground raising money.
Tweeting on the day of the marathon, he wrote: "I'm thinking of those still suffering from the genocidal pogroms of 1984."
But there is another important reason why Singh runs the NYC marathon year-after-year, and it is to dispel negative stereotypes about Sikhs.
"When people see me run with my beard and turban, it erases any negative image people might have [of Sikhs]," Singh said.
During the race, many ran with their turbans; some even sported matching-color jackets with their headgear.
Singh ran the marathon turbaned. But to help him get through the race, he listened to a podcast episode from "Serial," a new program by the creators of This American Life.
He later told me why he chose to represent the American delegation in the marathon, instead of India.
"I could've chosen to run with India, but I identify more with the U.S.," he says, having been born and raised in San Antonio, Texas.
Sikhs number between 250,000-500,000 in the United States.
Singh moved to New York five years ago to pursue a doctoral degree in Religion at Columbia University. He will soon be joining the faculty at Trinity University, where he completed his undergraduate degree, to start a career in teaching.
Apart from being a sure-footed academic, Singh is also a friendly and able community leader.
Marathon volunteer Magdalena Slawecka said she first saw Singh on a television interview. Originally from Poland, she was eager to learn more about the Sikh culture and religion. She immediately contacted him through Facebook "bombarding him with million questions," to which he responded amiably. In the many years since then, she has been involved with the Sikh community.
Singh serves the community through a number of Sikh organizations. He is the senior religion fellow for the Sikh Coalition, the education director for the Surat Initiative and the executive director for the Sikh Spirit Foundation.
Next to that, he oversees the Sikh running club in which he encourages young Sikhs to "lead a balanced lifestyle" – a lifestyle that mixes bodily fitness with spiritual development.
The combination forms the essence of the warrior-saint, he added.
Feature Image: Simran Jeet Singh runs in the New York City marathon on Nov. 2 (Photo Credit: Roderick Aichinger)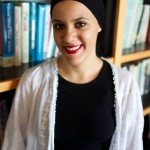 Nadeen Shaker is an Egyptian journalist covering global human rights. She is completing a joint degree in Journalism and Near East Studies at New York University.