4
min read
by Jasleen Kaur Chawla – Follow @jasleenwithitt

A few weeks ago, after the usual routine of work, gym, home, and binge-watching Netflix ("Friends," of course,) I was highly excited for the weekend to come and finally release me from my mundane Monday-to-Friday shtick.
Then I realized the date was June 1, 2018.  
June 1 is a day I remember as what happened 34 years ago in 1984 when the Indian army decided to attack the most historically significant Sikh house of worship in the world, Sri Harmandir Sahib, commonly referred to as Darbar Sahib or "The Golden Temple," in Operation Blue Star. This is a day that holds so much significance to me, my family and many other Sikhs of Punjabi descent.
I continued about my day as usual but was on the lookout via social media to see if anyone of notoriety had said anything (@IISuperwomanII – no, @RupiKaur_ – no, @JusReign – no). Now, let me be clear that mentioning these high-profile brown, and specifically, SIKH, celebrities is not a shame game of "Woke or Not Woke?!" Rather, it merely seemed strange to me that people who have built their celebrity status by embracing their South Asian roots and capitalizing off their Punjabi/desi demographic of followers would be so silent on this day and the days that followed.
The army's so-called purpose of Operation Blue Star was to defend against militants. But why is it then that they deployed around 100,000 troops who brought army tanks, weapons, and chemical gas for no more than 200 freedom fighters? These people, who were said to be a grave threat, were simple farmers and villagers. They wanted Sikhs to no longer be treated like second-class citizens in their own country, as many other religious minorities can attest to, as well.
They wanted Sikhs to prosper in Punjab with adequate resources for farming and education because this area had become so woefully neglected by the government after the partition. In fact, although Sikhs only made up 2% of the population, they made up approximately 64% of the war efforts against the British in the fight for India's independence. And to thank them, the Indian government did not even recognize Sikhism as its own religion in the Indian constitution; rather it was considered a sect of Hinduism.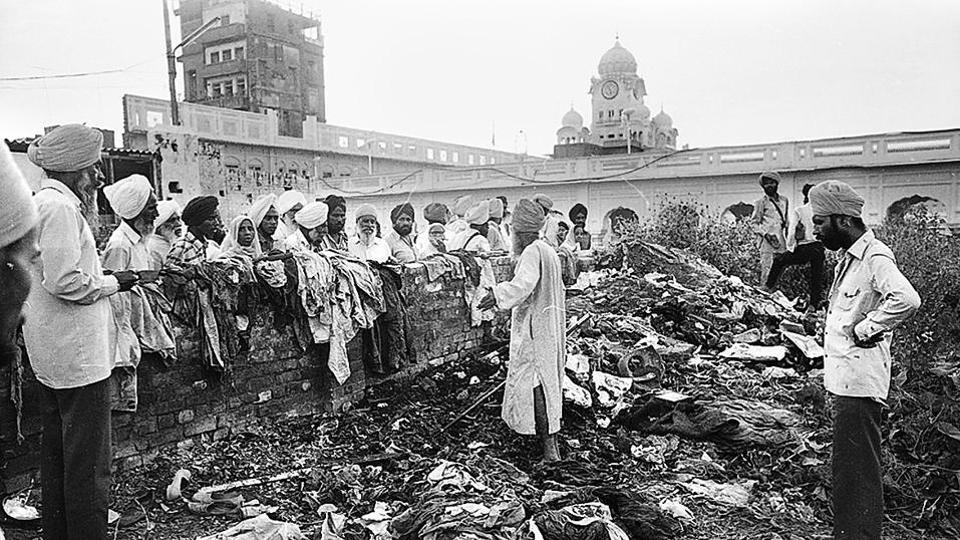 The masterminds of Operation Blue Star deliberately chose a day where many Sikhs gather at their respective gurudwaras to pray, for it is on this day that we commemorate the martyrdom of the fifth guru, Guru Arjan Dev Ji, and pay homage to his contributions to Sikhism, namely the construction of Sri Harmandir Sahib. 
It is in this meticulous planning that upon arrival to the holy site, the military killed not only the leader and followers of this movement, but also thousands of innocent women, children, and elderly citizens. They also sealed the borders and cut off the electricity, isolating Punjab from any external aid.
The Committee on Human Rights commented by saying:
"The most disturbing thing about the entire operation was that a whole mass of men, women, and children were ordered to be killed merely on the suspicion that some terrorists were operating from the Golden Temple (i.e., Darbar Sahib) and other gurdwaras. Thus such a major military attack resulting in the massacre of largely innocent people was undertaken on mere suspicion which had been created by the statements of police and the government themselves." – Gunisha Kaur, "Lost in History: 1984 Reconstructed"
Historical sources estimate the number of casualties to be around 10,000 with some even citing the number to be as high as 20,000. Eyewitness accounts recall the devastating carnage with blood and innocent bodies piled up while army tanks desecrated the floor of the complex, destroying everything in their path. What happened in the span of those five days can be described as nothing but a deliberate killing of a large group of people due to their religious beliefs—also known as genocide.
As I reflect on the atrocities that occurred, I realize that I cannot expect anyone else to mirror my thoughts and that I must be the one to speak on behalf of those innocent people who were killed and who are no longer here to tell their story themselves. As Sikhi preaches love, I am bound to forgive the murderous indiscretions of those executioners, but I will never forget the beautiful lives that were taken that day. You are always in my heart.  
Update: Rupi Kaur has since posted about 1984 on her Instagram but the concluding point of one being responsible for voicing his or her thoughts and not depending on others remains the same. 
---
The opinions expressed by the guest writer/blogger and those providing comments are theirs alone and do not necessarily reflect the opinions of Brown Girl Magazine, Inc., or any employee thereof. Brown Girl Magazine is not responsible for the accuracy of any of the information supplied by the guest writer/bloggers. This work is the opinion of the blogger. It is not the intention of Brown Girl Magazine to malign any religion, ethnic group, club, organization, company, or individual. If you'd like to submit a guest post, please follow the guidelines we've set forth here. 
---
Jasleen Kaur Chawla is a sassy but fierce advanced analytics analyst – whatever that means. She enjoys long walks through Sabzi Mandi and cuddling up with a good episode of "Real Housewives" and a piping hot cup of cha (not to be confused with chai). When she's not evaluating marketing campaigns she's running in the park, practicing her Pop Pilates or having lengthy conversations with her Maltipoo, Happy Singh.