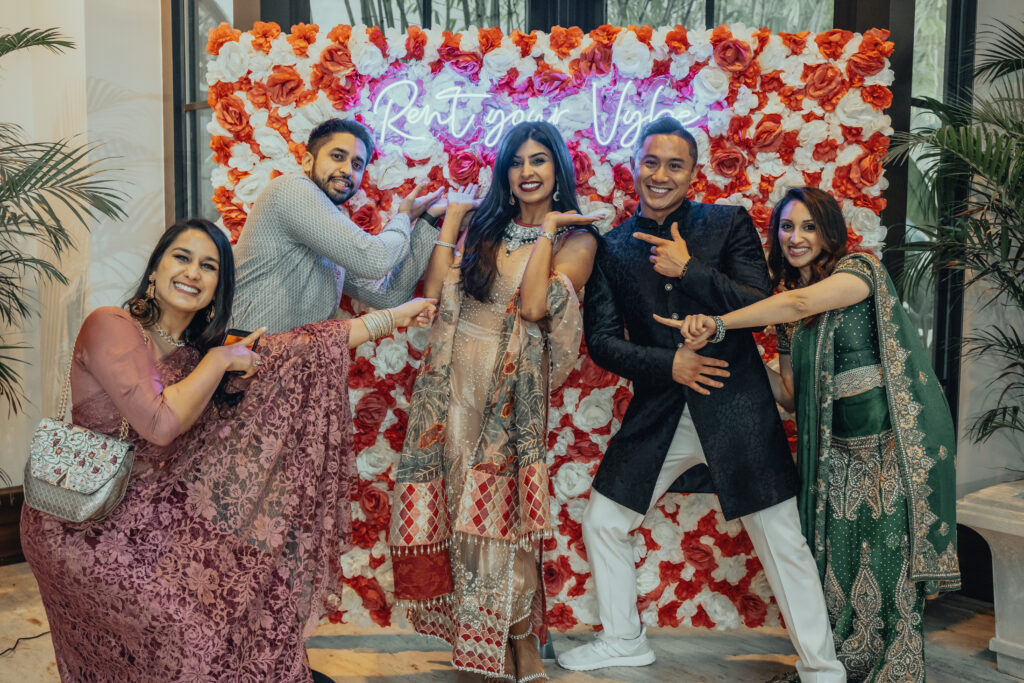 The following post is brought to you by VybeRent, a virtual e-commerce platform providing American consumers with a diverse supply of South Asian designer clothing for rent – ranging from women's sarees and lehengas, to men's waistcoats and sherwanis. Designed to exemplify the modern, but cultural styles of Pakistan, India and Bangladesh, VybeRent caters to all partners, promoting the beautiful clothing styles of our designers while offering affordable rental rates to our consumers. Use discount code VRBROWNGIRLMAG to take 20% off your order.
Seasons come and go but wedding season in the South Asian community never quite ends. Especially if you are part of a family tree that is forever growing. Add to that the wide array of cultural and religious festivities that fill up our calendars. Honestly, we don't really need a reason to celebrate! But that also means an endless supply of formal desi outfits is essential for survival.
Wardrobe woes have definitely scaled-down thanks to sustainable fashion advocates who've normalized repeating and recycling clothes. But darn those toxic aunties giving us the stares, and well, also that irresistible temptation to look different wearing a fresh new outfit for a fresh new Instagram photo. Enter VybeRent, the newest entrant in the burgeoning, South Asian rental fashion space. The brainchild of Pakistani-American Sara Kalwar, VybeRent lets you amp up your fashion game at every event without draining your wallet empty. Budget-friendly, designer wear? We're so here for it!
Brown Girl Magazine spoke to Kalwar about her newest venture, what inspired her to take on the rental service sector and how she hopes to sustain it in a community where the preference is always to own the product. Here are some excerpts from our chat: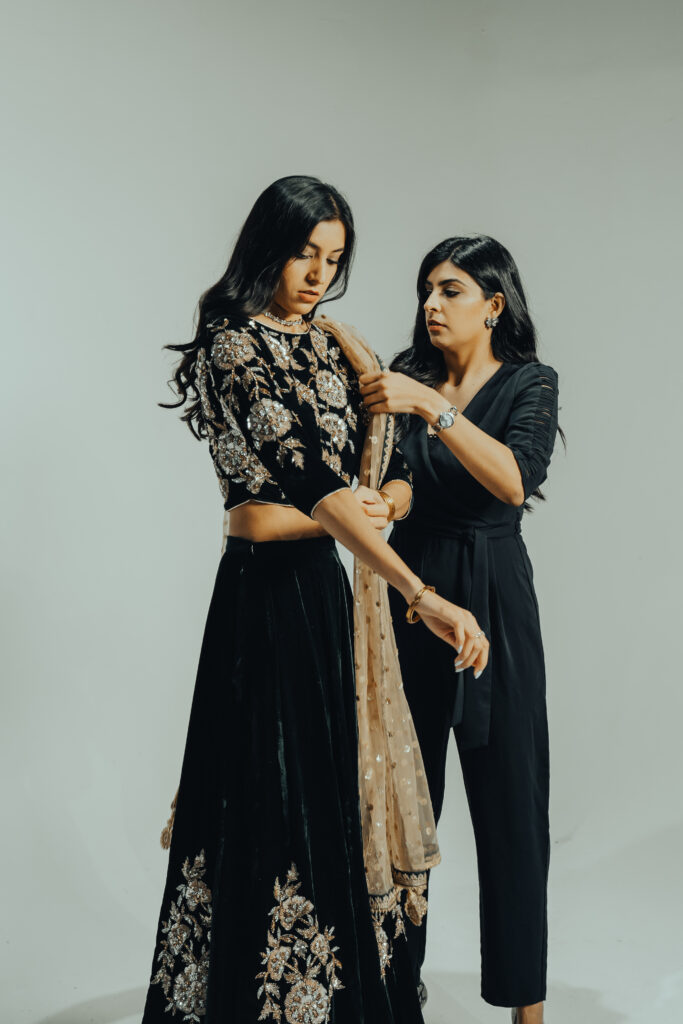 Tell us more about VybeRent…what is the concept behind it and how is it different from other competing businesses?
VybeRent is essentially an e-commerce, virtual platform that offers South Asian designer clothing on rent. We ship across the United States and Canada and are basically offering outfits that are at least $300 and/or above. We are providing you with a cost-effective way to wear the outfit once and then be able to return it.  We handle the dry-cleaning and provide the rental stacks. All that the customer has to do is rent the outfit for a certain period of time, wear the outfit and then return it in a garment bag that we provide for them and it gets mailed back to us.

It's a very similar branding and marketing concept as 'Rent The Runway'. We've used the exact same model in terms of the garment bag with the shipping labels inside it. And similar perks like if you need a different size, we actually add a different outfit in a different size just in case. If the outfit they wanted to wear was a little bit tight, they have another option. 

The difference, though, between VybeRent and some of the other companies who have also stepped into this rental market is that we also cater to men. Men are a little more susceptible to renting. We noticed this trend from the beginning and so we added options for menswear, as well.
How did you get this idea of starting a South Asian rental service? What inspired you?
I actually rented an outfit from 'Rent The Runway' about six years ago, and I remember, when I received it I was like why don't we have something similar for desi clothes? Because I've been having this same problem of what to wear to desi weddings since I was a teenager. Anytime my mom goes to Pakistan or someone visits and brings clothes, they don't fit properly and cost about $200 minimum. So I thought why can't there be a platform like 'Rent the Runway' where the outfits are cheaper, they are stylish because they are bringing in designer clothing that is up-to-date with current styles and trends, and are fitted to our American standards. 

Right now, the way people in Pakistan and India have been tailoring and customising clothes, the fitting is very different from an American consumer's fitting. That, and the cost, are big limitations for a consumer to find an outfit. But with Rent the Runway, it was so seamless. I got this dress, they provided two options in sizing, I wore it, took photos in it and returned it. And I didn't have to pay like $400 for this outfit that some beautiful celebrity had worn. I went ahead to see if I can work with them and build a South Asian extension of it. I met with the COO and we sort of transpired on what this would look like, but that was right before the pandemic. They got hit hard by the pandemic and since I was home, I thought why can't I just start it? I have the means to do it, I have the energy and it's something I am passionate about. At the same time, I am providing a solution to a problem that a lot of us face. There's got to be a better and more efficient way than going to Pakistan and India or asking some aunty to get us an outfit. 
View this post on Instagram
Generally, the South Asian shopping style is geared more towards purchasing an outfit as opposed to renting or getting a pre-loved alternative. Has this mindset been a hiccup for the business and what is the response like so far?
Yes, South Asian culture is very rooted in "we have to buy the outfit"; that's how we've been conditioned growing up. But now, things are moving very quickly towards a 'recycle and reuse' model. It'll take a little more time for the South Asian client to move to a rental option, but the behaviour is changing. The pandemic has also shifted people's perspectives; they don't want to go shop in person anymore. It's inconvenient. Also within the US, not all states have access to a South Asian designer store where you can go and try out an outfit. With our model, where we are providing the customer with two different options, we are basically offering an efficient way to try on an outfit. 

It's a slow process but shopping behaviours within the community are definitely changing. We get a lot of bridal parties, bridesmaids and groomsmen; groups of 20 who all want to dress up for their friend's wedding. And a lot of our marketing is through word of mouth whereby people spot someone wearing an outfit from VybeRent and then they inquire about it. Interestingly though, the majority of our women customers are not South Asians. The non-South Asian consumers are 100% acknowledging it and are the ones who are consistently renting from us. And I believe If we can find better ways to teach them about our culture and how we wear our outfits, they'll become a bigger market for this kind of business. With men, it's a lot easier. We get all sorts of customers for menswear. 
South Asian clothing can be tricky to deal with in terms of fitting. How do you manage sizing issues as a buyer yourself and how broad is your spectrum?
For sizing particularly, we did a lot of our own research. We looked at some of the more known American brands like Zara, Banana Republic, worked around their size guides and came up with our own standard size chart. We have a few designers who are our consistent partners. Every new season, they inform us of all the new outfits that have come in and the ones they have taken out specifically for VybeRent. And they customise them according to the chart we provide. Still, when we receive the outfit, we check it across our standard measurements and if there are any discrepancies, we have tailors on board here who make the necessary tweaks.

We have received feedback on this and for the spring season we are bringing in a lot of plus-sizes; not just for curvier women but also for those who are pregnant. Because we get designers customise the tailoring, this is something we are able to do and so it was important for us that we were more inclusive. I'll be honest, the designers do charge a lot more because of the increased cost of the material, but we can't exclude customers based on sizes. We want to accommodate everyone regardless of the size. 
What's next for VybeRent? Where is the business model headed towards?
At the moment, we are working on the Sell Back/Donation leg of the company. We haven't really flushed it out yet, but based on user feedback we are considering that people are able to donate clothes back to VybeRent. And half of the proceeds from the outfit go to a charitable organisation like The Citizens Foundation and others that we are sort of honing in on in both India and Pakistan as well as here in the U.S. 

We are still working on the model and there might be certain outfits that we will be willing to buy off of the consumer if they haven't worn it, or if it's a very expensive item and they haven't worn it more than once. There are a couple of caveats because what we really want is to have the retail price of this outfit going to the charitable organisation. It needs to make sense across the board so we are working on it for now. The ultimate goal though is to build it out to something much larger than just rental clothing. There are so many avenues we can explore, so many directions we can go in and that's what's exciting about it. 
As a woman of colour, what were some of the challenges you faced when starting this business and, that too, in the midst of a pandemic? 
From a business point of view, I built VybeRent thinking that the pandemic could end up being a way of life, that's why I made it virtual. Plus we launched at the time when the vaccines had already come out and weddings could take place so we were lucky. But the biggest challenge was to get the shipments on time. Staff in Pakistan and India were not able to come into work every single day so the designs could not be customised to our specifications on time. 

As a woman, you come across many naysayers. As a brown woman, you get a lot more of them. Within South Asian culture, people tend to find ways to tell you that it will not work. You have to explain to people what you do and they will look at you and go like "oh that's great! but I don't know if it'll work," or "shouldn't you be doing something else with your life; something more worthwhile?" They want you to do what an average South Asian brown woman is expected to do and that is getting married to somebody. Luckily I have had a great support system in my family and friends who helped me connect with a lot of clients and partners. But I've also met my share of naysayers. 

Finally, just being an entrepreneur is challenging. You have to start from scratch and learn your way up. I did go to business school and had a bit of knowledge but honestly, I don't think I knew how to do business until I started this. I had to be my own legal person, I had to learn quickbooks and be a finance manager of sorts, I had to manage all the business operations from shipping and inventory to the development of the website. There's just so much involved in building a business. It's challenging, it's a puzzle and it's not by all means glamorous. But it's exciting and the lesson that I have learnt this past year is that I love being an entrepreneur.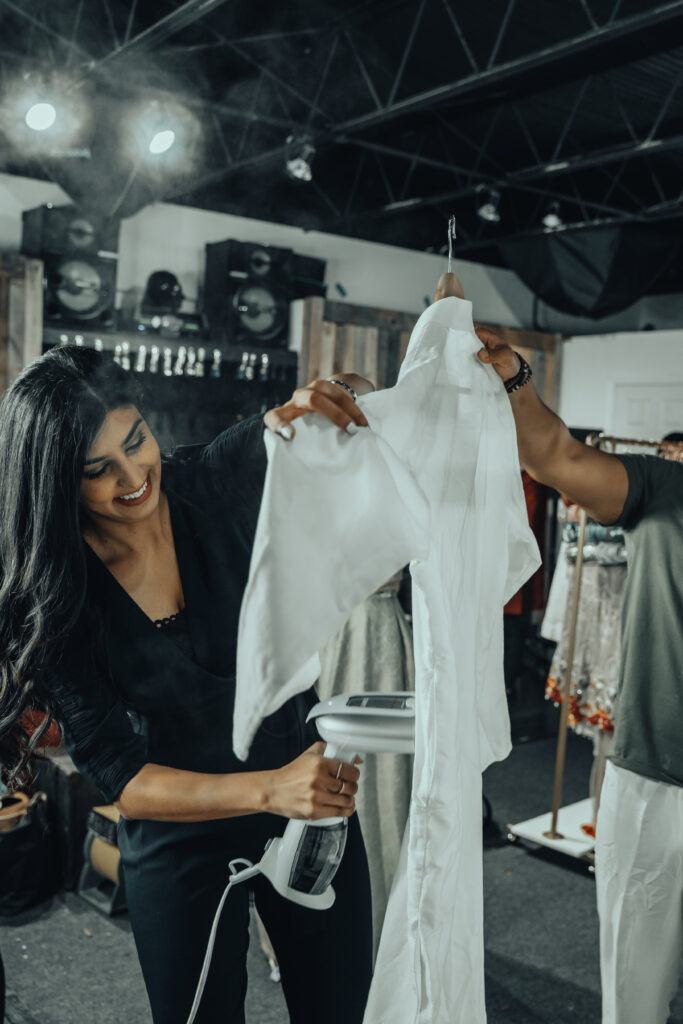 What advice would you like to give to a fellow woman wanting to realise her entrepreneurial dream?
I'd say never give up. We may think things are so low, and everyone, at the same time, may say it's not going to work, but there is always something around the corner waiting to help you out if you just keep going. You need to remind yourself of that. Take time out for yourself, that is also very important, but do whatever is it that you need to do to not give up. 
If you need more information on how to rent out that dream outfit, follow VybeRent on Instagram or email at info@vyberent.com.