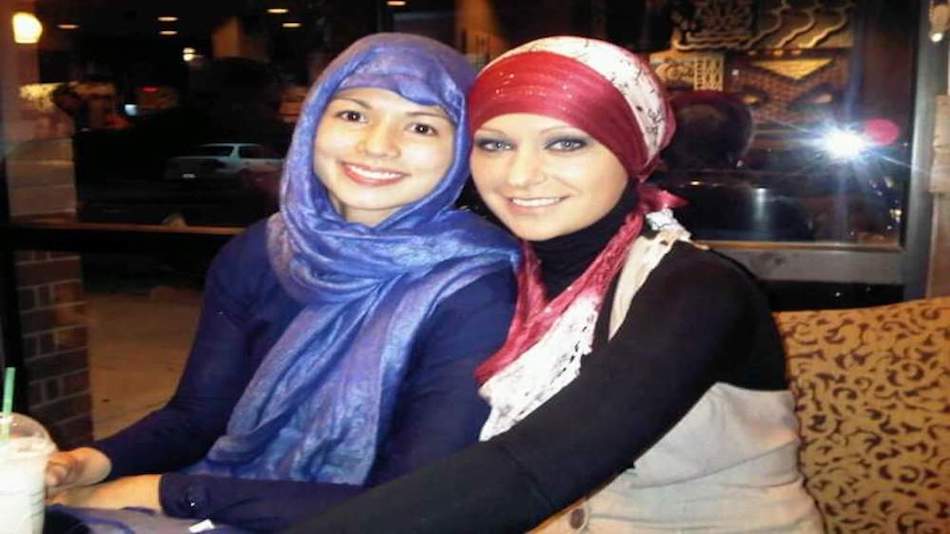 "When we pray, we bend over. If a guy was standing in front of me and bent over to pray, what would I see? Butt. Ugh. I'm not at all interested in seeing some guy's butt."
This is my sister-in-law, Danira*, explaining to me why they separate men and women at the mosque. It reminds me of when there's that rare guy in yoga class and everyone else inches their mats as far away from him as possible.
Danira is ironing her blouse because we're getting ready for the mosque. I've never gone before but it should be fun since it's Ramadan, and they're having a potluck afterward.
"Is that also why you cover your hair?" I ask. "So you don't distract men?"

"I guess."
I type my question into Google.
"This says that a Muslim woman must cover her shins, forearms and hair or she is committing a sin and her prayer is not valid," I say.
Danira rolls her eyes.
"Allison, I'm sure I can open the Bible and find some kind of crazy law that says a woman must be stoned for whatever stupid transgression. I personally don't cover up because I fear that I'm committing sin or whatever. It's just like, relaxing. Covering up helps you get into that prayer mindset. Plus, everyone else at the mosque is doing it so if you don't you'll stand out."
"Yeah, I guess that makes sense," I say. I go to my room and put on a long black skirt and a long-sleeved black top. I wrap a blue scarf around my head, tying the ends under my chin. I go back to Danira's room to ask what she thinks.
"Are you serious?" she asks and starts to giggle.

"What's wrong? Isn't it long enough? I'm going to put on some tights so my ankles won't show when I walk."

"You look like one of those Russian nesting dolls. Like, if one of the dolls had to go to a funeral or something. Please, look in my closet. I wouldn't care but I have to be seen in public with you. No offense."
I find a sky-colored blouse in Danira's closet that perfectly matches my scarf. I notice Danira is wearing pants so I go and change into pants myself.
"You look so much better," Danira says. She fixes my scarf for me—you don't tie it in the middle but take the ends and throw it over the opposite shoulders—then turns her attention back to the YouTube hijab tutorial playing on her laptop. It involves multiple pins and clips to create crisp folds and swooping cascades of cloth. Danira emulates it perfectly.
"You look gorgeous," I say.  

"I know, right?" She bats her eyes at me and smiles. "And so do you."
I look at our reflections in the mirror. When a woman wears a hijab, the eye is immediately drawn to her face. I notice that I have really high cheekbones. Danira's black headscarf frames her face and brings out the green in her eyes.
This outfit is definitely not the style I'm used to when preparing for a night out. Usually, it's styled hair, heels, and a short dress. I start wondering where I had gotten the idea that more skin equals more beauty.
I remember a scene on "America's Next Top Model" where the models voice their anxiety when faced with doing a nude photo shoot. The host, Tyra Banks, says, "The industry isn't going to change," implying that if the models want to progress, they must do the shoot. I realize that when wearing outfits that showed a lot of skin, I felt that same anxiety.
"Are you ready to head out?" Danira asks.
Before the mosque, Danira and I stop at Starbucks. I start to feel nervous. This isn't like every other Friday evening where we're in our regular clothes grabbing a Starbucks before heading out to the club. What if people give us dirty looks? To my relief, the baristas are nothing but courteous, and soon we're relaxing on a plush couch, caramel macchiatos in hand. A couple of Danira's friends show up also donning YouTube-inspired hijab styles. We compare our different looks and take selfies.
That following Monday, a classmate asks me about the pictures I'd posted on Facebook.
"Hey Allison," she says. "Were you wearing a hijab?"

"Yeah, I went to the mosque with my sister-in-law," I say. "But you know what was great? We went to Starbucks and actually got to relax because random guys weren't looking us up and down trying to hit on us!"
That night, I had prepared myself for the possibility of getting strange looks, but what I wasn't prepared for was feeling more at ease than I've ever been in a public space.
After school, I go through my closet and pull out all my tank tops, low-cut shirts, short skirts, shorts, and dresses. These were the clothes I wore for nights out with friends. I remember the twinge of discomfort I felt every time I put on a revealing outfit and how I ignored this feeling, taking it as an indication that I should work out more or just force myself to wear it. I had bought into the notion that sexiness—not modesty—was the way a woman was supposed to feel empowered.
But showing more skin didn't make me more confident. What I enjoyed was wearing nice clothes, putting on makeup and hanging out with friends. I could still have that experience while wearing a hijab and outfits with more coverage.
I threw the clothes into a bag to donate to charity. Dressing more modestly doesn't mean I'm ashamed of myself; it's a choice I'm making to acknowledge my own comfort level and honor my inner voice. Regardless of how much skin you're showing, figuring out what you really want and respecting yourself enough to follow through on it is what female empowerment is all about.
*Indicates that the name was changed
---
The opinions expressed by the guest writer/blogger and those providing comments are theirs alone and do not necessarily reflect the opinions of Brown Girl Magazine, Inc., or any employee thereof. Brown Girl Magazine is not responsible for the accuracy of any of the information supplied by the guest writer/bloggers. This work is the opinion of the blogger. It is not the intention of Brown Girl Magazine to malign any religion, ethnic group, club, organization, company, or individual. If you'd like to submit a guest post, please follow the guidelines we've set forth here.