by Payal Patel 
With the holiday season under full way, it's obvious that you're looking for a little something for everyone on your list. If you're an early shopper than you've probably already checked off all your family members and friends. Well, everyone except for your bestie. Yup, the one who's super hard to shop for and even harder to impress. We all know 'em, and we all have 'em.
You walk into Sephora keeping in mind your best friend's sassy attitude and also her love for all things makeup, of course! But is she someone that possibly has a mini Sephora right at home? If so, lippies, eye palettes and masks are out of the question, but may I suggest a good set of makeup brushes? Do I have your attention? If so, then the first thing you need to do is make your way OUT of Sephora (I know, sounds almost blasphemous!).
If you're looking for a brush set that has all the essential brushes for that special someone, then KISSBOBO has launched an amazing seven-piece set that is right up your alley! The company launched in 2005 and is known for their Instagram-famous adhesive bra, and now their makeup brushes (you know, the ones that went viral).
As a professional makeup artist and beauty blogger, I can tell you that having the right makeup products is only half of what makes up a flawless look—the right brushes help you win the whole battle! Good makeup brushes are essentially what will give you smooth look.
The best thing about KISSBOBO makeup brushes is that they're so versatile—it's not an advanced set so, if you are a beginner with makeup KISSBOBO has what it takes to get you started on the right foot. For all my makeup pros, these brushes are just as crucial to add to your kit! The seven-piece set includes brushes for eyeshadow, eyebrows, eye sweep, concealer, foundation, blush, and powder.
Aside from versatility, the next best thing about these tools is that they are perfect for what you need on a daily basis. The brushes apply makeup smoothly and have a long rubbery stem for a firm grip. They are made with an ergonomic design to cause less strain on your hand, and for someone who's always painting faces, these details count!
But, I haven't even touched on my most favorite part. KISSBOBO's makeup brushes are cruelty-free, chemical free, vegan, and synthetic! I appreciate brands that create cruelty-free products because let's be real, it's 2017 and it is super duper important to me as a makeup artist. Now, you might associate "synthetic" with harsh qualities but not these bad boys; they're brushes are pleasantly soft. The bristles are very fluffy, and you'll never have to worry about poking and hurting! Can you ask for more? I think not!
All-in-all, I would highly recommend the seven-piece KISSBOBO brush set for both beginner and advanced artists(and this includes your bestie). A brush set that is cruelty-free, chemical-free, soft, vegan, and synthetic will definitely be added to my wishlist for the holidays!
P.S. Fill out our survey to enter the chance to win our annual holiday gift basket that includes six trendy gifts worth more than $500. And the best part? Every 10th entry will be mailed a seven-piece makeup brush set directly from the KISSBOBO headquarters. 
The seven-piece set includes an Eye Sweep Brush, Angled Blush Brush, Eyebrow Brush, Powder Brush Concealer Brush, Foundation/Contour Brush, and an Angled Eye Shadow Brush.
The brushes consist of synthetic fiber bristles, which means no shedding, no chemical smell, and best of all, they're cruelty-free for your skin!
Each brush is also made with an Ergonomic design so it comes with an anti-slip handle, and the well-made rubbery material gives you a comfortable and sturdier grip for longtime use.
Follow KISSBOBO on Instagram and purchase a $20.99 set on Amazon today.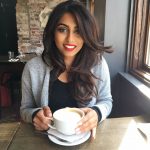 Payal Patel, a true Philly girl at heart and local makeup artist, has reinvented herself as a blogger and beauty expert. Her makeup artistry journey began in her mom's makeup bag. Some twenty-three years later, she landed her first gig in the bridal industry. She fell so in love with beauty and makeup, that she continued doing bridal work, and has recently started building her brand as PayalMUA. As a blogger, beauty expert, YouTube-er, and makeup artist, she is so thrilled to follow her passion and see where this journey takes her!