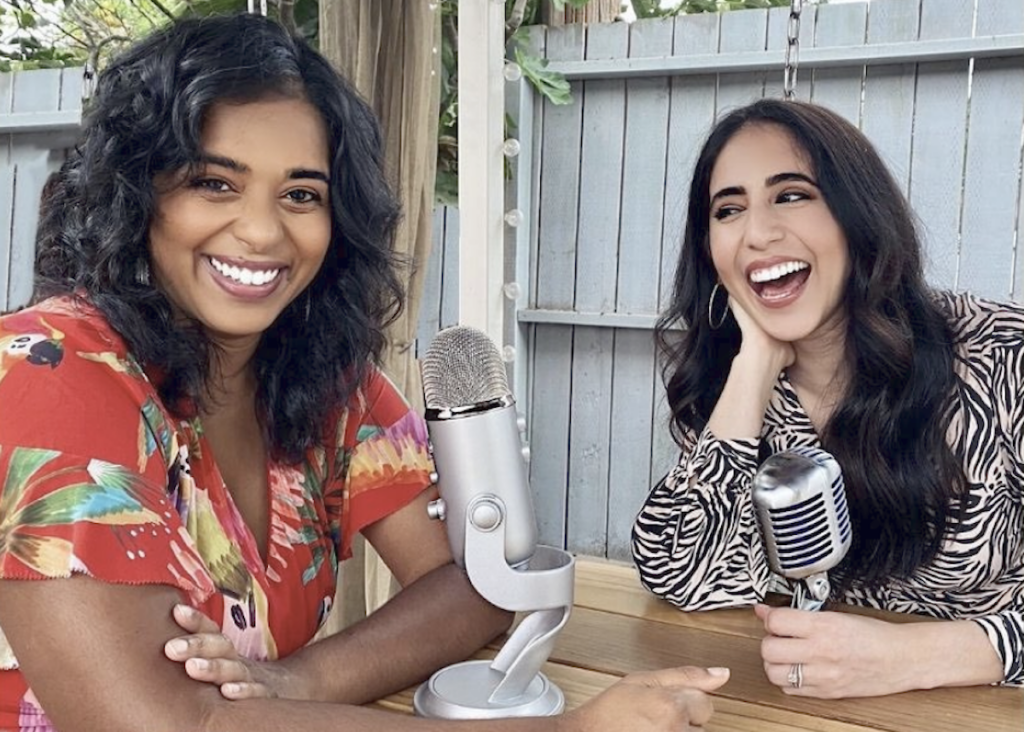 "Know what you're able to give."
This is one of the nuggets of wisdom that Pallavi Sastry, co-host of the podcast, "What Are Friends For" (or WAFF podcast), shared with me over the phone when I connected with her late last month. Pallavi and co-host Gabrielle Ruiz began the second season of the podcast on June 17, and it is currently in its 19th episode out of 28.
https://www.instagram.com/p/CBQgJ9UlYUF/
True to its name, the WAFF podcast discusses how to nurture and grow relationships in a quarantine (and post-quarantine) world, with the help of a guest friend in almost every episode. Carly Hughes (ABC's "American Housewife"), Javier Muñoz ("Hamilton"), Karen David (AMC's "Fear the Walking Dead"), and Brittany Snow ("Pitch Perfect") are among the guests who appear in this second season. They even host monthly live shows on Patreon with amazing specials guests, including one of our BG-favorite podcasts, the ladies from "The Woke Desi!"
Hosting a podcast in the midst of a pandemic sure comes with its share of difficulties. From producing the show to re-connecting with friends, it is already a feat and a half to host a space to talk about very real issues like work, love, mental health, and managing life in quarantine. This is why it was incredibly heartening for me to connect with Pallavi the day before the release of a very special, and difficult, episode — one which features Poorna Jagannathan of "Never Have I Ever" — the episode in which both she and Poorna share their experience of sexual assault.
"I feel any sort of panic, anxiety, or the nervousness you would expect of releasing such an episode. But I'm finally letting this thing go."
https://www.instagram.com/p/CFIJwoyDPiZ/
Actress, producer, creator, and entrepreneur, Pallavi, started her career in commercial musical theatre in New York. Strangely enough, one of her first professional jobs in the stage version of "High School Musical" was where she met current co-host, Gabrielle Ruiz. They played best friends on stage and were cordial coworkers in real life. It took years later to reconnect in their late 20s at a street fair in New York when they realized that outside of work, they didn't really have much to talk about.
"You realize that you really have to make a distinction for yourself about who will be colleagues, networking people, mentors, or friends. You have to make a decision on who those people are and what they are to you, especially in an industry like Hollywood."
Soon after their second meet-cute at the street fair, Pallavi and Gabrielle reconnected to form what Pallavi calls, the "most uncomplicated friendship." Gabrielle then moved to LA for the CW show "Crazy Ex-Girlfriend," and Pallavi made her move at the top of 2018. Pallavi had already created the first season of the show in New York with another friend, so when it came time to create a second season of the WAFF podcast in the midst of lockdown, Pallavi turned to Gabrielle.
Everything is so extra, right now. ? Call your true blue friend. They'll keep it chill. ?????????? pic.twitter.com/gFUjNg8auv

— What Are Friends For Podcast (@WAFFpodcast) September 23, 2020
"The podcast was sort of brought up as an experiment when it was first conceived – we asked questions like why is it so hard to keep in touch with adult friends after college or when proximity is no longer a benefit we have? There wasn't much literature or resources on maintaining friendships. There is so much emphasis in the media about the tools you need to develop your romantic relationships and we realized that those are also the same tools you need to maintain and grow your platonic relationships."
I then asked Pallavi if growing up as a South Asian woman had any influence on how she approached friendships. Being a South Asian woman myself, I always felt like the emphasis was put on the family over friends. She echoed the sentiment.
"When it comes to women in particular, we're sort of raised to believe that one day, we'll have this partner and this person will be everything for us. It's not that we dismiss friendships, but that we're told that we're ultimately going to have somebody that's going to trump every other relationship. And when it comes to family, speaking from my own experience, you don't really share any of your business outside of your house."
Vida and In The Heights Star @MelissaBarreraM holds a mirror up to her life and discusses how she grew up only with Latinx friends. Can you relate? This week on WAFF. pic.twitter.com/b722KWjb3i

— What Are Friends For Podcast (@WAFFpodcast) August 25, 2020
Pallavi, as a first-generation American citizen, had a first-hand experience of how her parents were in survival mode when they moved to the United States.
"They had to be strong and resilient in order to survive. I can definitely imagine them thinking – we don't have time to feel sad or feel sentimental. They had to figure out everything from scratch."
But as children grow up, parents do as well. Pallavi told me how there comes a time in an adult's life when they learn to parent their parents.
"One thing I learned in my adulthood was how to draw boundaries between myself and my parents. This also helped me draw boundaries with my personal and professional relationships. It helped me learn what I was able to give people, and also how to ask what I needed from people."
This idea of knowing what you are able to give is discussed regularly in the episodes. Quite frankly, it is a lesson that many of us still need to learn. For the WAFF podcast episode released on September 16, Pallavi shared her experience of sexual assault from her childhood, at age 12 or 13. It was an episode that displayed a lot of bravery, heart, and vulnerability. It was an episode where she gave herself the chance to share her story.
https://www.instagram.com/p/CFSjdkwj9JV/
"I started going to therapy in July 2018 with the sole goal of working towards telling my parents. Every time I would talk about my trauma, my therapist would ask where I felt the pain. I would always say it was in my lower abdomen. My therapist then had me do a lot of breath work to get in tune with my body."
Pallavi finally worked up the courage to tell her mother, and the two cried their way through a very intense and emotional conversation. At that point, Pallavi had been trying to get pregnant for two and a half years. The month after she told her mother about her experience, Pallavi got pregnant.
"I had been holding so much tension and trauma in my womb. I found that there was a very real connection between the physical and the emotional. I now truly believe that there was a connection between me holding all the shame there and finally letting it release. What we're releasing in the episode is not necessarily the story but it's the shame behind it as well. Part of the process is resolving that the experience exists. But it's no longer shameful."
The most valuable lesson Pallavi probably taught me over the course of our conversation is not only knowing what you are able to give to others but knowing what you are able to give yourself. She gave herself the opportunity to process her experience. She gave herself the opportunity to share her story, with her mother, her family, Gabrielle, Poorna, her friends, and us listeners. And we were there on the receiving end to support her. Because after all, what are friends for?