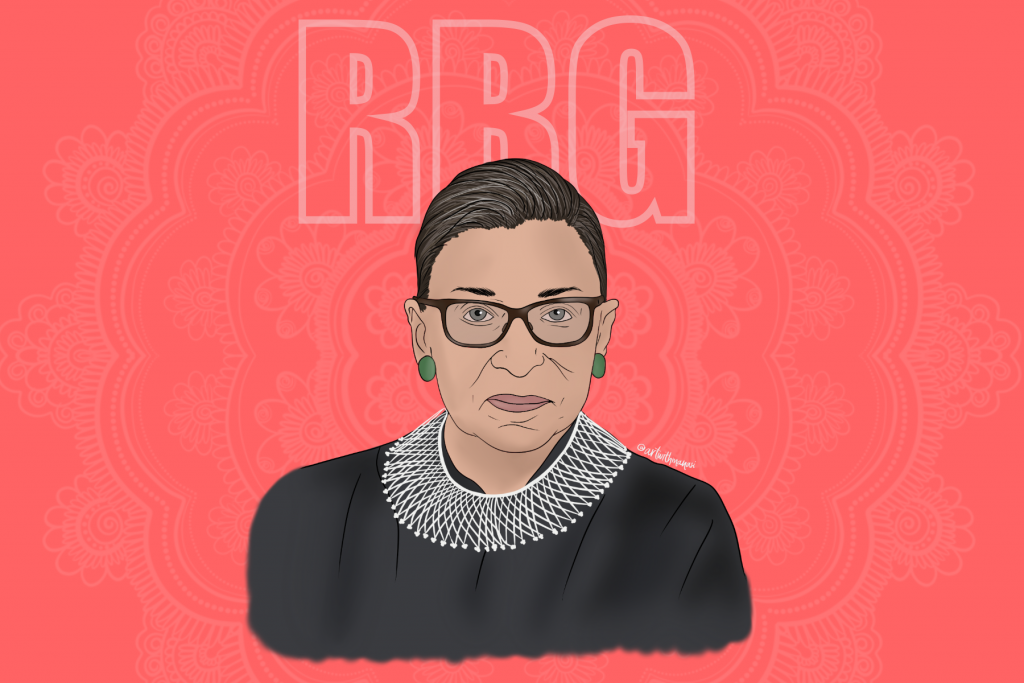 Supreme Court Justice of 27 years, Justice Ruth Bader Ginsburg passed away today at age 87 due to complications from pancreatic cancer. Shockwaves went through the country as Americans learned of the death of a cultural and trailblazing icon. Justice Ginsburg was idolized for her revolutionary legal career, revered by feminists for her strong stances and dissents, and also "notoriously" known for her sharp tongue and wit. The immediate reaction of most was shock as we struggled to process the loss of a remarkable icon.
I don't know about you, but I'm finding it hard to balance the need to grieve and the urge to fight in this sad moment

— Preet Bharara (@PreetBharara) September 19, 2020
Ruth Bader Ginsburg embodied justice, brilliance and goodness. Her passing is an incalculable loss for our democracy and for all who sacrifice and strive to build a better future for our children. pic.twitter.com/BufY4jXPR8

— Nancy Pelosi (@SpeakerPelosi) September 19, 2020
The immediate question now is: What does this mean for our country and for the Supreme Court?
Remembering Ruth
Ruth Bader Ginsburg lived through generations of cultural movements in this country. She is most known for the part she played in advocating for women's rights and her court decisions dealing with equal pay and sex-based descrimation. From the onset, Ruth Bader Ginsburg defied all gender roles of her times by being one of only nine women in her Harvard Law School class of about 500 men. As depicted in the biopic On the Basis of Sex, she constantly battled to justify her place in the class, when even the Dean of Harvard Law asked how she justified take "a spot from a qualified man." She ultimately graduated (and tied for first) from Columbia Law School, after writing for both the Harvard and Columbia Law Review. In addition, she also organized her husband's class work (he was also a Harvard Law student a year ahead of her) while he was battling cancer in his final year of school. Not to mention, she also did all of this while raising a baby daughter. 
After law school, Justice Ginsburg struggled to find a place at a law firm and refused judicial law clerkships, despite glowing recommendations from professors. Despite this gender roadblock, she had a successful career as a professor and litigating on behalf of the ACLU as the head and co-founder of its Women's Rights Project. While at the ACLU, she famously fought for equal protection for women under the Fourteenth Amendment. She successfully worked her way up through judgeships, and was ultimately nominated to the Supreme Court by President Bill Clinton in 1993.
During her time on the bench, Justice Ginsburg established a reputation of making key decision on cases dealing with abortion rights, same sex marriage, voting rights, and immigration, among numerous others. She is also known for writing strong dissents on these issues when the Court ruled in the other direction. One of her last Supreme Court votes ensured that gay, bisexual, and transgender workers be protected under civil rights law. 
What does Justice Ginsburg's passing mean for the Supreme Court?
Most who don't follow politics or the Supreme Court regularly might be wondering: Can President Trump replace her? And what does this mean for the election? 
In order to become a Supreme Court Justice, which has nine seats, a potential justice must be nominated by the President and confirmed by the Senate. Currently, the Senate is Republican-controlled, which means that if President Trump were to nominate someone before January, the Senate would most probably vote to confirm. Senate Majority Leader Mitch McConnell has indicated that Senate Republicans will confirm the next Supreme Court justice before the election. In 2016, Senator McConnell and the Republican-led Senate blocked the nomination of Judge Merrick Garland following the death of Justice Scalia, citing that President Obama should not be allowed to nominate a judge when he is a "lame duck" president. 
Days before she passed, Justice Ginsburg dictated a statement to her granddaughter,
"My most fervent wish is that I will not be replaced until a new president is installed."
Republican Senators are jumping at this opportunity because with Justice Ginsburg, the Supreme Court was split between five "conservative" justices and four "liberal" justices. The next justice to be nominated by Trump will be conservative-leaning, which means the Supreme Court will have a 6-3 conservative-leaning split. Because Supreme Court seats are lifetime appointments, and the ages of the conservative-wing judges range from 53 to 82 years old, this nomination would secure a conservative-majority Court for decades to come. With the next nomination, three of the nine justices on the Court will be Trump appointees.
A conservative-leaning court will also have long-term and serious implications for the laws of our country. This country has grappled with controversial and headline-grabbing issues like abortion, affirmative action, voting rights, and LGBTQ rights, which have often made it or could make it, to the Supreme Court. There are also countless other issues that the Supreme Court will have an impact on based on its future conservative-leaning decisions. 
This is a developing story.