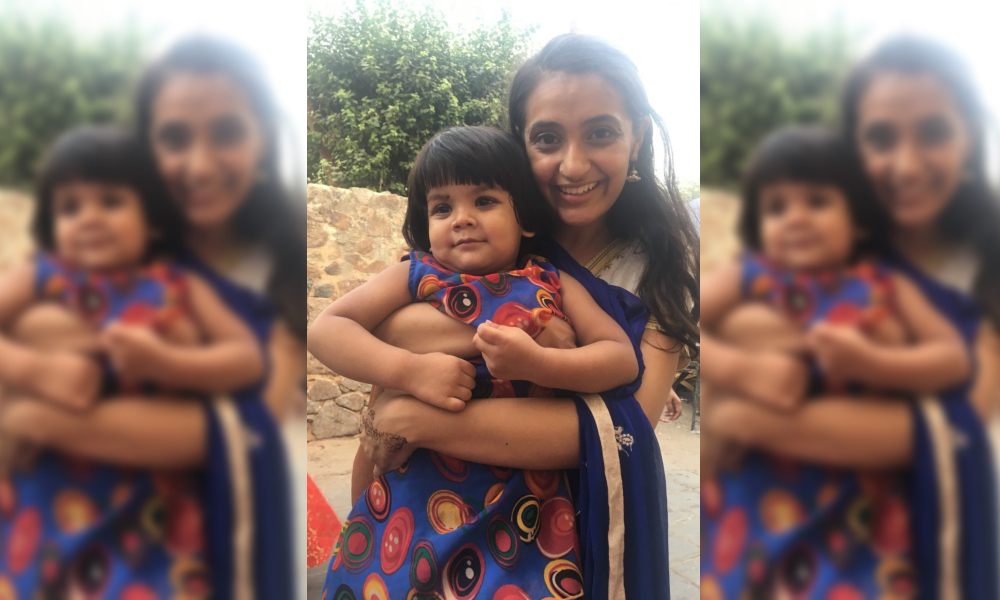 "Meri mummy sab se acha khaana bena thi hain," Shifa exclaimed with excitement as she took a huge bite of the mutton shalom ghost.
My mom makes the best food in the world.  
Her comment elicited a collective laugh from everyone in the room. "Zaika-e-Nizamuddin"—a catering group consisting of 11 women that specializes in Nizamuddin cuisine—had just finished hosting their first ever pop-up restaurant in Delhi's Nizamuddin Basti, an 800-year-old settlement, developed around the shrine of Hazrat Nizamuddin Auliya, a prominent 13th-century Sufi saint. The group members and event organizers all sat on the floor in a large circle, devouring the food that was not sold at the event. After a very intense week of planning and three hours of serving food in the Delhi sun, it was our time to celebrate the sold-out event. 
This event was a proud moment for me and all the women I had worked with this past year as an AIF Clinton Fellow. During my fellowship, I supported the women's livelihood component of the Nizamuddin Urban Renewal Initiative. The initiative is a public-private partnership with the goal of revitalizing communities and preserving intangible cultural heritage. As such, I was involved in planning and implementing the first pop-up restaurant for Zaika-e-Nizamuddin – from supporting the team to hosting a test kitchen, to promoting the event on social media, to supporting recipe scaling, layout design, supply procurement, members' training, and coordinating with other livelihood groups like Sair-e-Nizamuddin (a group of community members organizing cultural heritage walks) and Insha-e-Noor (a 60-member enterprise that creates handicraft goods) for the event.
For all of the members of Zaika-e-Nizamuddin, the pop-up event was the first time they had the opportunity to interact directly with the customers at their own kitchen. The group usually operates on a delivery model basis. It might have been a first for customers to see the women in their natural habitat, but it definitely was not for their children who were often in the kitchen when their moms were working.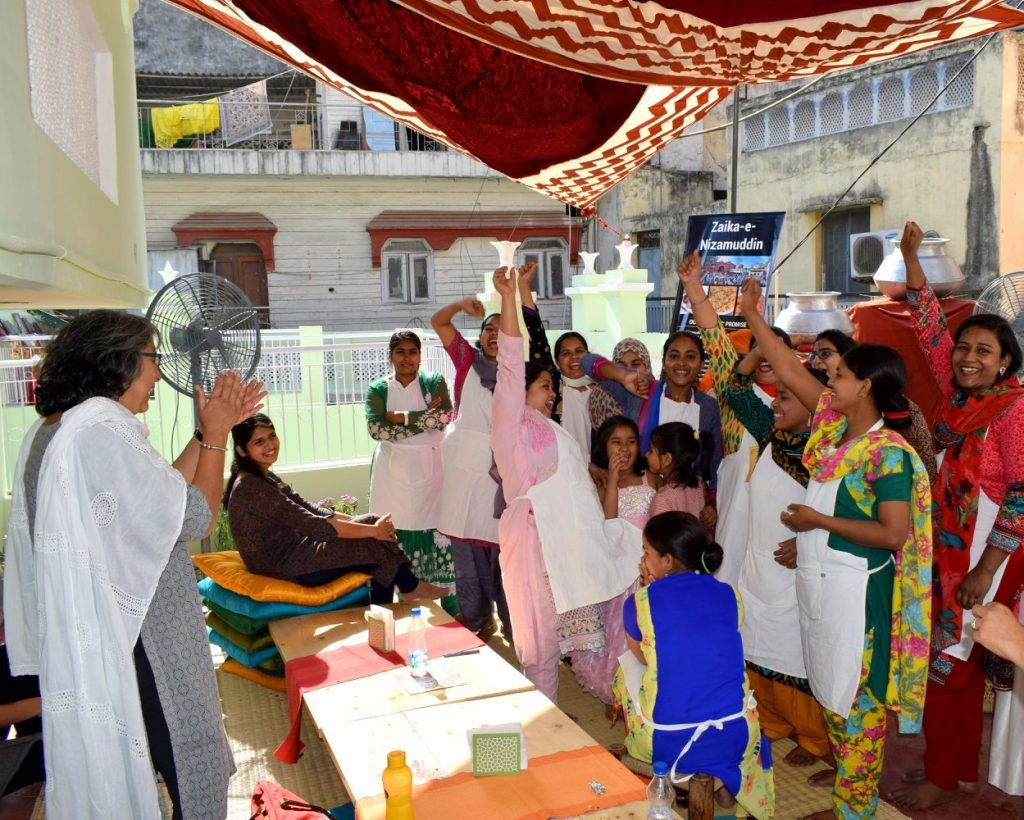 In fact, Zaika-e-Nizamuddin's kitchen is housed next to Insha-e-Noor's production center. Members of both groups bring their toddlers to work with them or have their primary school-aged children come to meet them at work. 
I had started developing my own relationships with the kids of Insha-e-Noor and Zaika-e-Nizamuddin. Drinking mango juice together, asking them what they learned in school, smirking as they asked (and eventually begged) for their mothers' smartphones. Although it had become one of my favorite parts of the job, this was not always the case. 
When I first started the fellowship, I was a bit taken back by the number of children in the kitchen and production center. 
Is it safe? What if they fall or get hurt? Should we be working to set up a formal day care? Is this sustainable? – were some of the thoughts I had.
Though these thoughts made sense, I was forced to think more critically about the situation given my own personal background. After all, much like Shifa, I was a restaurant baby myself. 
In 2001, my parents opened their own restaurant in Buffalo, NY. My parents could not afford, nor were they interested in, hiring a babysitter to take care of me. Instead, my seven-year-old self spent most of the time after school in the storage area of the restaurant on the second floor. I was away from the kitchen but my mom would frequently come upstairs to check on me and make sure I hadn't managed to get myself in too much trouble with my three coloring books and one 11-inch TV with the VCR attached. At age 11, I started helping out in the kitchen by cutting onions or stacking clean dishes and by high school, I was a member of the front-end staff. I attribute all of my current and any future successes to my experience with the restaurant. Working in a fast-paced, challenging, and emotionally draining environment prepared me to handle less than ideal situations or unexpected changes in my professional life. More importantly, working alongside my parents and witnessing their sacrifice and commitment to our family has been the biggest motivator in my life. 
Despite fondly looking at back at many childhood moments I spent at the restaurant, I am always a little reluctant to share these special memories. Growing up in the United States, the idea that the restaurant served as an alternative to childcare or a babysitter always elicited a strong and often harsh response. 
"Oh honey, it's so awful that you were forced to be in the storage room." 

"Your parents are so lucky that nothing ever happened to you; it's just so unsafe." 
These interactions made me feel like my time spent at the restaurant was unideal and inappropriate childcare due to my parents' financial status at the time. 
The children of Zaika-e-Nizamuddin and Insha-e-Noor forced me to acknowledge my own Western bias on the matter. In the United States, the general notion of children in workplaces—particularly those with machinery—is unacceptable. Despite the fact that universal pre-K and childcare subsidies are not available to all families in the United States, many Americans object to the presence of a child in a work environment in the developing world. This leaves families who cannot afford private childcare with very few options.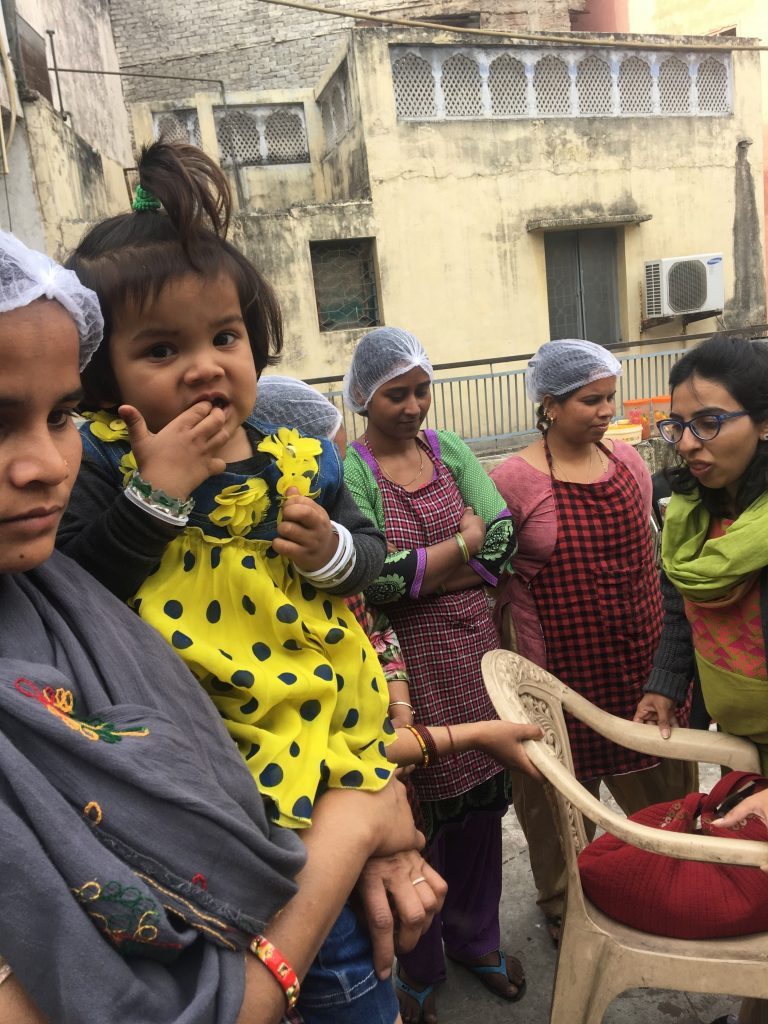 The perception that workplaces are too dangerous to provide childcare spaces is inaccurate and forces limitations on working women in the developing world. Workplaces can be easily modified to accommodate children by creating a separate enclosed area. Mobile Creches, an NGO in India, specializes in creating low-cost childcare spaces next to construction sites where 30 percent of the workforce is female. To date, Mobile Creches has reached out to 650,000 children and runs 550 daycare centers. Even at my fellowship host organization, we have had a lot of success at my host organization by using expandable playpens in the kitchen. 
More importantly, women working in the informal sector do not have the financial ability to afford daycare and cannot rely on other members of the household. Urbanization and migrant-based work have dismantled the extended family support structures. Even when extended family is geographically close, family members increasingly have less capacity to help with childcare. This is particularly true amongst the lowest socioeconomic levels where all family members need to engage in income generation activities.
Accommodating the needs of working mothers benefits the entire family well beyond financial gain. Research indicates that growing up with a working mom has numerous benefits for children. In a study of 50,000 adults in 25 countries, daughters of working mothers completed more years of education and were more likely to be employed and in supervisory roles and earned higher incomes. Admittedly, nearly all of the research of the effect of working mothers has been done in developed countries, and the limited research in the developing world is focused on the formal labor sector. It makes the case for exploring alternative forms of daycare even more pressing. 
There are already so many barriers for low-income urban women to join the labor force including transportation, safety, and financial strain. It makes little sense to create another one by not allowing their children to accompany them. Though it is not a permanent solution, modifying a workspace to be safe for children can go a long way in encouraging more low-income women to gain dignified employment. 
How else would Shifa come to learn that her mom is the best chef in the world? 
A previous version of this article was originally published on 7/26/2018 on American India Foundation. AIF's William J. Clinton Fellowship for Service in India builds the next generation of leaders committed to lasting change for underprivileged communities across India while strengthening the civil sector.
---
The opinions expressed by the guest writer/blogger and those providing comments are theirs alone and do not necessarily reflect the opinions of Brown Girl Magazine, Inc., or any employee thereof. Brown Girl Magazine is not responsible for the accuracy of any of the information supplied by the guest writer/bloggers. This work is the opinion of the blogger. It is not the intention of Brown Girl Magazine to malign any religion, ethnic group, club, organization, company, or individual. If you'd like to submit a guest post, please follow the guidelines we've set forth here.