I didn't grow up in a family where we regularly or openly expressed our emotions. I was always jealous when I heard my friends say, "I love you too, Mom," before hanging up the phone. But, there were things about my family life that my friends envied, too.
Actions speak louder than words
A couple winters ago, I was driving home from a trip. My parents hiked half a mile in a snowstorm at 2:00 a.m. to help me carry my luggage back home. They didn't have to do that — they could have been angry at my call at such an ungodly hour. But they weren't.
I still wish my parents were more emotionally vulnerable through words. But I am beginning to realize their style of affection may be grittier and more resolute, the way an iron prong nurses engine coals in a train after being lugged and shoveled in the cart. When I am burning at my hottest,  they are there for damage control—but they also control the engine by way of their emotional labor.
I have yet to find a romantic partner who I would describe as my "ride or die," but I know exactly what that is supposed to look and feel like because my parents were those people for me. I realize I have so many memories of them showing up for me in tangible ways that nobody else had the will for. It is the reason why so much of my love shows through my hands—as a nursing student when I help a patient and as a yoga teacher when I provide a physical assist or healing touch.
The value of privacy and restraint
I think of myself as someone with enormous privilege because of the struggles my parents faced. But no one would guess the modest beginnings they came from or their wildest successes—because they don't talk about it.
Before they became corporate professionals, my dad was a factory worker and delivered pizzas. My mom worked multiple jobs while caring for me and my cousins—she remembers how we all slept in the same bed and how many nights she endured with one or more of us wetting it.
Collectively, the struggles and triumphs we have faced as a family are sacred to our home. I realize why I am so selective with what I share, especially in the era of social media and in my twenties, while I am changing at such a rapid pace. At the same time—I struggle.
I would describe myself as open and expressive, and social media has been an integral tool for my creative development. I am constantly calibrating and re-calibrating how much of myself to give and how much of myself to preserve. While those two qualities are not mutually exclusive, my intense desire for and attachment to privacy is a trait I inherited from my parents.
I am not one to throw my energy around, and learning how to better manage it helps me discern and connect with others who hold similar values. From my parents, I learned to keep my jewels in my pocket. Sometimes, I will meet people who will treat me more graciously, and we grab the jewels out of our pockets, excited to show each other. We let them shine in each other's faces, place them in our pockets, and walk back to class, feeling warmer.
To show up for others in their darkest times
I was diagnosed with Crohn's disease when I was 19. (It is an inflammatory bowel disease, so I have plenty of embarrassing poop stories to share.) In your teens and 20s, there is nothing more humbling than requiring bathroom assistance. Let's just say, there is a reason why I sob every time I read E.B. White's "Death of a Pig," his account of helping his ill pig over its dying days. White did everything he could, saw every angle of the pig, and felt a connection so deep upon administering the pig's enema that he was never the same after the pig died.
Similarly, because of the love my mom showed through my illness, no matter how gross it seemed to other people, I will never perceive human relationships the same. I am in my mid-20s, and I know that love is not vain. Love prevails in the smelliest and messiest of times.
To pick my battles wisely, and not to be ashamed when I'm in the thick of one
For the most part, my parents are self-contained, and even soft-spoken, but no one gets to know your loudest of roars like family members do. Under manipulation, injustice and aggression, my mom and dad are forces to be reckoned with. From my mom, I inherited a razor tongue, and from my dad, an ego. An ego that huffs and puffs and tears the house down when others mistreat me.
Throughout the years, I have learned to channel my anger to be useful instead of hurtful. I have confronted teachers and bosses without mincing words, I have walked out of abusive work environments, and I have reported every rude receptionist to their managers.
Even in these moments, I sometimes ask myself, "Did I do the right thing?" Naturally, I retell the stories to my parents. I remember after I told my parents about an intense argument with a cruel professor, they looked at me, smiled softly, and realized I was indeed their daughter.
---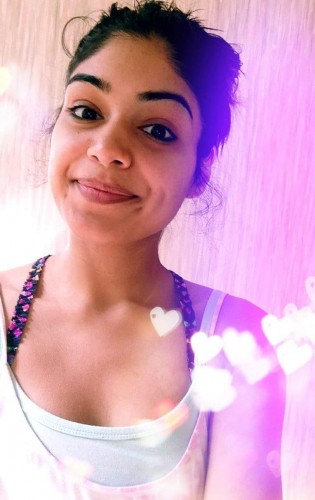 Jasleena Grewal is from Seattle, WA. Her beautiful Pacific Northwest home has taught her to see stars in cars, little amoebas in raindrop reflections against the quivering dashboard. Aside from what her parents have to say (about anything), she only lets the sky rule her moods.