They say you can tell a lot about a person by their shoes, but I think you can tell even more about a person by their chai. For South Asians, chai is much more than a beverage or a vehicle for caffeine—it's a lifestyle.
The drink is so well integrated into our lives that it is hard to believe that its popularity grew only fifty to sixty years ago. My grandfather told me he didn't even grow up drinking it!
Black tea was actually quite expensive and it was not until the 1960s that tea became accessible to most households through a processing method called CTC (cut tear curl). This process broke tea leaves into smaller, dustier pieces that made it much more affordable for the common person. From there, chai began to evolve.
Now, I tried to do quite a bit of research around the different kinds of teas you would find by region or country, but what I found was that it does not vary as much by location as it does by household. So, for my research, I turned to my second-best source of information: my brown family and friends.
I've found that there are a few commonalities with how people make this beloved comfort-drink: black tea, spices, milk, and a sweetener. However, that simple recipe leaves a lot of room for imagination and variations.
Here are just a few I've come across through research and personal experience.
1. Classic Masala Chai
This classic is what comes to mind for most people: an abundance of spices such as cinnamon, cloves, ginger, cardamom, and black pepper, a generous pour of full-fat milk, and a touch of sweetness (okay maybe a little more than a touch) from cane sugar or jaggery.
2. Cutting Chai
I first saw the name "cutting chai" at the Mumbai airport and then proceeded to see the name at every corner café and street vendor in the city. It is served in half-full glasses rather than cups and it tends to be very sweet and creamy from my personal experience!
3. Simple everyday chai
As much as we would love to make tea the old-fashioned way sometimes we need to cut corners to save time. Enter the tea bag, ground spice powder, and maybe some milk and sugar.
4. Kashmiri Chai
Kashmiri chai, noon chai, or "pink tea" is the only type I found that uses green tea rather than black tea. The process to make it is much longer (I spent too long watching YouTube videos on it) and contains baking soda and salt! I have yet to try it but it sounds so divine.
5. Aromatic Chai
In addition to the regular spices, some like to add mint leaves, bay leaves or lemongrass to their tea. I can only imagine how great their homes must smell after their daily tea time!
6. The Western Chai
Chai lattes, chai blends, or even chai tea (ugh) are what you would commonly encounter at Starbucks or a coffee shop in the West. What you'll find is that this kind of "chai" is actually made from powdered concentrate rather than actual tea leaves and spices. For some, the convenience makes this option quite suitable.
7. The Yuppie Chai
If you go to a fancy tea lounge or a hipster café you may stumble upon it; organic loose leaf black tea blended with whole spices, served with coconut milk, almond milk, or regular milk from a sustainable farm. Instead of cane sugar, you'll have the choice of honey from the local farmer's market.
With all the different types of chai out there I've learned that there is no perfect way to make a cup of tea. This beverage is subject to opinion and there is actually a bit of pride that comes with the way people concoct it; I've found that chai is a very personal experience.
[su_divider]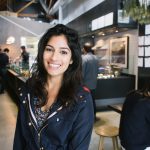 Akansha Agrawal is a Bay Area native who recently left her corporate tech career to pursue a career in wellness. She runs the brand Citrus & Gold where her mission is to help women be happier, healthier and bolder. She approaches wellness by adding a South Asian spin to her content and teachings. Trends like turmeric, yoga, Ayurveda, and healthy Indian food are all up her alley.  You can find her on Instagram or join her private community for women interested in health & wellness!