by Devina Khanna – Follow @browngirlmag
One of the most rewarding decisions I ever made was picking up, moving somewhere new, and starting from scratch. I am 26 and I have moved to a new city 6 times since I was 18! Though my journey may seem a little excessive, I cannot emphasize enough how important it is for every young woman to live somewhere new at least once in their lives. I don't mean move to college for 4 years, or the closest big city with your girlfriends, but somewhere totally new that pushes you out of your comfort zone. It can be incredibly frightening to leave home, and even seem unnecessary, but the experiences I have had are invaluable and critical to my growth.
Forging Your Own Path
When I graduated from high school in a well-off Bay Area community, it was so easy to foresee how my life would turn out: Graduate from a high-achieving high school, attend a highly-ranked California university, move to San Francisco and work for a tech company and eventually settle down back in the Bay Area. All of this would happen within a one hour drive or flight from the home I grew up. Many of my peers, and those older than me, did end up following this path and it is in no way a bad aspiration!  It has led to great livelihoods and successful careers. In fact, it's exactly why our parents came to this country, to achieve the American dream.  It can be tempting and easy to follow the same path as our peers or do what "Seema Aunty's" kids did because we know how the story will end. However, as I began to follow this path, I found it quite restraining and unfulfilling. I wanted to see what else was out there, outside of my bubble, and that required leaving my comfort zone and trying something different.
It Takes Baby Steps
At 18, I went to college about 45 minutes away from home, the furthest out of my comfort zone at the time. That's why it surprised everyone when I chose to study abroad in Germany my junior year. To me, leaving the country for more than a few weeks, or even the state, was a HUGE step, but I had this dying desire to try something totally different and travel the world. It took me a few years of being in college and living on my own to be ready for this, which is why it's okay to dip your toes in the water before jumping in. I still remember the butterflies and utter fear on my flight to Berlin, thinking I had made a stupid decision.
When I arrived, I stumbled a few times adjusting to the language barrier, navigating a city by myself and learning to stay calm when I would get lost, but eventually, I found my footing. In the 4 months I spent abroad, I slowly transformed into a different person. I visited 7 countries and 15 cities, survived on a student budget, made friends with total strangers, and gained so much independence. Not only did I meet people from all of over the world who came from different background, religions, economic status, and cultures, but I also met fellow students from all over the US. Though it's common amongst millennials to visit over 20 different countries, fewer have actually lived outside of their homes or, the closest cities to their homes, for an extended period of time. Living in a different city is a completely different experience from visiting.
Continue the Momentum
When I was on my flight back home, depressed to be ending my adventure, I promised myself that I would keep the ball rolling. I would maintain my independence, seek out new adventures and set high goals. For me, this translated to applying for grad schools out of state and pursuing careers in public policy in Washington, DC. Not only did my passions lie in a different city, but it would give me the chance to start on a whole new adventure.
Fast forward a few years, after spending a year working in San Francisco, finishing graduate school on the East Coast (another big move), I moved to Washington, DC to begin a new career and start completely from scratch. Moving to a new city for work where I hardly knew anyone was a much harder transition than studying abroad or doing a summer internship. It was a tough first few months putting in so much effort to make friends and find people I felt comfortable. In moments of weakness, I would skim through social media and see my friends from San Francisco having a blast brunching in North Beach, or picnicking at Dolores Park.
Often times, the only cure to making new friends is time, keeping an open mind and saying yes to things you wouldn't normally do. It took months and lots of effort to make plans with people I had just met, but now I go to brunch with new friends in Capitol Hill or I spend weekends lying out on the National Mall. I used to count down the days until I could fly home and see my friends, but over time my trips back home became fewer and DC now feels more like home.
When I come home to visit, I view the Bay Area through a different lens. I have a different perspective on the world, and the way people think who are different than me, compared to some of my peers who have hardly left home. The world feels so much bigger, and San Francisco, which used to feel so vast and intimidating, doesn't feel as big anymore. Don't get me wrong, SF is still my favorite city in the world and I'd like to move back eventually, but I'll never wonder what else is out there. I'll never wonder "what if?" I'll be able to go to brunch with my friends, but also know that I experienced brunch in so many other cool cities. And I'll know I gave the world a shot.
---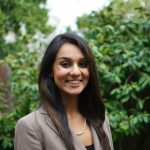 Devina Khanna is a California Bay Area native who lives in Washington, DC and works as an Analyst for the Consumer Financial Protection Bureau. She has her Masters in Public Policy from Carnegie Mellon University and has an interest in financial literacy. When she's not looking for the best brunch in town, she loves to explore new cities, maintain an active lifestyle and cheer on the Warriors and the 49ers.