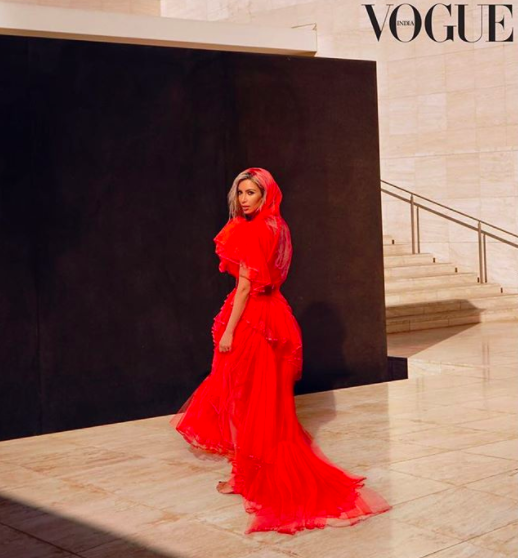 The views and opinions expressed in this article are those of the contributors at Brown Girl Magazine but do not reflect the official policy or position of the publication. As a platform, we have decided not to take a hard stance on the recent Vogue India cover featuring reality television star and entrepreneur Kim Kardashian because we want to be the publication that allows for meaningful dialogue surrounding controversial matters.
Here's our take when the cover first released:
Kim Kardashian Didn't Appropriate Our Culture 
Vogue India, in general, tends to feature prominent Indian actresses on their covers, and while I agree, sure this time too they could have gone with an Alia, Deepika, Shraddha, Priyanka, there is nothing wrong with picking Kim, who has such a wide international following and showcasing how beautiful India and its culture is. She, as far as I know, didn't appropriate the culture, as wearing our clothes can also be a form of learning more about our land, nation, and practices.
As far as the argument goes for using an Indian model, it isn't an issue with Vogue internationally, since they rarely use lesser known models and always go with the prominent ones. Furthermore, Kim is one of the few celebrities with a large following who has been extremely vocal about the nation's current and previous political climates and national tragedies. While some may feel that her support of causes might be a publicity stunt, her hiring criminal lawyers to defend women who have been wrongly prosecuted (re: Cyntonia Brown), or donating hundreds of thousands of dollars for natural disasters benefit society more than they benefit her. Kim might be a lot of things, but undeserving isn't one of them. — Isha Das
She Looks Amazing But…
I'm actually very indifferent towards this image. From an art and beauty perspective, she looks amazing. I respect her hustle and taking an ugly situation, (i.e. the sex tape), and turning it into something is worth talking about. But I just want to touch on the part of her voicing her opinions and shedding light on social issues. I follow her on social media and I would NOT know that's what she does. Her social media feed and everything that is blatantly put out reflects her body, external beauty, and her products, which as a businesswoman, is great. But to say she's an activist, I'm not sure of that. She might mean good, but again it makes me think if these issues she supports are part of a publicity ploy coming from that family because it doesn't seem like I ever see any depth coming from her. — Nehal Mehra
We Need to Celebrate Brown Skin First 
I don't think people understand how magazines work.
You can be mad at this and call it cultural appropriation all you want…but just remember people are dying. Comparing this to Gucci's fail is absurd. People die because of their religious headwear. I don't really see people dying because they're wearing a lengha. And if you're still upset about Betty from fifth grade making fun of your shalwar kameez. Get over yourself.
Do we really expect Vogue India to celebrate brown skin? There are lightening creams everywhere you look. We, as a community should do more to celebrate brown/darker skin. The big companies won't do it unless we start doing it.
Put your anger and use that somewhere else where it's needed: Palestine, Syria, India, Pakistan, Burma, CAR, and many more, unfortunately. — Sarah Khan
She's Not Doing Anything Wrong
I'm a total fan of this. She looks absolutely stunning on this cover. At the end of the day, I'm my opinion, she's not appropriating or doing anything wrong. Anyone can wear our cultural garments, we don't own them. Culture is meant to be shared if done in the right way. Breaking barriers should be encouraged. And Kim Kardashian, a woman whose net worth is $175 million, doing the cover of one of India's most influential magazines? I would call that breaking barriers. — Karishma Sharma
I am so Sick of South Asian Media 
I long for the day when South Asian media outlets actually showcase the beauty that exists across our own ethnic group. I am so sick of seeing the likes of Kim Kardashian and Kendall Jenner gracing the cover of magazines meant for brown women. I am equally sick of seeing light-skinned brown celebrities being upheld as the South Asian standard for beauty. As annoyed as I am at Kim K taking up a space meant for South Asian women, I am far more angry at the Indian media and society at large for worshipping white skin. I've said it before and I will say it again—in a country filled with millions of beautiful women who could rock that lengha SO MUCH better, why would Vogue India select an American reality star who lacks substance to represent us?
To truly challenge colorism and Eurocentricism at a systemic level, it is crucial that we, as individuals, take a stand. It is up to us to challenge racist beauty ideals at an interpersonal level and to take pride in ourselves, in our community, and in our brown skin. It is up to us to make it known to media outlets that we are NOT interested in supporting them and giving them our money if they continue to perpetuate the belief in white superiority.
As consumers, it is vital that we realize the role that we play and that we use our power to challenge social inequity. We must make it known to the large companies and corporations that we want to see real, everyday beautiful Brown women being celebrated in the spaces which rightfully belong to us. —Natasha Sharma
This is a Poor Reflection on Vogue India 
In my opinion, Kim is a celeb without a moral compass and if Vogue India offers her a photo shoot in a lengha, she'll take it. As someone who's conducted workshops around cultural appropriation, the term gets tossed around too often when people don't like that someone is wearing/participating in a cultural trend that's not their own and desensitizes everyone from caring. This is actually a really POOR reflection on Vogue India for many reasons, the top three being:
1.They chose to feature someone who isn't Indian on their cover and consistently appropriates other cultures.
2. It shows they value a light-skinned western-idolized woman over a woman of Indian descent (there's nearly a billion of us, literally).
3. It will spur others to actually appropriate Indian culture. You can argue religion over culture for wearing a lengha in public vs. a dastar but women have been harassed, assaulted, and forced out of celebrating their culture for wearing saris in public.
We should be able to show the world how rich of a culture we have and what it means to be South Asian without needing a white woman modeling for it. —Radha Jhatakia
My Problem is Who They Chose for the Cover
The gut-wrenching jolt of disgust I felt when I saw the Vogue India cover of Kim Kardashian has nothing to do with perceived cultural appropriation, nor was it a distaste for non-Indian women on the cover of an Indian magazine (I get that Vogue by itself is not an Indian magazine, but would argue that Vogue India is/should be, or why have a different publication at all?), nor do I think models/influencers all need to be superhumans, who are not only externally beautiful but also saintly geniuses who have revolutionized society in some way.
My problem is that out of all the people they could have chosen, they have chosen someone who has contributed in a very real and detrimental way to beauty standards worldwide—where makeup is an hour long affair, where full, pouty lips are essential, where plastic surgery is commonplace, where tiny waists and big bottoms are imperative. Couldn't they have used a star with a more meaningful rhetoric, and who are worthy role models?
Oh, I know the "but Kim is an amazing businesswoman" (not that her family couldn't afford the best PR, managers, etc. even before her meteoric rise, with the privilege she was born into), or that "Kim donates so much to charity" (Google "Kim Kardashian charity," and you might find information of some of her great work in giving back, mixed with articles on how she donates 10 percent of her Ebay auctions, not to mention the tax cut benefits celebrities, in general, get from donations).
Personally, I'd much rather see Vogue India putting an Angelina Jolie or an Emma Watson on the cover, among many other women, who are both beautiful and inspire us in more ways than visual aesthetics. — Pooja Rudra