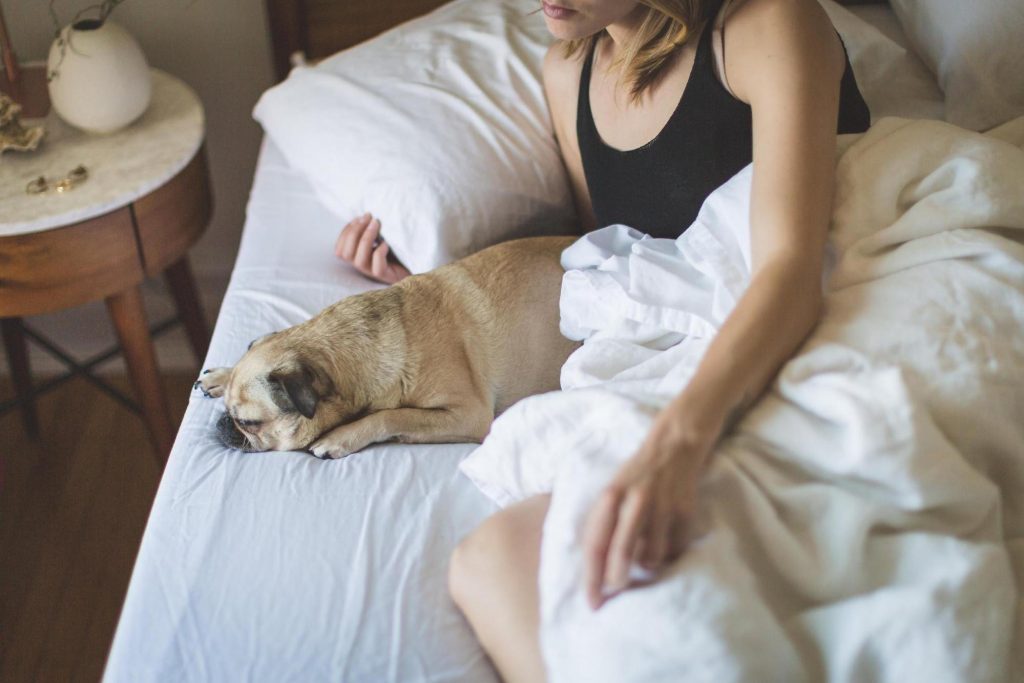 It's hard to sleep well when you have arthritis. And when you don't sleep well your pain increases. This vicious circle can (and must!) be broken.
One of the steps to break it is getting yourself a suitable bed. So today, we are going to take a look at the best beds for arthritis and see which one might be a solution to your problem. Also, there is a good article about mattresses for arthritis suffers written by John Breese.  Check it out as well in order to have more information and find the best option for yourself.
A Quick Preview of the mattresses
Product Name
Type
Layers
Warranty

Zenhaven (by Saatva)

Latex

Dual support core;

5-Zone comfort layer (on top and bottom since the mattress is flippable);

wool layer;

cotton cover.

20-year warranty, 120-day trial

Leesa

Memory foam

Core support foam base;

contouring layer;

cooling Avena foam layer;

cotton + polyester cover.

10-year warranty, 100-night trial

Bear Mattress

Memory foam

High-density support foam;

transitional performance foam;

responsive comfort layer;

cooling graphite-gel memory foam;

breathable Celliant cover.

10-year warranty, 100-night trial.

Tuft & Needle

Foam

Base supportive layer;

proprietary Adaptive foam layer;

micro polyamide + polyester cover.

10-year warranty, 100-night sleep trial

Amerisleep Mattress

Memory foam

Bio-Core foam support layer;

transition foam layer;

Bio-Pur cooling foam;

Celliant cover.

20-year mattress, 100-night trial

Best Mattress for Arthiritis Overall
Zenhaven
This 100% latex model belongs to the best mattresses for arthritis for many reasons. It is natural, supportive, comfortable, and has a very smart construction.
One of the cool things about this model is its 5-Zone latex comfort layer. It features a proprietary design, which divides the mattress into 5 sections with different firmness levels, to provide support where it's needed and to offer more cushioning in separate areas. This results in a superior comfort.
Now, let's look at the main pros and cons:
| | |
| --- | --- |
| Pros | Cons |
| Two firmness options in one (flippable) | Rather pricey, might not be suitable for some users |
| 100% natural materials | |
| Doesn't sleep hot | |
| Super comfortable, supportive and cradling at the same time | |
| Proprietary 5-Zone layer | |
| Nicely made and durable | |

This is obvious: Zenhaven is an excellent mattress. It is very comfortable, supportive, natural, and offers two firmness levels in one model. What else is there to wish for?
Want to see for yourself? Order here!
Second Best mattress for joint pain suffers
Leesa
The next best mattress for arthritis is the famous Leesa. This model offers that classic foam feeling without making you sleep hot. Additionally, it is great for pressure and pain relief.
This particular model is great for all sleeping positions. It is not too firm, so if you are a side sleeper, you will get enough cushioning for your pressure points. At the same time, the mattress is supportive and rather bouncy, which makes it good for back and stomach sleepers.
Moving on to the pros and cons:
| | |
| --- | --- |
| Pros | Cons |
| Great for all sleeping poses | Might allow too much sinkage if you are a heavier user |
| Bouncy and supportive | The edge support could be better |
| Doesn't sleep hot | |
| Provides enough cradling, great for pressure relief | |
| Great value for money | |

Overall, Leesa is a great mattress. No matter what your favorite sleeping position is, chances are you will feel super comfortable lying on it.
Ready to order? Click here!
Need more info? Check Leesa mattress reviews from MyBestMattress.com.
Best High-Tech Cover
Bear Mattress
This top-rated mattress for arthritis might really surprise you. It has a very balanced feel and comes with some extras for your improved comfort.
What makes this model stand out from the competitors is its proprietary Celliant cover. It implements a new technology, which is even recognized by FDA. It harnesses your body's energy and turns it into the infrared light, which helps your body recover and feel better.
Let's consider the following pros and cons:
| | |
| --- | --- |
| Pros | Cons |
| Proprietary cover | Mediocre motion isolation |
| Has a very balanced feel, with enough support and cushioning | May be too firm for side sleepers |
| Doesn't sleep hot | Sold by a rather young company, so there are no long-term customer reviews |
| Good value for money | |

If you are ready to put your trust in a relatively new company, chances are you will end up being very happy with your new Bear Mattress.
Want to test it yourself? Order here!
"In case you are on a tight budget and cannot afford a new mattress, or aren't sure whether you should invest in a new one, you can always try to improve your sleep quality by pairing up your old mattress with a new topper. There are many good toppers for around $100-200, which can make your old mattress more supportive, resilient, or, if you need that, cradling."
Best Affordable mattress for arthritis
Tuft & Needle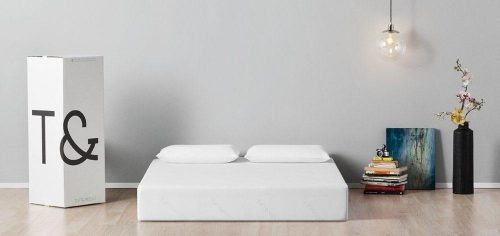 Another good mattress for joint pain is this simple yet comfortable model. It also offers a great value for money and is suitable for people who are on a bit tight budget.
Tuft & Needle uses their proprietary foam for the top comfort layer. It features a combination of poly foam and charcoal. It allows users to sleep cool during the night. Additionally, this layer is supportive and rather contouring as well. It feels more like latex than foam, which is great for shifting during the night.
Moving on to the pros and cons:
| | |
| --- | --- |
| Pros | Cons |
| Super affordable | Might be too firm for side sleepers |
| Doesn't sleep hot | Mediocre edge support |
| Bouncy and responsive | |
| Supportive, with a decent amount of cushioning | |
| Good motion isolation | |

This mattress is a great entry-level option. It is good for pressure relief and gives users that pleasant bounce and resilience.
Best Firmness Levels Variety
Amerisleep Mattress
Amerisleep is a known mattress. It is popular among different users (including arthritis patients) thanks to its quality materials and the comfort it provides.
Now, Amerisleep uses their proprietary foam in the mattresses. It is more natural than the regular memory foam, allows for breathability, and feels very comfortable. The mattresses come in five different firmness levels, so there are options for all users and all sleeping positions.
Let's see the main pros and cons:
| | |
| --- | --- |
| Pros | Cons |
| Five firmness options | Might be too expensive for some users |
| Great supportive properties | Mediocre edge support |
| Comfy and contouring | Softer models aren't great for shifting |
| Innovative cover | |
| Eco-friendly materials | |

Despite having some minor flaws, this mattress is an awesome option for arthritis patients. You can pick an appropriate firmness level and enjoy the comfort this mattress provides.
"Some users appreciate that slow-hugging effect the memory foam provides. However, if you prefer to sleep on a bouncier surface, you can also try a latex mattress. They are very responsive and perfect for shifting and switching your position during the night. However, keep in mind that latex mattresses aren't always good at motion isolation."
Factors We Look At
When your body is in pain, a healthy, restful sleep is pretty much off the table. However, with a good mattress, you can improve the situation. Especially if that mattress is suitable for your health condition.
And because a mattress can play such a great role, we take the task of picking the best models very seriously. Here are the most important factors that we consider:
Support

. Now, support does not necessarily mean firmness. Even softer, more padded mattresses need to have a solid, supportive base, which will keep your spine aligned properly, your body in a neutral position, and your weight equally distributed.

Pressure relief

. This factor is crucial when it comes to arthritis pain and hurting joints. A good mattress has to gently cradle your pressure points, allowing them to relax and reducing their pressure levels.

Possible returns or sleep trials

. Arthritis can present itself in a ton of different symptoms. It can also attack almost any part of your body. Therefore, each arthritis patient experiences different issues and has different pain centers. One mattress cannot suit everyone, so we make sure to pick only the models that can be returned after the trial without a problem. This way, if your new mattress doesn't help you get rid of the pain and sleep more comfortably, you can get it refunded and test the next model.

Bounciness and responsiveness

. While your mattress should gently hug your pressure points, it shouldn't be too cradling. A good model for arthritis must be bouncy enough to allow you to shift easily during the night. You see, when waking up in pain, changing your position can somewhat reduce it. And that's easier to do when lying on a bouncy mattress, not the one that makes you feel stuck in it.
Tips and Tricks to Sleep Better with Arthritis
Even though arthritis is a nasty disease, there are some things you can do to make it a bit more bearable. For instance:
Before going to bed,

use heat therapy

. Taking a long warm bath or putting a heating pad on your hurting joints for 15-20 minutes can help with the pain. Moreover, this will relax you before bed.

Invest in a new bed

. A special mattress for joint pain

and arthritis can be a great helper. Some people also buy adjustable bed frames, which help them find the most comfortable, pressure-relieving position.

Consider taking some

medicine or pain relievers

. Of course, you should first consult your doctor. He or she might recommend sleeping pills (mild or stronger, depending on your condition) and pain relievers.

Reposition your pillows

. This can also help with pain relief. For instance, if you have hip arthritis, putting a pillow (or a rolled blanket) under your knees can help relieve pressure from the hips. Consequently, you will feel much more comfortable.
"There are many pillows on the market, which are shaped specifically to provide pain and pressure relief. You can get one for your neck, hips, and knees. The number of options is impressive. However, keep in mind that those pillows are more expensive than the regular ones."
Stretch, exercise, or do yoga

. You can do this in the evening, a couple of hours before bed every day. Just make sure you move lightly and carefully. Moving regularly will make your joints less stiff. Thus, they will feel less painful.

Try to meditate

. Even though it might sound lame, managing your worries helps with pain immensely. Calming your mind and relaxing can help you fall asleep faster, before your joints start disturbing you too much.
Why Your Sleeping Position Matters
When trying to pick the best mattress for arthritis, you definitely need to consider your favorite sleeping pose. Why? Because each position requires a different mattress type.
So, let's start with the most popular one: on the side.
Side sleepers require enough support for a proper spinal alignment but also need a generous amount of cushioning, which will cradle their body. They need something that would contour their hips, knees, and shoulders nicely without putting too much pressure on them. So, if you are a side sleeper, give your preference to medium or soft mattresses. A good material choice is either foam or latex.
Moving on to the second most popular pose: on the stomach.
Here's the kicker:
This sleeping position is considered the most unbeneficial for your spine health and overall well-being. If you sleep on your stomach and use an unsuitable pillow, your spine can end up being curved, elevated, and tense all night long.
However, with a good mattress and a proper pillow, you can make sure your spine is in better condition. Stomach sleepers need firmer mattresses with a decent amount of contouring and bounce. Medium-firm latex mattresses would be the best option in such a case.
Now, back sleepers are a rare breed these days. Not too many people enjoy this pose, even though it is probably the most beneficial for your spine, neck, and your overall health. However, those benefits can only be achieved when you have a proper mattress. Back sleepers need something firm and supportive, with a moderate amount of cushioning. Latex, foam, and even innerspring mattresses are suitable for back sleepers.  
"If you are a back sleeper, you also need to think about your pillow. It shouldn't be too tall and elevate your head too much. At the same time, it needs to be both supportive and contouring, adjusting to your head, neck, and shoulders and providing them with enough support."
Mattress Types That Can Relieve Pain and Discomfort
The market has a lot to offer these days. And when trying to find the best mattress for arthritis, it is easy to get lost in all the names, layers, materials, and features.
So, if you are wondering what mattress materials, among other things, can help with pain relief, here are the most suitable types:
Memory foam

. This is the most popular and widespread mattress type. Memory foam can be supportive and firm, but it is also very good at contouring and hugging the pressure points, which is great for people with arthritis.

Latex

. This material is a bit more bouncy and responsive than memory foam. It does not provide that slow-hugging effect but still cradles the body while supporting it.

Innerspring

. Some people consider innerspring mattresses outdated, but the modern models are really good with pressure relief. Especially if they have some extra cushioning on top.

Hybrid

. Hybrid mattresses can feature different combinations, including foam + latex, innerspring + foam, foam + gel, spring + latex + foam, and so on. The good thing about such mattresses is the fact that you can definitely find something that would work for you.
Conclusion
Here's the deal:
Everyone's pain is different. That's why everyone needs a different mattress.
However, I am here to recommend the best ones. I was really impressed with Leesa in terms of its flexibility. It features just the right amount of support and cushioning, which makes it great for all sleeping positions (unless you are a heavier sleeper who needs a firmer mattress).
But my absolute favorite is Zenhaven by Saatva. It is ideal for pressure relief and proper spine alignment. This mattress offers enough support and bounce for lower back pain relief too. At the same time, it gently cradles your pressure points, which only contributes to the overall comfort.
Which mattress is the best for joint pain and arthritis? Have you picked your personal favorite? Share your thoughts in the comments!