by Priyanka Gulati – Follow @Gulate
"Those who are swathed in the shade of love, have the whole world at their feet," croons Malaika Arora,  dressed in a maroon ghagra atop a train, arms stretching towards the sky.
Just as the train begins to pull through the lush greenery, a lithe body pops up beside her and begins to dance. Head full of hair, dimples for days, and a twinkle in his eye–three-year-old Pri's heart squeezes, fit to burst. The song blares through the dusty stereo as I teeter off the couch and towards the television. I settle for jumping up and down in time with the drums, entranced. It is my earliest memory: Shahrukh Khan has made his very first appearance in my life and nothing will ever be the same again.
Shahrukh Khan has been landscaping Bollywood cinema for the last twenty-five years since his endearing debut in the '92 film "Kabhie Haan Kabhie Na." He played the best friend left pining after the one that got away, sealing his fate as B-town's local chocolate boy and king of romance. At fifty-two, with roughly a hundred films to his name, his presence is still magic on screen, his smile just as arresting, his laughter abrupt and intense.
He's an absolutely useless dancer, steps always a half beat off and just shy of stiff, but he makes up for it with a little self-conscious grin. His hair is massive; his eyes doughy and chocolate-like. You could get lost in the language he speaks with his body, the sudden tilt of his head and the immense vulnerability that floods his eyes. Every quirk of his mouth, every glycerin-laced tear never fails to make your heart bleed. And oh, the way he loves. The subtle longing, the childlike wonder only he can render in every script.
Today, he occupies a solid position in the industry (and of course my heart), but it wasn't always so. The chocolate boy with the killer smile and sensitive feelings wasn't a trope that existed before Shahrukh, so it took him some time to find his footing. Despite the macho and angry college boy types that persisted a few years into Shahrukh's rise as an actor and the establishment of a new breed of hero, it was always Shahrukh's emotional declarations of love and those big, sad eyes that won the audiences. Simply, he is the first man I have ever loved, a fact that I thoroughly expect all those that come after him to understand.
His off-screen presence is also an enjoyable one. Shahrukh is a joy in interviews. His personality is a delightful combination of wit and awkward charm as if he still can't quite grip that he's here. His rise to fame is a true rag to riches tale, beginning with a newly orphaned Shahrukh venturing to Mumbai to make a name for himself and ending with Mannat, the beautiful home he shares with his wife Gauri and three children. His interviews capture the tangible love he feels for his family and joy he feels from his work. His wry humor makes him seem brasher than he is, a fact his fondly exasperated assistants can often attest to. While his directors have him rocking a hot dad look in reel life, on Instagram he's just hopelessly-uncool dad.
I can't remember a time where he wasn't my one and only. When girls in elementary school doodled "Future Mrs. Timberlake" on their folders, little Pri was content and cozy in her trademark yellow Gap sweater, an homage to Shahrukh's character Rahul in "Kuch Kuch Hota Hai." Full of familial melodrama and 2000s bops, "Kabhi Khushi Kabhi Gham" was reserved for sick days in high school while "Dead Poet Society"-inspired "Mohobattein's" overly cheesy antics made for good background noise while doing homework. The iconic "Dilwale Dhulania Le Jayenge" and its star Jodi Raj and Simran (Shahrukh and Kajol) reminded me to keep dreaming of love the day I had my first heartbreak while Shahrukh's Dr. Jehangir Khan of  Dear Zindagi was there to help introduce mum to my depression.
Shahrukh's been through a lot with me- whether its my staple fifteen minute rant about his eyes in Devdas that begins with a sudden movement to pause the film and a plaintive  "look at my baby he's so sad" or my first venture into an Arlington by metro last November just to find a movie theater where I could  watch Raees in a fit of crushing nostalgia. Visiting his Mumbai home and taking a picture at the gate was the first trip I took alone in India, and definitely the most embarrassing. I cried and fell in love all over again when he met Zayn Malik on my birthday two years ago, all my worlds colliding to make one glorious lockscreen.
Watching him romance his heroines in the Swiss Alps is the sweetest form of escapism I have found. He is gentle where others are rough, voice husky and impassioned where others fill with false bravado. On the days where I feel like drowning it is the reassuring touch of his hand against her skin that anchors me. I find myself reeled in by his eyes, transported instead to a world where the people look like me and occasionally think like me too. This world he's drawn me into is problematic on its best days but is also the most well-equipped and accessible resource I have.
Shahrukh's a friend who'll always show up, no matter how slow the buffering might be or how picky you are. He's there to give me a good cry when I need it or a fond eye-rolling laugh when I need that too. His interviews and films fill empty voids when I'm lonely or homesick. His ridiculous determination–the very same one that led this man from Marine Drive into the hearts of so many, is one that constantly pushes me to keep going. His regularly awful dad jokes on Instagram and only-a-little-funny tweets never fail to make me smile. In moments of loneliness, it is his voice that I find myself speaking to, reasoning with. Is this a little insane? Yes. But my memories are laced with him, his lyrics, expressions, and awful jokes. His movies mark my life's most mundane and most telling moments. His interviews fill the silence when I want it to disappear.
I watch extra Bollywood on the weeks I don't actually speak in Hindi, rom coms when I crave something wholesome, and 90s music video DVDs when I get nostalgic. This escapism is one that is familiar to my friends and family. Like me, they too agonize over the next Ranveer-Deepika starrer, also acquire the same long-suffering look as I when they hear of yet another Rohit Shetty slapstick comedy. So what if Shahrukh's getting old? And so what if he's made some more than questionable choices these last few years? There are days where I feel I owe him everything, for he often becomes the quiet comfort in my headphones when the days are hard and long. A love as loud as his is more than deserving of the love I return. I am grateful every day for the way he has seeped into my skin and swathed me in his love.
---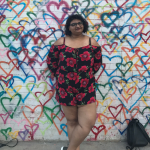 Priyanka Gulati is a writer, Bollywood fanatic and hazelnut coffee lover. When she's not swiping the burgundy lipsticks at Sephora she can be found starting unnecessary fights on Twitter. Follow her @gulattee.