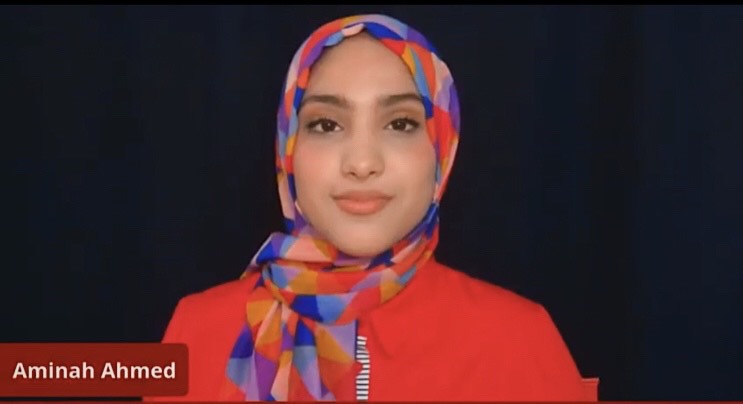 Young Indian activists are vocal about their opposition to measures that the Indian government has taken to marginalize Muslims and other minorities. Prime Minister Narendra Modi's Bharatiya Janata Party (BJP) bill that grants fast-track citizenship solely to non-Muslims from neighboring countries, taking a further step along the path to transforming India to a Hindu nationalist state has caused young people from India and the diaspora to raise their voices. These young activists are committed to preventing the BJP from endangering the secular and democratic values that have held their country together since its independence. 
On September 14, 2020, student leader and activist Umar Khalid, was arrested by the Delhi Police under the Unlawful Activities (Prevention) Act. Khalid was arrested by the Delhi Police Special Cell as an alleged conspirator in the Delhi Riots case in an attempt to implicate him in the theory that the riots were due to the conspiracy hatched by anti-CAA protesters. A statement demanding freedom for Umar Khalid addresses "What was Umar Khalid's crime? That he used the passion of his commitment to his country, marshaled his education and his voice to join the movement for equal citizenship, against the Citizenship Amendment Act (CAA)."
In a speech Khalid said,
They fear us, they fear our struggles and they fear us because we think. My friend Anirban [Bhattacharya] said something in the media on February, it is the easiest to be an anti-national: the minute you start thinking, you would immediately be labelled anti-national.
The fear of those who cannot stand to see resistance to hate has only caused activists like Umar Khalid to rise. Below, young advocates from India and the diaspora tell us why resistance is essential, the consequences they have faced in their fight towards an inclusive India and about the importance of the upcoming Reclaim India Conference.
Indian American activist and founder of Students Against Hindutva Ideology, a student organization resisting Hindutva nationalism globally, Shreeya Singh says,
I do the work that I do because I feel inspired by the activists on the front line in India who are criminalized for their dissent. If those of us with the privilege to speak without retribution stay silent in the face of fascism, then we are certainly complicit in its rise.
Due to this work, Singh has been doxxed on social media platforms by right-wing trolls, received death threats and has had her employers and university contacted with false slander. 
Singh, a speaker at the Reclaim India Conference, which is an initiative of committed voices from the global Indian diaspora who are fighting for a democratic, pluralistic and progressive India, describes that this conference is so important because "it aims to bring together allies in the states to learn from the demands and aspirations of those doing such important work in India and hopes that it sets the basis for ongoing transnational dialogue and resistance."
Rya Jehta, an Indian activist from Students Against Hindutva an inter-university, inter-faith progressive student coalition, says that their work takes "organizing, legislative, and educational approaches to change behaviors in the Indian diaspora in solidarity with the pro-democracy struggle against Hindutva in India."
Jehta says,
As students currently living outside of India fighting against fascism within India, it is our responsibility to have meaningful dialogue with students activists on the ground in India, to learn from their struggles, align our work with their goals, and follow their lead. This is why I am joined here today by three student activists from India and two student activists from the diaspora to have a conversation about how we can bridge the gap between activism in India and abroad.
Saket Malhotra, a student activist, says that he "tries to advocate for those who are unable to advocate for themselves. I am in quite a privileged position being in the US. My state won't hunt me down for critiquing the BJP or RSS. My life or the lives of my friends or family isn't threatened by their presence, so I have the freedom and responsibility to raise my voice and bring attention to the struggles of Muslims, and caste-oppressed folks in India."

Malhotra's commitment to amplifying the voices of India's minorities comes after students in Delhi, India has condemned the "barbaric" treatment at the hands of their own police who stormed peaceful anti CAA protests, injuring dozens.
Kripal Singh Mandloi, an activist based in India, says that "Whether its rights, liberty, constitution, or social aspects whatever we have today is the outcome of vision and resistance of progressive people."
Mandloi has been detained and attacked previously but he believes one has to deal with those in a position of power and that's something expected when fighting for change. 
He describes the upcoming Reclaim India Conference as an initiative to "reclaim a democratic, pluralistic, and progressive India earned by resistance by the founding fathers of the country whose vision seems to be compromised in recent times."
Student activist Dipsita Dhar on Global Indian Progressive Panel explains that for her and most of the students coming from working-class, marginalized community political movements are something that keeps their chances of living a dignified life alive. "Yes, there might be consequences, some individual losses here and there, but it does contribute to a larger struggle. The fact that even after so many "consequences" people chose to not surrender, builds in collective resistance. We have a choice, either to stay quiet and continue under oppression or get up to challenge the system. We chose the second one."
Dhar goes on to describe that:
India has its own share of a complex history. A history of invaders from Aryans to the British. Some of them came looted and left, some of them came and became a part of this soil, made it their own home. The "Indian" culture thus is not a monolithic one, it's a synthesis of various cultures and practices. With more than 100 official languages, and some 100 more who are yet to be recognized, diverse faith, food habits, arts, and craft; its foolishness of giving India homogenous identity of either faith or language. And that's exactly the crime this government is up to. From hate crimes against minorities and Dalits, organizing large scale pogrom to constitutionally amending the citizenship rights, the attacks are multipronged.
To challenge this regime we need broader solidarity, solidarities that are built on principles, and pro-people politics. In this light "Reclaiming India" might play an important role in gathering support inside India and beyond.
Click here to register for the Reclaim India Conference from October 3-4. 
---
The opinions expressed by the writer of this piece, and those providing comments thereon (collectively, the "Writers"), are theirs alone and do not necessarily reflect the opinions of Brown Girl Magazine, Inc., or any of its employees, directors, officers, affiliates, or assigns (collectively, "BGM"). BGM is not responsible for the accuracy of any of the information supplied by the Writers. It is not the intention of Brown Girl Magazine to malign any religion, ethnic group, club, organization, company, or individual. If you have a complaint about this content, please email us at Staff@browngirlmagazine.com. This post is subject to our Terms of Use and Privacy Policy. If you'd like to submit a guest post, please follow the guidelines we've set forth here.