by Salwa Tareen 
Congratulations! You have successfully survived the first weeks of Donald Trump as President-Elect of the United States—with four years to come. Although this may not seem like a big feat, it is.
As if Trump's campaign promises were not bad enough, the past few days have served as a terrifying glimpse into his potential cabinet. The election has also served to embolden Trump supporters as hate crimes surge nationwide. Further adding to the general atmosphere of fear is the constant barrage of call-outs and criticism that can make one paralyzed in self-doubt.
In the face of these seemingly insurmountable challenges, here are small tokens of wisdom to help you reflect, regroup, and revolt.
1. We are not the exception.
If there is anything this election has taught us, it is that American exceptionalism is dead. Before November 9, there was a significant belief that the United States could survive the wave of nationalist, far-right political changes spreading across the world. Brexit, the cease-fire referendum in Colombia, and Trump's victory all seemed like unlikely events. But as they say, hindsight is 20/20.
While this means the United States is just now catching up with the rest of the world, it also means that we have comrades everywhere. Think of it this way: at any given moment, there is someone, somewhere resisting the climate of fear and violence being imposed upon them. They can offer us survival tips, best practices for protests, and potential models for change. As Brown Girls, perhaps we know better than most what an international network of passionate, supportive people can do for each other.
2. We are not the minority.
Let me repeat that: We are not the minority. By we, I do not mean Hillary Clinton supporters. Instead, I mean those who are against Trump and his bigotry. Allow me to break this down Nate Silver-style:
According to Vox, of the population that was eligible to vote, only 56.9 percent cast a ballot on Election Day. While this is a slight majority of the voting-eligible population, only 27 percent voted for Trump. Due to the fact that votes are still being counted in some states, Hillary Clinton's lead in the popular vote just surpassed 1 million votes.
Beyond raw numbers, these trends demonstrate that Trump supporters are outnumbered. They may be the loudest, but they are not the strongest.
3. THE REVOLUTION WILL NOT BE IN CAPS LOCK
Now if you are already riled up, you are ready to berate the next Trump supporter you see on Facebook!
DO. NOT. DO. THIS.
You may think this is the most direct way to engage with the enemy. However, the likelihood of changing someone's mind in a few Facebook comments is a fool's dream. It is more likely that you will end up anxious, frustrated, and exhausted.
Instead, call your parents or reach out to friends you have lost touch with. Build on the relationships you already have in order to ensure that you have someone's back and they have yours.
If anything good is going to come out of these difficult times, it will be in the intentional, meaningful relationships we build with each other.
This includes supporting the work of non-profit organizations and advocacy groups, such as Planned Parenthood, the American Civil Liberties Union, and Black Lives Matter, who are fighting in ways that you cannot.
4. Choose your enemies wisely.
With an increasingly polarized political climate, it can be easy to write-off those with whom we marginally disagree. Yet, more lives are on the line than ever and we must resist the urge to self-isolate. Now, before you angrily scroll down to write a comment, hear me out.
In the last week, many people have come forward to take a public stance against the status quo for the first time. Many of them will make mistakes. However, there are ways to hold people accountable for their actions without shame or ridicule.
Now, we do not have to play nice, tone down our rage, or summon patience that we know we do not have. Yet, in order to build a sustainable coalition against hate, we will have to learn to communicate with each other about what went wrong and move on after the fact. We owe it to ourselves to explore this intersection between accountability and unity.
5. We still got us.
Donald Trump may have gotten your attention this week, but a record number of women of color were also elected to Congress, including the first Indian American women elected to the Senate and House: Kamala Harris and Pramila Jaypal, respectively.
And if all else fails, know this: We are still here. We are still creating. We are still singing and dancing. We still know how to laugh every once and a while. And we are not going anywhere without a fight.
---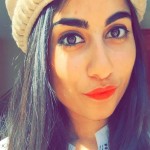 I'm Salwa Tareen is a recent college graduate, community organizer, and writer from Kalamazoo, Michigan. Through her work, she seeks to explore the intersections of language, identity, and politics whether it's in the form of a poem, dialogue, essay or literature review. In her spare time, as a Pakistani-American woman born in Saudi Arabia and raised in Canada, Salwa enjoys crafting clever quips to the question: "No, where are you really from?"