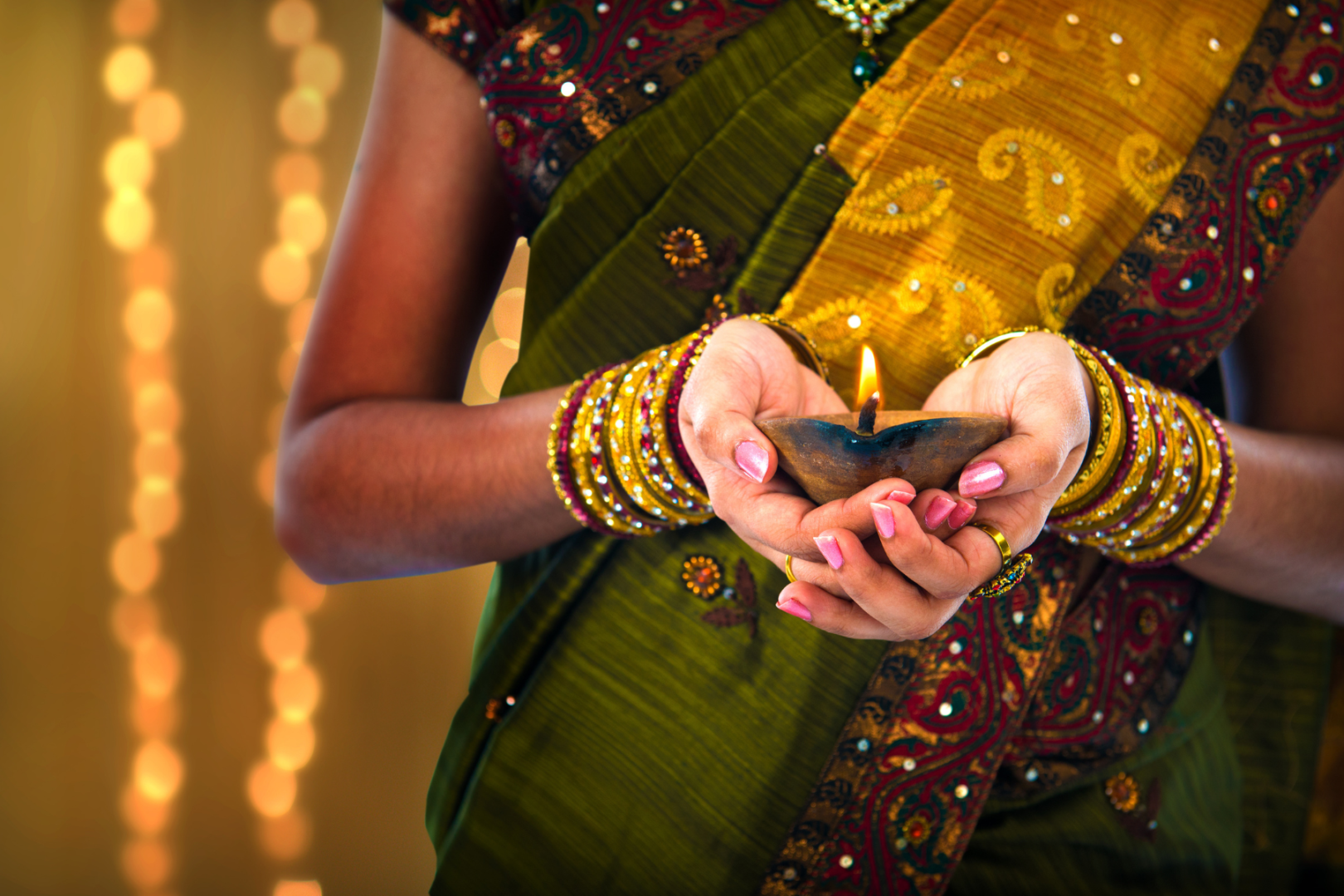 I have many happy memories of celebrating Diwali as a child in suburban Mumbai. Looking back though, I realise that my favourite festival stands on the foundations of patriarchy. At home, all the labour that went into making Diwali special was borne by my mother. She'd wake up early for weeks to clean the house, mop the floors, make the sweets and clean the diyas. In every household, it was always the women who did all the cleaning, cooking, shopping, prepping — so that their families could have the most amazing Diwali.
I'm single, a feminist and the founder of Masala Podcast  — tackling those taboo subjects South Asians shy away from. I chose not to follow the traditional Indian path of getting married and having kids. This means that Diwali, with its usual traditions, can be a tough time for me. Because if you don't meet the quintessential South Asian expectations of having a husband, kids and extended family, it is assumed that you'll miss out on all the Diwali magic. Who do you burn firecrackers with when you don't have kids? Who's going to make all the Diwali sweets when you have a busy career and social life? Who's going to fight you for the last chakli in the Diwali tin if you're not that connected with your siblings?
Obviously, this made me a bit sad. So I sat down and thought about all the Diwali traditions I loved and just tweaked them to fit my single, feminist life. If like me, you don't fit into the mould of a "traditional South Asian woman", I hope you find my "Feminist Diwali traditions" guide useful.
Show your space some love for Diwali
I was taught as a child, that goddess Laxmi wouldn't come into a filthy house. But whether you believe this or not, give your space a nice, clean scrub. For me, this literally gets me into a clearer space of mind. Whether you live in a little studio or a large house, I do believe that when you create space in your home (and in your mind!) good things come into that space. So go grab that dustpan!
Light up your world with diyas
The sight of glowing diyas (candles) on a dark night is incredibly beautiful. Make your home as bright and beautiful as you can by lighting as many diyas as you can. I literally have around fifty diyas lighting up every corner of my flat. It makes me feel sort of "lit up" from within. Because we want the power of light over darkness, in every area of our lives. And yes, that includes our work lives as well as our love lives.
Create your own kind of rangoli
Rangoli is traditionally used to decorate homes, usually made of intricate patterns using a variety of powdered colours. No rangoli powder? No problem. Just grab whatever you have at hand — from flower petals to beads to marker pens — and make your own version of a rangoli. If you're using marker pens, you might want to do your rangoli on a sheet of paper or plastic though. Just have fun creating your own kind of rangoli, be it traditional or alternative.
Give yourself a warm oil bath on Diwali morning
I love this Diwali ritual. I'm a South Indian, so growing up my mother would wake me up bright and early on Diwali mornings and give me an oil massage, gently rubbing warm oil all over my body. Then she'd send me off to have a hot shower or bath. I now try and re-create that sense of love for my body by warming up sesame seed oil (you can choose any oil you like!). I light a few diyas, turn up the heaters and give myself a beautiful oil massage, taking my time to care for every part of my body. It feels nurturing; it feels loving to myself. As a woman in the world today, we need all the self-love we can get.
Dress up to 'Diwali Dazzle'
I love Indian clothes — the dazzle and the shine of it all. Depending on my mood, I might wear a shimmering sari on Diwali day; I love how sexy saris make me feel, how they "fit" my body in a way other clothes don't. If I want something easy, I wear a glittering salwar kameez. I also like to mix things up. One of my favourite outfits is a business suit made with Indian brocade fabric and I wear this with a gorgeous bright fuchsia top. So pick whatever suits your Diwali mood. And wear it your way!
View this post on Instagram
Cook up a Diwali feast
The smell of ghee in the air is one of my favourite smells during Diwali. I don't have the time or the skills to make traditional Diwali sweets. But I live in a cosmopolitan city, so I head to a fabulous Indian sweet shop nearby and stock up on all the Diwali treats. I do however, cook one tasty Diwali meal and invite other women friends to join in. This year, I'm in New York during Diwali. And I've literally just invited a few amazing women I met last week. I plan to make a simple yet delicious Diwali lunch for them. I do have to go hunting for ingredients and diyas in New York, and I'm sure that's not too hard; us desis are everywhere! But I'm excited about sharing my Diwali tradition with a bunch of new women friends in a brand new city.
Give yourself a Diwali gift because you are worth it
Traditionally family and friends visit each other and exchange gifts during Diwali. Now I don't have a big South Asian network or an extended family, but I still treat myself to that Diwali gift. I buy myself something nice. Something luxurious that I've saved up for, something that gives me joy. After all, that Diwali gesture of love and goodwill applies to me as much as to anyone else.
Have a chit chat with goddess Laxmi
I don't usually go to temples or do religious rituals. However, over the past few years, I've found a little murti of goddess Laxmi that I love. So I light lots of lamps in front of her, play music that I connect to from the heart, and then just, you know, chat to her. Prayer is a conversation, after all. Goddess Laxmi and I, we usually have a good old chat on Diwali mornings. I might tell her about technical problems with my podcast or moan about relationship issues. She is a great listener. This Diwali, I might even ask her for that holy grail — happiness. Or a gorgeous silk negligee if I'm feeling sexy!
Make this Diwali your own kind of Diwali
Through my podcast, and my feminist platform Soul Sutras, I've spent the last five years asking South Asian women to challenge patriarchal systems within our culture. As well as inspiring them to own the most beautiful parts of our culture. Whether that's our ancient erotic arts like the "Kamasutra" or "Tantra", or our beautiful festivals like Diwali.
View this post on Instagram
Remember, you don't need to conform to any expectations of what celebrating Diwali should look like. This festival of lights can light up your life, in any way you wish.
This Diwali can be exactly how you want it to be. Bright, beautiful and feminist.