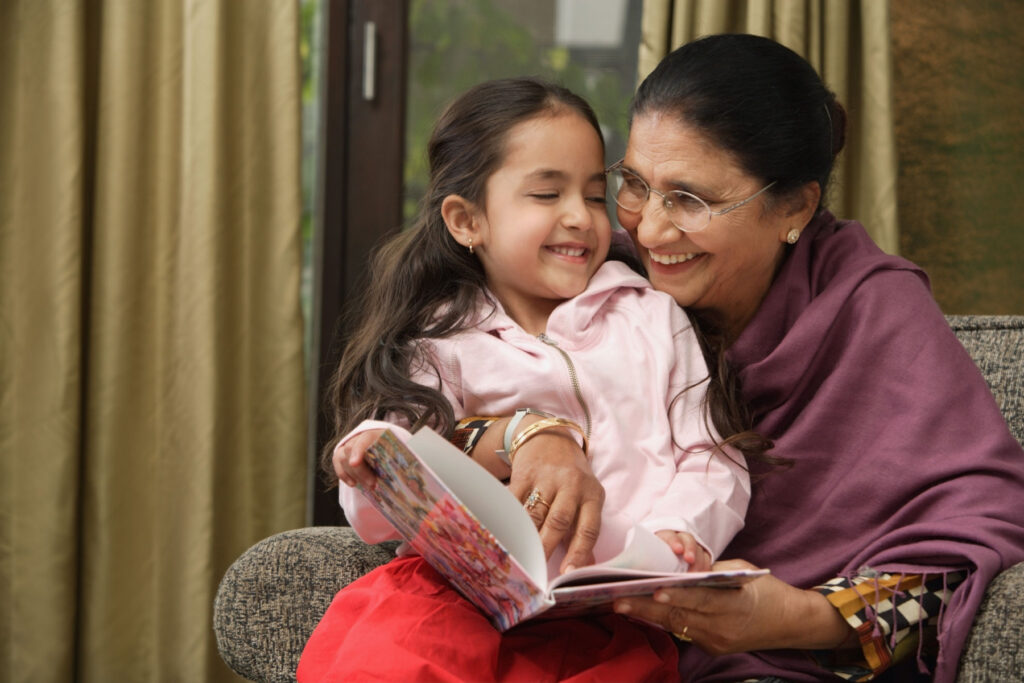 "Dadi" is a prayer for my dadiummi (paternal grandmother) from Pakistan. I, unfortunately, do not speak Urdu, and my dadiummi's English is limited. However, in "Dadi," I reflect on how often love doesn't need a translation through generations, from passing down old haircare rituals to a reliable supply of freshly cut fruit. The poem also explores how one of the most important love languages that my dadiummi was prayer. Due to our language and location barriers, praying has become the primary way we communicate—expressing appreciation of the past and best wishes for the future.
Therefore, "Dadi" has some Islamic references, including du'a's, which refer to conversations a person has with God to share their gratitude or hopes. "Insha'Allah" means God-willing, usually indicating a humble promise or wish. "Masha'Allah" means God has willed it, usually indicating appreciation or joy. "Dadi" also mentions a few foods that I associate with my dadi, including halwa, a sweet dish made by frying semolina and saturating it with ghee and sugar, and tummy-ache sodas, which can be made with 1 Sprite can, 1 tbsp lemon juice, 1 tsp honey, and a little bit of love.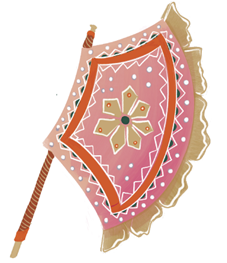 Dadi
I haven't seen you in a while,
but today I was told you prayed for me.
And I prayed for the olive oil
when it slipped
from your hands
onto my scalp,
aching strands of hair
in the drought of being without you.
I prayed for the way that you warmed your potion
before using it,
the slow swirls of the honey
and the quick whisks of the eggs.
I prayed for your wrinkled palms
and their decades of hidden work;
a thousand back scratches and mango slices and tummy-ache sodas,
a hundred du'as fanned into the pores of my skin.
For every sugar molecule in a spoonful of halwa,
your two golden bangles that rest on my wrists,
hours of Qur'an we read cross-legged together,
the Insha'Allahs and the Masha'Allahs,
the ways you showed me to always turn to Allah.
For the biggest blessing you ever sent me,
from faith, a leap
from halfway across the world
telling my father you accepted that woman—my mother
born in a strange place called New Hampshire.
For all the flavors of sustenance you showed me,
I pray you glow in paradise.
Our journey began with a simple challenge among college friends: One week. One poem. One story to tell.
Almost three years later, and here we are, proud to present a piece that converges at the crossroads of who we are: children of immigrants, women in STEM, Muslims. From the scents of a bustling street market in India to the warmth of stories rooted in Venezuela, the poetry in this book features an ache for grounds no longer walked upon. Our Ancestors Did Not Breathe This Air is a bold and unfiltered collection recounting moments, tears, and dreams that have been generations in the making.
Grab your copy of Our Ancestors Did Not Breathe This Air from Barnes & Noble or Amazon.
---
The opinions expressed by the guest writer/blogger and those providing comments are theirs alone and do not necessarily reflect the opinions of Brown Girl Magazine, Inc., or any employee thereof. Brown Girl Magazine is not responsible for the accuracy of any of the information supplied by the guest writer/bloggers. This work is the opinion of the blogger. It is not the intention of Brown Girl Magazine to malign any religion, ethnic group, club, organization, company, or individual. If you'd like to submit a guest post, please follow the guidelines we've set forth here.