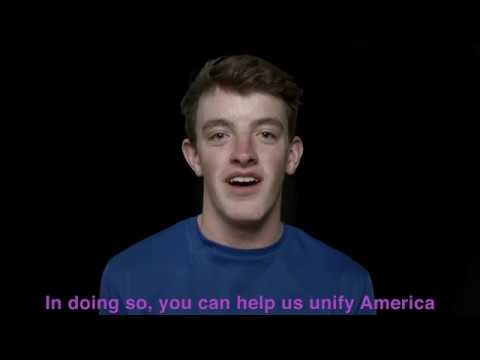 "We want to provide people an opportunity to move away from narrow minded-ness and open their mind to the world around them," Fez Zafar said.
Growing up, education was important to 16-year-old Pakistani-Muslim filmmaker Fez Zafar, he understands that a solid academic background serves as a gateway to opportunities in life — with this thought the young Iowa resident was inspired to start his own nonprofit in fifth grade, Smiles and Smarts to promote global education.
"Through education you can provide people a greater sense of awareness, of what is happening in the world," he said.
Zafar used his nonprofit and hobby of filmmaking to promote messages of unity and harmony. Many of the projects he's worked on have been about bringing people together. Using the medium of film he has the ability to spread messages to people that we may think are hard-pressed to have diverse conversations, he said.
In 2016, Zafar had the opportunity to present one of his short films, Road to Unity, at the White House Student Film Festival. The film depicted children of all different religions, ethnicities and cultures coming together.
"Through film making and my nonprofit work, I have been really blessed to be able to spread this message of unity and bringing people together to empower one another, to a wider audience," he said.
Over time Zafar's nonprofit grew from providing education in countries like Pakistan to providing healthcare and education to children in Guatemala and around the world. Smiles and Smarts is now in its fourth year and continues to grow in size and mission.
"We also expanded our mission in order to provide cultural awareness because a lot of the bigotry, racism and ignorance that we are seeing in the world today, stems from a lack of cultural awareness," he added.
This motivated Zafar to found the American Iftar Dinner, a movement, he said, that is all about bringing Americans together.
Upon hearing the current administrations former decision to not host another White House Iftar Dinner, Zafar decided to start a movement of his own. He felt the decision to not host the dinner was unfortunate because the dinner at its core was not only about celebrating the relationship between the United States and its Muslim citizens but celebrating diversity and showing that we are a country united among many different backgrounds.
Zafar created the American Iftar Dinner to bridge a cultural understanding among the American people in lieu of the president's cancellation of the White House Iftar.
"I came to the conclusion that this would be a dinner open to all Americans not just Muslims," Zafar said. "The core of this dinner is about celebrating Americans no matter where we come from, so the best name was the American Iftar Dinner because it's about celebrating Americans no matter their political affiliation, race, religion, culture or ethnicity," he added.
Research shows that many who show a dislike for Muslims, have actually never met, associated or interacted with one. According to Zafar, a movement like this is providing an opportunity for people to reach out to Muslims and those of other religions in a good way.
He believes it's essential to reach out and speak to those who may "hate" Muslims and show them that followers of Islam are not the people they think they are — despite what they may have heard through some media outlets.
"As Muslims we need to use every opportunity we can in order to provide a proper education about our religio, so that people can learn about us from us," he said."The first step is taking ownership of your identity, of who you are, and then providing a better perception to those who clearly don't have that."

"We as Muslims need to be proud of who we are and shouldn't shy away from who we are- because if we are doing that then essentially we are submitting to that perception, that illustration that depiction, that other people have given us," he added.
The American Iftar Dinner will be held on June 7, as universities, high schools, organizations, families and institutions across the country take part by hosting their own dinners in solidarity with one another.
President Clinton began the White House Iftar Dinner in 1996, the ceremony was to celebrate the country's relationship with its Muslim citizens, with humanitarians, activists, and more invited to the White House to dine with the president. This event became annual and continued as a tradition for two decades with Presidents Bush and Obama, the White House Iftar Dinner appeared to end with the new administration in 2017.
But in recent news, President Donald Trump has announced he will be hosting the dinner on Wednesday, June 6. The president faced much criticism last year after skipping the dinner. Details, including the guest list, have not been released.