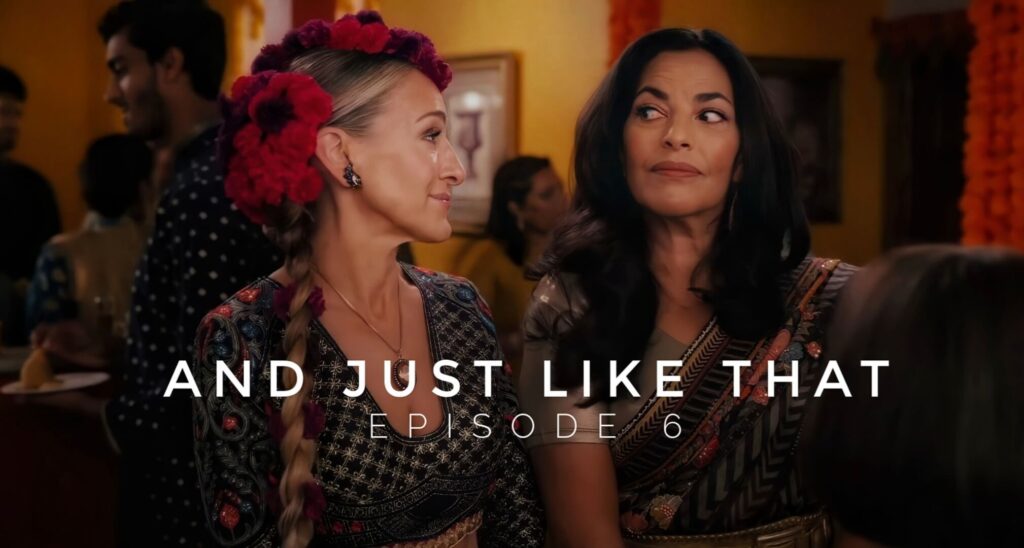 Fans across the globe had been eagerly waiting for the much-hyped reboot of "Sex and The City"— "And Just Like That." Despite the fact that the show was about four privileged white women, with no room for diversity whatsoever, its characters, particularly New York's favourite fashionista Carrie Bradshaw, left quite an imprint on television history. Perhaps the era was such. But 17 years later, and at a time when cultural representation is finally getting some of the attention it has longed for, one hoped the makers would demonstrate greater responsibility. That they would learn from the mistakes of the show's past and its sheer lack of inclusivity. At least that was the assumption when we heard there was an entire episode titled 'Diwali.' Until of course, the time came for us to watch it and feel gutted with its tone-deaf approach.
Episode six of the series, which aired last Thursday, has since then become a hot topic of debate on the Internet. Though outrage really is the predominant emotion, and not without reason. Here's what some of our own community members have to say about the Diwali that never quite lit up our lives (pun intended). On a side note, a huge thank you to all the contributors who emailed us your opinions in such a timely manner, we truly appreciate our community for always showing up. Starting with Rajbinder Grewal, aka This Mama Needs a Vacay, who summed up sari gate perfectly in the post below. 
View this post on Instagram
She/Her
Los Angeles, CA
Fans of "Sex And The City," especially South Asians, were ecstatic when over the summer we saw teasers of Carrie Bradshaw, a fashion icon, wearing none other than Falguni Shane Peacock, in the upcoming reboot, "And Just Like That." I started watching the season looking forward to this very episode, excited to finally see South Asian fashion showcased on the much-talked series. While the "representation" was great to see on screen, ultimately, it was misrepresented.
From Carrie's lack of knowledge of Diwali to her showing up in a lehenga when her realtor Seema (played by Sarita Choudhury) said she'd wear a sari to Seema tying the red string with a cigarette in her hand to the entire episode being called "Diwali" when in fact the actual Diwali celebration lasted a total of three minutes, I was disappointed, to say the least. In my opinion, it lacked simple due diligence and cultural sensitivity. 
Putting aside the cultural appropriation that prevailed, many South Asians feel grateful to see representation and our culture on the map. For many years, we've been desperate to see representation, but should we let negligent, incorrect pieces of information about our culture slide? The issue here could be deeper than what we know. After all, I'm not in the industry working on a show like this. But don't South Asians working behind the scenes have the courage to point out any misrepresentation? Are they the ones to blame? Or should they be applauded for even getting us through the door? 
I'm just a millennial brown girl, standing in front of a TV, waiting to see me and people like me on screen. When will this be normalised, accurately, in roles that are not doctors, hotel or convenience store owners, with no fake accents and no American-ised names?
She/Her
U.K. Editor at Brown Girl Magazine 
Sarita Choudhury's entrance as the "fabulous at 50" Seema Patel in HBO's "And Just Like That" was the much-needed breath of fresh air and diverse representation that had been missing in its predecessor "Sex And The City." Seema oozes confidence and sass — particularly when Carrie embarrassingly commended single for "still trying to find the one," be it the digital way, I applauded Seema for not allowing herself to be shamed by ageism. Halfway through the series, however, as I watched the trailer for episode six — titled "Diwali" — I could sense that all the stereotypes around the one South Asian character had been clumsily cluttered in one. My gut feeling was right, and I cringed through the entire episode. As a South Asian single woman in my 40s living in the U.K., I love that HBO has continued to follow these core characters in their later stages of life, but am equally disappointed that the attempt to bring diversity into the show is at times confusing.
View this post on Instagram
Though not a resident of NYC (but a HUGE fan and frequent visitor), I failed to understand how the once savvy and intelligent writer Carrie Bradshaw, who wrote for publications like The New Yorker, Vogue, had her own book published and lived in Manhattan (bursting with multiple ethnic groups), had NEVER heard of the biggest Hindu celebration throughout her writing career, given the diverse crowds you would expect such a figure to be amongst. As her new best friend Seema takes her on a shopping spree for a sari (it seems ok to call a lehenga a sari apparently!), she also announces how Diwali is deemed the appropriate time for her parents to jump on the "why have you not found a man bandwagon?"
Let's be real, many South Asian families never "need" an occasion to raise that question, but to add to the cringe factor, in 2021/2, the writers thought it would be appropriate to throw in the "arranged marriage" card, and making Carrie question if Seema would consider that route since her parents are so happy (apparently!). It's Seema's "No, I am just a bad Indian girl" response that really irked me! Her character has just played right into that aged narrative that so many single, sorry, happily single, women are trying to break away from. Such poor scripts only add to that difficulty. Why can't, for once, there be a South Asian protagonist who is successful, happy with her single status, without appearing as if she is a rebel with a cause? It would have been so refreshing to have seen a Diwali party where the subject of "when will my daughter marry?" is not the focal point and is replaced with a funny, witty conversation. Legendary Madhur Jaffrey's talent was completely wasted in that cameo, but more shockingly, how did the producers not realise that the character playing Seema's dad was the SAME actor that once played a busboy who hit on Samantha Jones in the first few episodes?? HBO, this is not the representation we were looking for!
She/Her
U.K. Contributor at Brown Girl Magazine 
An entire episode titled "Diwali" definitely piqued my interest but in the end, I did find myself torn between what the producers were trying to convey and responses from the internet. Out of all the new characters introduced in "And Just Like That," Seema has to be my favourite. She embodies that strong, independent South Asian woman we often see lacking in entertainment. A Vogue India op-ed rightfully critiqued the episode by saying "not all Indian parents are obsessed with marriage." But here's the thing, there is some truth to this stereotype. I have lost count of the number of people at numerous events — even a funeral! — who have asked me if I'm married or when am I getting married and if anything, Seema being an independent woman but still having to navigate traditional expectations is something I can actually relate to.
Would it have been nice and refreshing to showcase parents who didn't place such importance on Seema getting married? Of course, and such parents do exist. But what also exists is the tug of war we face between being happy with the single life we're living and entertaining the idea of settling down or agreeing to meet prospects just to stop the nagging, which is probably why I resonate a lot with Seema.
It's very clear that "And Just Like That" is trying to present a modern-day reboot by tying in so many characters from diverse backgrounds. When you do this, you can't truly capture the essence, customs and intricacies of an entire community through one character. So while it is a letdown that Seema's parents aren't as supportive and unfazed by her single status as we'd like them to be, how can we honestly expect producers to explore these different viewpoints when they can't do basic due diligence on smaller details like Carrie's sari actually being a lehenga.
Raunak Tejani (@traunak)
Her/She
Suwanee, GA
Indian culture takes on many facets in the western world — from yoga, chakra readings, chai tea lattes, Vastu Shastra and henna art at carnivals to Indian-inspired designs in clothing and home decor. I believe if we as Indians have given so much of our culture and ethnicity to mainstream America, it's time all of it is represented correctly, not just adequately like by letting a lehenga be mistaken for a sari. 
Over the years, many shows in Hollywood have portrayed South Asians in a stereotypical manner; with thick Indian accents and a "curry smell." Case in point: Simpson and the gas station worker. Spices in grocery stores actually have a spice called "curry" and, in an effort to be more "culturally appreciative," your friends or co-workers will say, "I made 'curry' last night" or "I tried 'curry' last night." Heck, emojis have a symbol for curry. What the world tends to forget is that Thai, Jamaican and Malaysian cultures actually use curry-based dishes a lot more than what the Indian culture refers to as curry. Yet somehow the term has been associated with Indians. 
It's time we set the record straight, especially for all the terms that have been attached to us, without our permission. Sari is not a lehenga, all South Asians don't have a thick accent, not all of our dishes are "curry" and lastly not all desi parents are stereotypical and pester their children to get married.
View this post on Instagram
She/Her
London, England 
There has only ever been one other American television programme in history to have a Diwali episode ("The Office," thanks to Mindy Kaling's hard work) so I was beyond excited to see that Diwali was the name and focus of the latest episode of "And Just Like That." Representation and showcasing our culture felt like a win until I hit play…
New York was hailed as the "fifth character" of "Sex And The City" but fashion was the not-so-silent star of the show. For decades all the clothing and accessories were at the forefront, treated with respect and clearly represented in the way European designers desired. The mislabelling of the sari infuriated many viewers, and rightly so because we have waited so long for our culture to be visible on this scale. It being done incorrectly felt like lazy tokenism. 
A simple explanation of the differences between shalwars, saris and lehengas would have not only been helpful for the audience (and completely within Carrie's character interests to learn about) but most importantly it would have given our heritage the respect it deserves. 
I'm proud of what our culture has to offer but I can't help wonder…when will viewers be able to watch an episode about our culture and not have the urge to break up with it on a post-it note!
She/Her
Oakland, California
With one floral mohawk, our culture became a prop for a show that has shown itself to cater to one audience: privileged, wealthy white women. 
"Diwali" is the title of the episode, despite the fact that it was released in January and the holiday actually takes place in November. We have 10 other South Asian harvest festivals coming up in January and February…but I guess I'm asking for too much! 
This episode's true focus is the character Carrie attempting to move on from her husband's death. Diwali is used as a convenient prop to tell that story. Despite living in one of the most diverse cities with one of the highest concentrations of South Asian people, Carrie has never heard of Diwali. (Carrie, maybe even start with watching "The Office"?) It is represented as a Hindu holiday, which disregards other South Asian cultures who recognize it. She wears a lehenga without a dupatta (not the sari we were told she was going to wear) and has a Coachella-style hairdo…or whatever the heck that was, I feel perplexed by it all. Diwali's celebration of light over dark is clumsily connected to Carrie's new apartment, which gets so much sunlight that she has to wear a hat indoors. Ultimately, Carrie rejects the light-filled apartment, thus contradicting the concept of the holiday altogether. 
View this post on Instagram
The real tragedy of this episode is Seema. Writers, do you know how much seeing a South Asian character means to us? Seema had so much potential, yet she is reduced to a one-dimensional trope who schedules her white friend's doctors' appointments and gifts her religious bracelets to get over Big. Despite Seema being a successful realtor (I mean, the woman travels with a personal driver in NYC, y'all!) she is reduced to the stereotype of a brown woman who disappoints her parents because she is not married. But don't worry, Carrie vouches for Seema's success after knowing her for just 30 seconds! 
The writers for this episode are Rachna Fruchbom, Michael King and Darren Scott. While there is one token South Asian representative in the writer's room, it is still written through the white male gaze. The episode is a way for white people to see desi culture; it is not intended for desi people to feel seen about desi culture. In my opinion, "And Just Like That" is worse than "Sex And The City." More than a decade later, it had the opportunity to know and do better — yet, it didn't. 
In my podcast, "Down to Brown," we talk about this episode in full length — which you can listen to here. 
She/Her
Greenville, South Carolina
I was excited to watch the "Sex And The City" reboot as much as the next fan. This show got me through some long nights during college and was a nostalgic reminder of the "good ol' nineties!" Moving into the future, it's refreshing to see representation (because it matters!) in western media and entertainment. When the episode title was displayed, "Diwali,' I, probably like many other South Asian viewers, sat up a little straighter, put away my phone, and focused on the show. However, I finished the episode extremely dismayed. The content did not reflect the title at all.
What was shown in the episode was a poor portrayal of South Asian culture and barely scratched the surface. Diwali is not just about parties and chiding 50-year-old women in gatherings for being single. I was also fairly offended by Seema tying the red thread on Carrie (something meant to be sacred) while smoking a cigarette. It was a poor and frankly disrespectful way to show South Asian culture and Hindu beliefs/traditions. I don't even need to mention the very obvious mistake in calling a lehenga a sari, something that could've easily been corrected by the writers with a one-line dialogue!
I, too, am left wondering if this is the very reflection of appropriation, or can we actually say appreciation like the show did?
She/Her
Toronto, Canada
Can we please rename this episode, "lawd, have mercy?" I feel it would be way more fitting than "Diwali." Earlier in 2021, we saw teasers of Sarah Jessica Parker aka Carrie Bradshaw wearing a beautiful lehenga by Falguni Shane Peacock and every brown person who follows "Sex And The City" was over the moon. Desi representation in such an iconic show? Hell-to-the-ya! But, in all honesty, the "Diwali" episode was a little insulting and lazy when it came to representing Indian culture. In short, it was a mess!
Firstly, we have Seema meeting Carrie at a "sari shop," which up until this part, it's all cool, we are all excited. But not too long after, it goes downhill. As a viewer who has followed Carrie through it all, you can't seriously tell me someone like her, who has lives and breathes the melting pot that is New York City, makes her first brown friend and has never heard of Diwali until now? You may not need to know the hardcore details of the festival or our culture, but like, come on! You're in your 50s with the Internet at your fingertips. Why make aging look and sound ignorant?
And then we have Seema and Carrie at the "sari shop," which is actually Ave India Design Collective, a beautiful New York City storefront housing multiple South Asian designers, and it clearly carries a lot more than saris. Carrie shows up in what is obviously a lehenga, and a floral mohawk, and yet the show refers to her wearing a sari. The fixation with the term is almost absurd. It is very disheartening to see mainstream media not educate the public between a lehenga and a sari when given the opportunity. 
The cherry on top is the conversation between Carrie and Seema's parents at the short-lived Diwali celebration. Seema is said to be 53-years-old in the show, yet she has to make up a fake white boyfriend to please her parents and is considered a "bad Indian girl" for not being married. Never mind all her accomplishments and success, her validation still comes from her marital status. This scene was insulting to all women who've worked hard to prove we are more than just wives. 
The bigger question, however, is why is Diwali being celebrated in the middle of the summer? Didn't the writers do their research? And how is it okay to smoke a cigarette and tie a red dhaaga on Carrie's wrist to symbolise strength? 
In plain simple words, the show just ended up mocking us instead of educating the world about us.
View this post on Instagram
She/Her
Los Angeles, CA
The episode title "Diwali" alone had me cautious, but I was obviously going to watch to see how the makers approached it. It's a 30-minute show, so I get the need to quickly sum up Diwali but closing it off to Hindus is just inaccurate. Different religions within the South Asian diaspora celebrate Diwali, but at the very least the summation of light over darkness hopefully clears up any confusion that Diwali is the "Indian Halloween" (I'm not being hyperbolic, someone said this to me this year).
Maybe to Carrie, it is Indian Halloween because she gets to dress up, but hey, she "culturally appreciates" it. I found the exchange between Seema and Carrie, where the writers tiptoe around the idea of cultural appropriation, tiresome. I understand they're trying to show Carrie isn't another white woman only interested in the fashion aspect of it, but the dialogue between them trivialised the issue of cultural appropriation. Even Seema's breakdown of appropriation vs. appreciation sent my eyes rolling. It felt like a lazy way for the writers to absolve themselves of any criticism. It's then topped when Carrie cheekily says, "I saw one back there that I really culturally appreciate" confirming that the idea was more about appearing to be "woke."
Initially, I thought the use of sari over lehenga was careless writing. However, as I finished the episode I realised (or as Carrie would say, "I thought to myself…") that laziness is an excuse. "Sex And The City" has been rightfully critiqued for its lack of diverse characters throughout the years and it's something the creators of "And Just Like That" said they prioritised remedying in this reboot. While the show does feature characters of diverse backgrounds, the misstep in calling a lehenga a sari seems like a cut corner and a way to easily check a box in showing that the newly revamped series is in fact inclusive.
I love seeing South Asian representation in the media, but if it comes at the expense of accurate portrayals then it's better to just pass and wait for storytellers who will illustrate authentic versions. Media is an effective tool to educate people, but if it's not correct and just whitewashed, that doesn't qualify as representation.
She/Her
New York, NY
I loved "Sex And The City" when it was first on. As a 20-something woman working, dating and struggling in New York City at the time, it felt like there was finally something that spoke to women the way women spoke to one another and dared to ask the questions we may not have asked out loud. As the series closed, the problems were apparent –  mainly it didn't look like New York City and Carrie sucks. But we've all known someone like her and even called her a friend at some point, which is why I still watch the reruns and love it.
View this post on Instagram
Seventeen years later, there is a lot of promise with additional, fully fleshed-out characters but are rather just a band-aid fix to the "diversity problem" of the original series. The sticking point is who are they written for? In the latest "And Just Like That" episode titled, "Diwali," Carrie is taken to an Indian clothing store with her realtor-turned-friend, Seema Patel (played by the legendary Sarita Choudhury), which is constantly referenced as a "sari shop" and all we see are lehengas. Carrie, who has lived in New York for the majority of her life, doesn't know what Diwali really is and Seema informs her (and the audience). Carrie wants a beautiful lehenga but is concerned it's cultural appropriation and Seema informs her (and the audience, thereby absolving them) that it's "cultural appreciation" instead because she's being invited by Seema. So, what's the problem? It's treating the audience like they are stupid and have to be "educated" by the POC in the scene as does Carrie, which clearly shows the show is being written for their white audience (Carrie) and them alone. And there's the rub. Just tell the story. Don't dumb it down.
She/Her
Firstly, I feel that overall the episode was very tastefully done as part of an important Indian celebration that digs deeper. 
This episode was more than just a depiction that Diwali is about dressing up and a party. So I am surprised how many people are only focused on that. The part about the Diwali celebration was a small part of it. The episode is called "Diwali" because of what it stands for. The triumph of light over darkness comes from within and they did a beautiful job of elevating that in this episode as Carrie deals with her loss, her dislike of her bright sunlit new downtown apartment suggesting that light comes from within and her walking into her bright light at the end as she is authentic to herself representing true light. It was beautifully done; it was soulful and symbolic. 
"Sex And The City" has come a long way since their last movie shot in Abu Dhabi where they referred to magic carpets and kept saying "haanji" as Arabic for "yes" when in fact that's Hindi. I feel we should celebrate that as more than just a small win. The symbolism is pretty significant.
I do agree that the final cut of that dialogue exchange in the Indian designer store came through as confusing when Seema says, "Let's find you a sari" and Carrie says, "I saw one back there that I really culturally appreciated." If that had been edited with Seema saying "Let's find you an outfit," Carrie's response would have been more appropriate. But to take that one misstep as a full blown cultural appropriation situation and diss the entire episode is a very reductive way of looking at it. 
One of the "And Just Like That" writers is Indian (Rachna Fruchbom) and she is great (known for "Parks & Recreation," "Fresh Off The Boat"). She mentioned in an interview that the Diwali scenes are a depiction of her own Diwali experience. With a team present who is definitely more than just token service (anyone who says that is doing Fruchbom a disrespectful disservice), I think it would be good to get a take on the final edit of that dialogue exchange. 
That one dialogue may have made the end result sloppy, but the entire episode is not a fail. I don't feel this win falls flat because of that. The episode was much bigger and deeper than just a Diwali depiction of outfits and a party, and we should celebrate that.
She/Her
Scottish Highlands, U.K.
When I saw an episode named Diwali, like every Indian die-hard "Sex And The City" fan (I have the Carrie necklace to prove it), I braced myself to be bowled over. After all, Diwali is the new á la mode right? I've never seen so many high fashion celebrity parties for it on Instagram as I have in 2020, so my brain was overworked with possibilities! Which Indian stylist were they going to consult? Would Carrie be donning an iconic Sabyasachi or give the spotlight to help elevate a new designer? Would she be wearing a tikka, bindi or bangles? Maybe, just maybe, we'd get a wardrobe run-through of her trying different saris and lehengas in a boutique, eeek! The world would finally know why Indian girls across the world love dressing for occasions! 
Imagine my horror, when she walked out of those iconic apartment doors and pretty much none of the above happened?! Actually don't, if you're reading this article you are probably already as horrified as me. The lehenga by Falguni Shane Peacock was beautiful but what a missed opportunity to showcase the beauty of a dupatta? And oh yes, like you I'm also aghast as to what was on her head, what were they even thinking?! I honestly have loved each and every outfit SJP wore in "Sex And The City" purely for her dedication to the cause; she always puts her signature on things beautifully. So I won't lie, I was brutally let down here. 
Carrie, where have you been in New York all these years if you've never heard of Diwali in such a diverse city? There was also a great opportunity to educate people on the meaning of Diwali and how it signifies new beginnings, bringing light into your life. What a great arc for the Big/Carrie story, right? Alas, no one thought to mention it…
View this post on Instagram
In a podcast interview on January 10th, Sarita Choudhary said the scenes were fully discussed but they wanted them to be honest as people often get the terms between sari and lehenga mixed up… but wasn't this a great opportunity to actually educate people on Indian culture rather than show someone bumbling it up yet again? She also stated, she knows people in her family would be happy and grateful if her friends just showed in Indian clothes, they wouldn't care about terminology. Being grateful that a 55-year-old white woman just takes an interest in my culture rather than ensuring she's understood it right…something doesn't sit right with me here. 
Somebody failed her but if I'm being honest, this isn't a white appropriation problem. I firmly believe if we want to change, we have to be the change and be prepared to speak up and educate others (in a kind way) when something isn't right. Otherwise, we just feed into the cycle of misinformation. This is really a failure of the many South Asians involved behind the scenes who didn't raise their voices, maybe to avoid putting themselves in a difficult position? These conversations aren't easy but in current times, they are necessary. Living in a rural and remote location and being one of the few South Asians in the area, I had to educate people on a whole host of preconceived notions about Indians and arranged marriages when I first moved here. I don't see these things as a negative though, it's a great opportunity to help grow our communities through conversation but we need to step up in the media and be responsible for what we are showing people around our culture. I hope this serves as a lesson to all of us who see this appropriation happening in our day-to-day lives, inspiring us to step up and change the conversation!