"Never Have I Ever" fans were buzzing when news broke in January of a South Asian male character joining Devi and the gang in season 3 of the hit Netflix series. Devi (Maitreyi Ramakrishnan) ended the second season with Paxton as her boyfriend but Ben showing hints of unresolved feelings. And now her love life might get even more complicated with the addition of another high school student Des, played by Kerala-born and Texas-raised actor Anirudh Pisharody.
View this post on Instagram
Like a lot of South Asians in the entertainment business, Pisharody's path wasn't exactly linear. As a teenager growing up in Texas, acting was a hobby. He performed in high school plays and some short films in college, but planned on becoming a doctor. After a short stint in Washington D.C., he joined his girlfriend (now wife) in Los Angeles, hoping to attend medical school at UCLA or USC while auditioning on the side. While preparing for the MCATs, he noticed the passion his medical school bound friends had for their future career matched his own passion for television, film, and theater. Pisharody decided to take a shot at acting professionally.
"If I'm going to go on a path, I should speak [about the future] with fire in my eyes."
Though his parents weren't crazy about the idea, he says they didn't hold him back.
"They took it well. My mom even said she saw it coming."
When he started his acting career in earnest, he just had a headshot and the short films from college. Pisharody worked on unpaid short films and other projects "to build my chops." He ended up signing with an agent in Beverly Hills. Success didn't come easy.
"I went on hundreds of auditions and never heard back," he said. "Or I got to the third or fourth callback but didn't get the role."
When the pandemic hit, he figured his dreams were dashed. But he was pleasantly surprised when he was cast in several roles when quarantine ended.
One of them was "Never Have I Ever," the popular Netflix series created by Mindy Kaling and Louie Lang. Careful not to reveal spoilers, the only thing he would share about his character Des was this:
"He's a refreshing take on the traditional Indian love interest."
Pisharody rewatched the first two seasons of "Never Have I Ever," and was drawn by the writing and representation. He said he was "definitely a nerdy guy" in high school and described himself as a mixture of main character Devi and Trent (Benjamin Norris), Sherman Oaks High School's multi-layered stoner who also displays talents as a sommelier and feminist history expert.
Pisharody raved about his experience on the show.
"The cast and crew were so welcoming and culturally aware. So many South Asians are involved in the show on and off camera. I never felt I had to prove something to anyone. The credit goes to Mindy Kaling for bringing that down from the top. That's an amazing feeling, especially if you've never felt that before."
He didn't experience the "rep sweats" working on the show. In 2016, comedian Jenny Yang used the term "representation sweats" during a premiere of "Fresh Off the Boat" to describe the specific anxiety that she feels about the desire for nuanced representations of Asian Americans in mass media:
"'You get the rep sweats,' she explained. '[Asians] are so invisible, every time you have the opportunity to see yourself on TV, you hold your breath.'"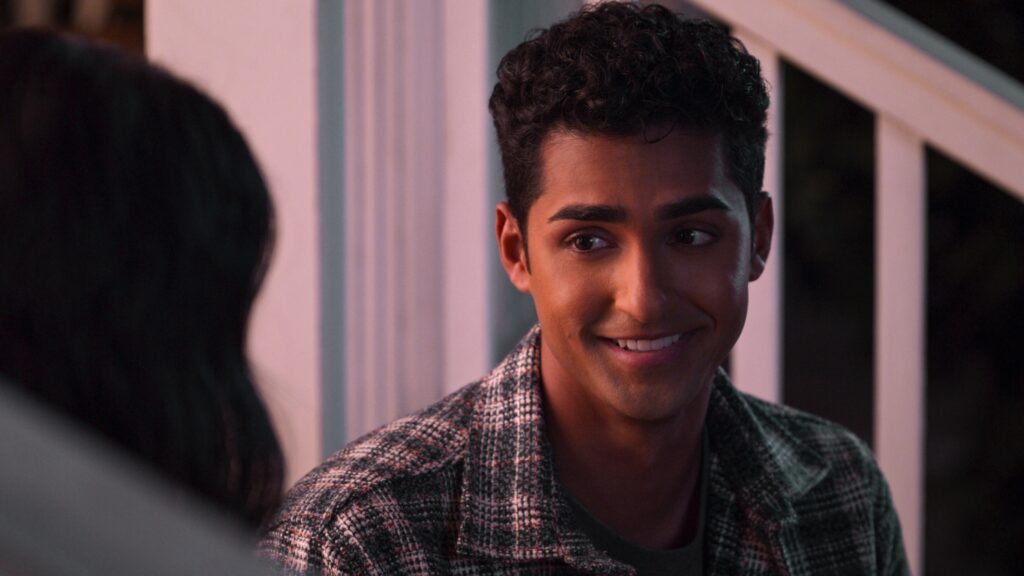 Pisharody is no stranger to TV. He plays Ravi on Fox's "9-1-1," and his first appearance on the critically-acclaimed ABC series "Big Sky" will be in the season three premiere on September 21st.
His love of the outdoors and camping off the grid came in handy while filming "Big Sky" in rural New Mexico.
"On camping trips, I'm usually the only one not trying to find service on my phone."
A fan of superheroes, his ultimate goal is to star in a Marvel movie as a South Asian hero "beating up bad guys," and admires Bassam Tariq, director of the upcoming MCU film "Blade," starring Mahershala Ali. He also has dreams of directing and producing a passion project about Indian soldiers during World War 2, a historical topic not widely explored in the media.
The actor is also a fan of anime (his favorite is "Demon Slayer") and looks forward to the newest Makoto Shinkai release. He likes to stay busy with hobbies outside of work. When he's not acting, he also loves playing video games like Battlefield on his PS5 and working on his newly bought home.
"That's my superpower: I know exactly what my issues are," he joked.
Pisharody's pride in his South Asian heritage is obvious in his work and social media. He pinned a TikTok he made explaining his name on Twitter. In it, he responds to people who say his name is too hard to pronounce:
"If you can pronounce Beethoven, Chipotle, and Schwarzenegger, you can pronounce Anirudh. It took me a long time to learn this, but your name is a gift. Cherish it."
Though Pisharody can't trace his place in Hollywood back to childhood like some actors he meets, he says it's never too late to follow your dream.
"You have to fail so hard in the beginning. It's true what they say, you learn more from failures than successes. Once you're under fifty feet of crap and you still want to keep going, that's when you know you love [what you're doing]."
Check out Pisharody on the third season of "Never Have I Ever," now streaming on Netflix.
Photo Credit: Wanderlust Creatives