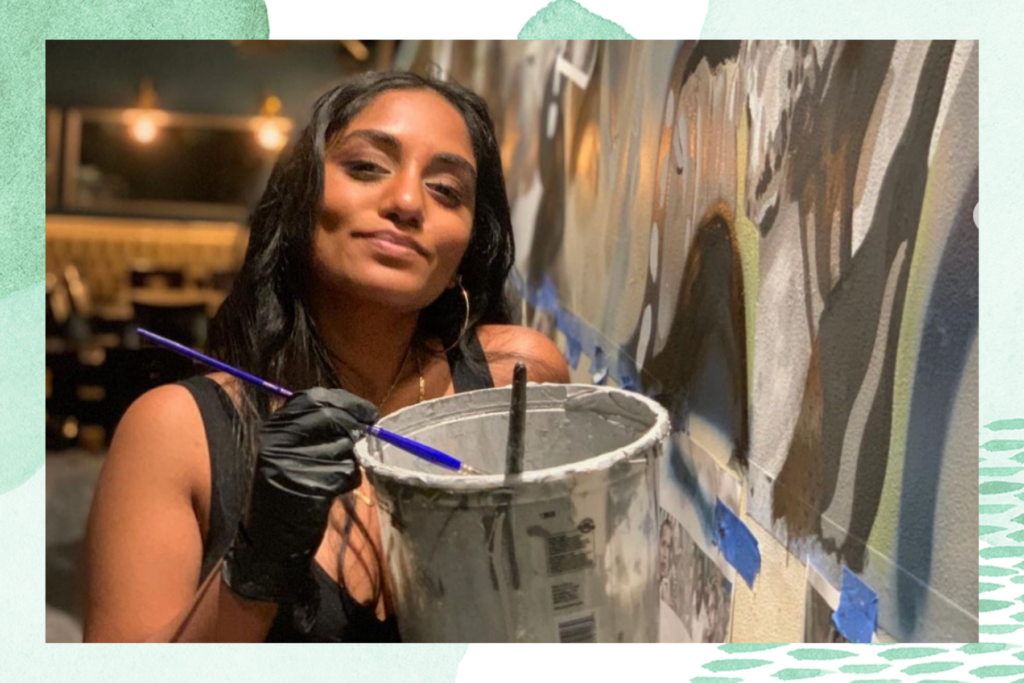 It's the creative hub in Brooklyn's Little Caribbean neighborhood that serves coffee and art. Introducing Lips Cafe.
Located in East Flatbush, the Black-owned hotspot prides itself in featuring artists of diverse ancestry alongside locally-sourced food and coffee. The café is viewed as a space for individuals of all backgrounds to gather and connect in the rapidly gentrifying community. Brown Girl Magazine recently spoke with Amrisa Niranjan, a Guyanese-American artist, whose solo exhibit is being featured at Lips Café throughout the month of May. Niranjan describes her pieces on exhibit as reflective of an "…emotional, pandemic-timed year I almost lost it…"
As an avid writer and reader, Niranjan's need to have something tangible to help her through the pandemic is relatable. The exhibit is a reflection of Niranjan's journey through the pandemic's physical, emotional and mental battering, which has left the world with heightened mental health difficulties. 
Like many affected by COVID, Niranjan searched for ways to cope. She wanted to "reflect inwards because the usual routine of life seemed to come to a halt." The pandemic forced the artist to confront and expunge challenging feelings that she avoided processing for years. She needed to create and use something physical to help her while working through her mental distress. 
View this post on Instagram
In a vulnerable conversation with us, Niranjan delves into her inspiration, creating art as a therapeutic means during the pandemic, shifting artistic focus and thoughts on what a virtual future holds for artists. 
Q&A with Amrisa Niranjan
1. Tell us about your mental health experience during the pandemic. How did you feel and were you able to access therapy during the pandemic?
"I honestly felt crazy; I was unable to sleep, which had always been a problem for years, but now it became unlivable. I wasn't sleeping for days in a row, despite trying exercise, meditating, melatonin and Nyquil. I began lucid dreaming, having nightmares and even sleep wasn't an escape. I realized if supplements and having a routine weren't fixing my sleep issues, it must be something else. I always thought of trying therapy, but never did follow through. Now, I think I may have been ready, because I exhausted all other options. To access therapy, I searched online and was willing to immediately make an appointment. I am lucky to have health insurance.  After a few unanswered calls, one therapist offered virtual sessions connected with me. That was the start of a conscious effort to improve my mental health." 
2. Did your family support you going to therapy? Growing up in a culture that struggles with understanding mental health, what would you say to individuals within the community thinking about reaching out for help? 
"My parents are nurses, and my mom did support it. I didn't talk too much to anyone when I actually made the appointment, because I didn't want to invite or allow the possibility of being deterred from seeking therapy. If anyone is thinking of reaching out for help, I'd say DO IT. Don't think about it, because if the idea is in your head, it's your mind's own way of asking YOU to help. Don't let yourself down because of stigma. I told my mom it hurts to be awake. She told me to say exactly that to a mental health professional."
Niranjan was also adamant in moving her artwork away from only representing her identity as an Indo-Caribbean woman. She "was looking to focus on showing art that went beyond the pain narrative of minorities and struggles tied only to racial identity." Niranjan wants to showcase her talents in a multifaceted approach. She does not want to be tied down to one area of success or to be boxed into one area of competency. 
3. Tell us why your work has shifted from solely reflecting your Indo-Caribbean identity. What caused the shift?
"I moved away from solely reflecting on Indo-Caribbean identity because art is a form of expression and while ethnic identity is a big part of who we are, it is never ALL we are. At times, expressing identity (especially when that identity is tied to otherness or oppression) can become a burden, a self-inflicted duty to express that duty and make it seen. I felt I had spent enough time in this space and started looking at artists, who were not necessarily Caribbean or Indian to express things including joy and happiness. I thought, can't I do that too? So I did. In 2020, it was important to express myself as an individual rather than just focusing on my Indo-Caribbean identity and shedding light on my culture. There are other groups we are connected to. In my case, it felt like I wanted to express things that I thought were relevant to HUMANS, millennials, women and men alike."
4. What made you want to do the exhibit at Lips Café? How did you get involved with Jamane and Karin (art curators)?
"LIPS showcases artists one at a time, and shares their work with the community. I've always liked exhibits in spaces that felt alive. At times, stark galleries just look like jails of artwork, with an unpleasant front counter that doesn't welcome guests if they don't look like buyers to gallery workers. LIPS felt like the right fit to showcase the pieces I had worked on in 2020. I think they were the best connections for making a connection and impact with viewers who maybe felt as distraught as I had when I created the pieces. So even if the work didn't sell, it would have made an impact.

I knew of Jamane and Karin through the art scene. They've seen my previous work and I was asked to be part of the exhibit. I think we all connected through our love of art, and a desire to create a different kind of culture in the art world."
View this post on Instagram
5. How has the virtual world affected the art world?
"In-person, you can study and stare at a piece of art, and have an experience connecting to others around you and connecting to the work. But virtually, it is not the same. I'm looking forward to the art world being back full-swing in-person."
We can try to find coping strategies in the hopes that they will eventually become part of our normal routine towards a balanced life. In Niranjan's case, utilizing art helped her focus positively and gave her purpose. It allowed her to express herself in a way that went further than her identity as an Indo-Caribbean woman, whilst still acknowledging her background. It also connected her to a new group of people with similar craft, knowledge and passion. Overall, entering the art world opened new, vast possibilities for her. 
6. Skateboards are incorporated into your artwork. What's the thought process behind that?
For the boards, the thought process was about bringing something back to life. The boards were used, beat up. It felt like stripping them down and building them back up was a metaphor for working on myself."
7. What can we expect from you in the near future? 
"A lot more murals. I love working big. One of the best things about murals is that they are in living spaces, either outside or inside, and typically, they're not for sale, and already there for a community."
Niranjan leaves fellow artists with a piece of advice:
"My advice would be to get started. Don't be embarrassed to put work out there; it will get better faster than you think. Also, work towards becoming your own favorite artist."
Niranjan's solo exhibit is a reflection of her struggles and triumphs during the pandemic. It is also representative of coping with mental challenges often taboo to talk about in the Indo-Caribbean community. To see Niranjan's exhibit, visit Lips Cafe located at 1412 Nostrand Ave., Brooklyn, NY 11226. The exhibit is on display until May 29, 2021.