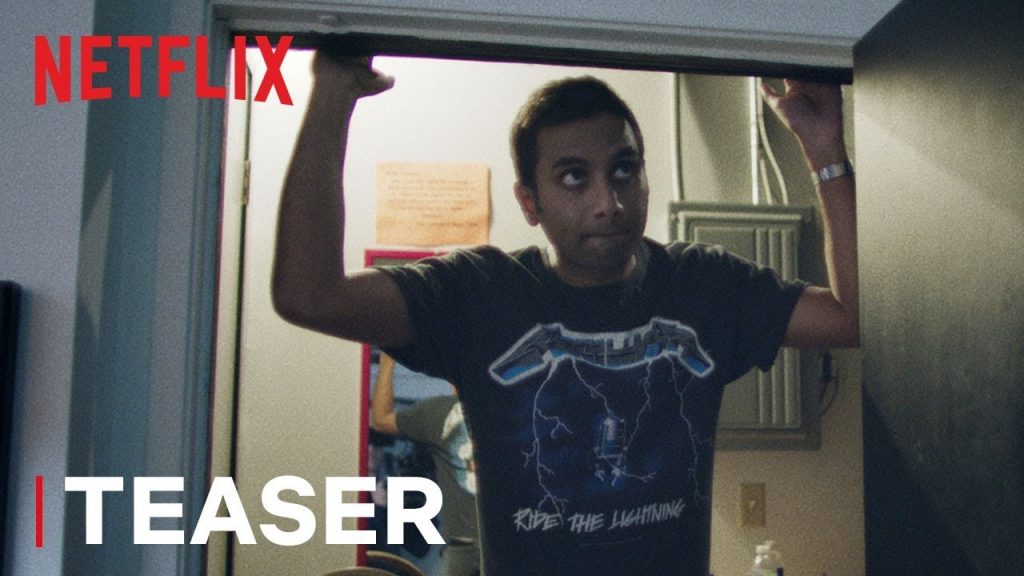 There's a moment towards the end of "Right Now," the new, Spike Jonze-directed Netflix standup special from Aziz Ansari, where the comedian thanks the audience for showing up. It's something he's done countless times in the past to close out a show.
Except this time Ansari proceeds, dropping his voice to a hush and speaking slowly to the audience.
[It] means the world to me… because I saw the world where I don't ever get to do this again. And it almost felt like I'd died. In a way, I did…
There's no zinger that follows — no Tom Haverford-style silliness that we've grown accustomed to after a serious Aziz moment. Instead, it's the raw gratitude of a man acknowledging a career that's been on pause for the last year, following allegations of sexual misconduct in a controversial article published by Babe.net in January of 2018. The article set off a national conversation on consent, interpretation, the limits of the #MeToo movement, and effectively sidelined Ansari's creative output — projects such as the critically-acclaimed "Master of None" — that had made Aziz Ansari a household name.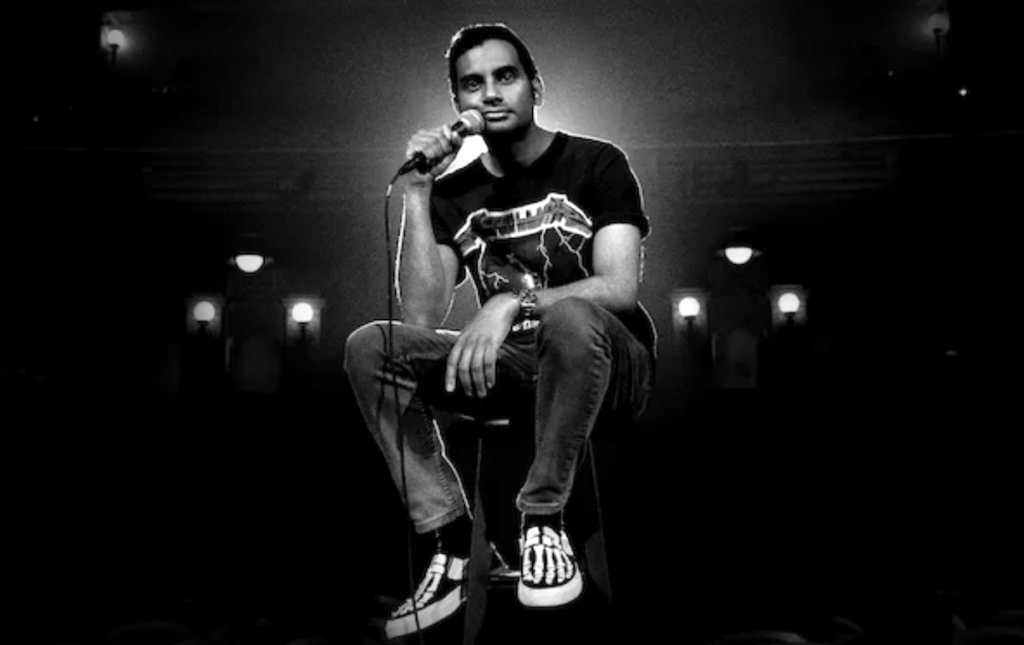 A year and half later, "Right Now" is Ansari's return to the world stage. It's a return that pairs a new-found humility and maturity with his traditional insightfulness and wit, and it amounts to one of the best performances of his 14-year career.
Ansari kicks off his re-arrival with a nod to his standing in the new comedic landscape. Arguably once the most-recognizable South Asian-American on TV, Ansari admits to since being mistaken on the street for another South Asian who has taken the US by storm: Hasan Minhaj.
At later points, he reminds the audience that he's still a big deal.
[Indians] have had a slow rise in the culture. You know who the first Indian person I saw on MTV was? Me!
Make no mistake: this is the rehabilitation project of a star still shocked at his career's unexpected turn.
Throughout the hour-long show, the elephant-in-the-room never leaves, nor does it shrink in size. Apologizing publicly for the first time since his official reply early last year, Ansari is obviously uncomfortable; however, his words are sincere. Acknowledging emotions of fear, embarrassment, and humiliation, he admits, "I just felt terrible." The audience, who'd presumably forgiven him well before purchasing their tickets, roars in support.
It's not all repentance and remorse. Taking aim at "white wokeness," Ansari suggests that the perpetrators of today's outrage culture are hollow,
"[It's] almost like some people are playing a game where they're tallying up points for doing nice stuff."
It is intriguing, though not unexpected given his past year, how directly he criticizes Internet activism.
They don't really care about learning and exploring and discussing. They just want to chime in with their little programmed reactions. They already know what they think about everything!
It's hard not to sense bitterness in Ansari's words. The merits of the Babe.net article were hotly debated in its wake, with major media outlets and talk show personalities taking sides on the legitimacy of its claims. Ansari, famously private, found his personal life plastered across the tabloids. It is clear: Ansari is apologetic of the events the Babe.net article brought into question, but he is annoyed with the controversy-driven society that brought about the article's subsequent media frenzy.
https://www.instagram.com/p/Bz3fVknhVXd/
Seriousness aside, the special really is a compelling hour of comedy; Ansari is still funny. His boisterous delivery, while at times now more subdued, is used for maximum effect, and his insights on today's society remain sharp.
The most brilliant moment of the night comes when Ansari polls the audience into taking sides on a controversial news story of a pizza delivery where a pizza was allegedly topped with pepperonis arranged in what some believed to be the shape of a swastika. After several audience members, one claiming to have seen the picture in the Washington Post, clap their support for and against the situation being seen perceived an intentional hate crime, Ansari drops the kicker: there was no news story of a pizza controversy. He'd made it up. The crowd is in fits.
You and everyone that clapped earlier, you're the fucking problem… You think your opinion is so valuable you need to chime in on shit that doesn't even exist?
With "Right Now" Ansari has made the argument that he's had some time to think about things, and he still has much to say. Is he irritated by his recent ordeal? Sure. But as he mentions in his monologue, he is a better man for having gone through it.
I thought, 'Wow. Well, that's pretty incredible. It's made not just me but other people be more thoughtful, and that's a good thing.' And that's how I feel about it.
---
The opinions expressed by the writer of this piece, and those providing comments thereon (collectively, the "Writers"), are theirs alone and do not necessarily reflect the opinions of Brown Girl Magazine, Inc., or any of its employees, directors, officers, affiliates, or assigns (collectively, "BGM"). BGM is not responsible for the accuracy of any of the information supplied by the Writers. It is not the intention of Brown Girl Magazine to malign any religion, ethnic group, club, organization, company, or individual. If you have a complaint about this content, please email us at Staff@0mq.349.myftpupload.com. This post is subject to our Terms of Use and Privacy Policy. If you'd like to submit a guest post, please follow the guidelines we've set forth here.