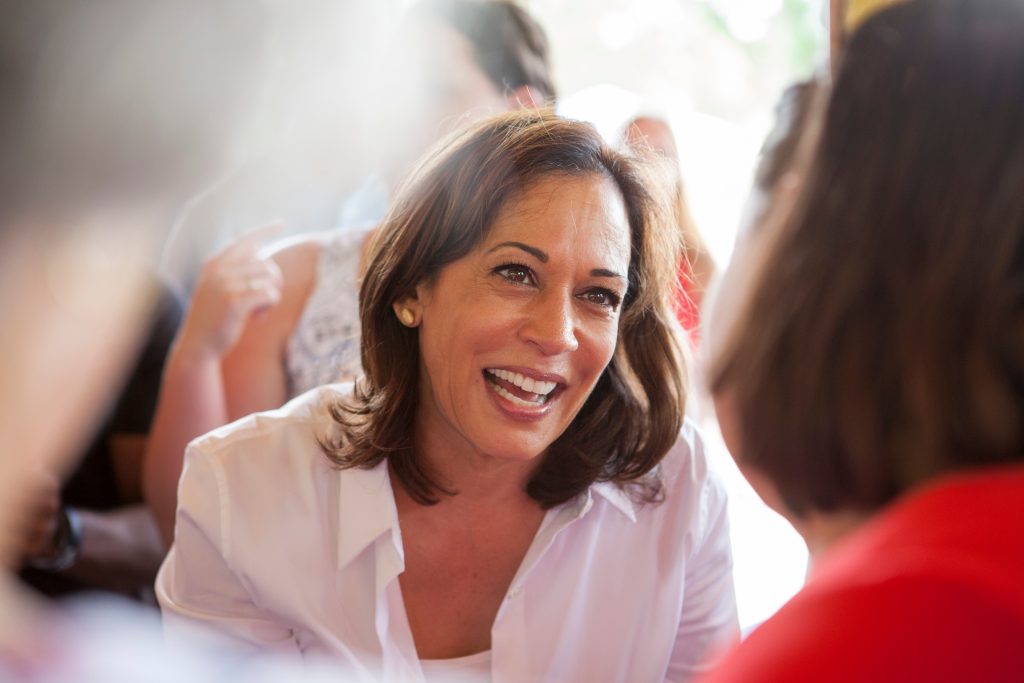 "What are you?"
I've lost count on the number of times I've been asked the question. Sometimes, the intent seems questionable but for the most part, it comes from genuine curiosity from people who have been used to the largely Black and white racial landscape in the American South. The problem is, I never know how to answer this question. I'm the daughter of first-generation Indian immigrants, a northerner, a South Carolina transplant, a proud American. Sometimes I'll ask what they mean, and other times, I give in and answer that my parents are from India. Because what they were really asking was: Why is the color of your skin brown? 
Kamala Harris's acceptance of the vice-presidential nomination for the Democratic ticket has opened many people's eyes to the vastness and complexity of experience and life histories that accompany brown skin in the U.S. For people like me, however, we've been reckoning with our life history for quite some time. Being brown in the South for the past five years, my experiences have ranged from some people lumping me in as being Black and being made to feel I don't belong, to being told that I'm "basically white" because of my educational level and socioeconomic status. This has left me more passionate than ever to define what it means to be me. And, I've realized that there may be no right answer.
On paper, I check "Asian-American" but colloquially, many may not put me in this category because of the implicit association that Asian-American means being from an East Asian country. So sometimes, I scribble in "South Asian." Professionally, I consider myself a "person of color" and intentionally distinguish myself from my Black brothers and sisters, because I cannot speak to the generational effects of slavery. I can, however, relate to the impact of structural and systemic inequities on my life. Personally, I love calling myself "brown," a term that is often used to describe people of South Asian descent and keeps people from thinking that I mean Native American if I were to say "Indian."
Regardless of what I call myself or see myself as, the ways in which Asian-Americans, and Indian-Americans in particular, are categorized in our society, often makes us invisible in conversations about social change. As a public health researcher focused on health equity, I often have to collapse racial data into two categories: Black and White, due to lack of data or quality of data. (A fun fact: This year's Census is the first time that we are seeing a racial/ethnic breakdown beyond the traditional categories of Asian-American/Pacific Islander, American Indian/Native Black, Hispanic, White.) We see this dilemma even with the coronavirus pandemic: Most states just don't collect data on race, and if they do, it's typically that every racial category besides Black and White is "other." I become "other."
There are two consequences that come from this: one is that it reinforces the unspoken expectation that we are to "assimilate" to predominating American and often White culture to be praised and be validated as "better than" the others. This is exactly what the model minority myth is intended to do—pit us against the very people who fought for us to be here through the Civil Rights Movement by allowing anti-Blackness to remain pervasive in our communities. The other is that it keeps from meaningfully and rightfully contributing to social change. By 2050, the United States is expected to be made up of more minority groups than Whites. That means we should be working to strengthen our networks with each other to help make sure that all minority groups are set up to achieve our American dreams. Because we are the future of America. We are American. 
This type of work is what will require us to be more visible. And we're off to a promising start. In the past 10 years, we have seen more Indian-Americans enter the mainstream. But, like many other racial/ethnic groups, our depictions, our roles, and storylines often fit a stereotype or caricature of what it means to be brown. 
That is why Senator Harris' acceptance as the vice-presidential candidate for the Democratic party is so important to me, particularly as a brown girl in the South. Within 24 hours of Biden's announcement, I saw more discussions about Indian history, traditions, culture, attitudes, and identities happening on my social networks, and amongst my friends and acquaintances in South Carolina, both Black and White, than ever before in my life. As people are taking pride in pronouncing Kamala's name correctly, I think back on all the times these past five years, people chose to change the pronunciation of my name for their comfort both in the workplace and in social settings. I think about the awkwardness I feel knowing someone is going to skip my name altogether in front of strangers at an awards ceremony. As they discover the many languages and cultures of India, I think about the time that a co-worker was surprised that I am bilingual because "I don't speak Spanish." I recall the many instances where someone assumed that my last name is Patel.
As people quibble over Harris' racial identity, I think about all the times that someone would immediately associate me and my identity with our former governor. I count the messages I've received from people, both directly and indirectly, that implies I'm less brown because I am married to a white man. Harris' nomination has made colleagues, friends, and acquaintances see me. Really see me. No longer putting me in the traditional mold of Black and White in the American South, but recognizing the unique perspectives that my experiences, culture, religion, and identity bring to the table.
Harris' politics and her self-identification aside, the role of her mother's immigrant story provides a profound sense of belonging. As she stated during her acceptance speech:
"There's another woman, whose name isn't known, whose story isn't shared. Another woman whose shoulders I stand on. And that's my mother—Shyamala Gopalan Harris. She came here from India at age 19 to pursue her dream of curing cancer. She taught us to be conscious and compassionate about the struggles of all people. To believe public service is a noble cause and the fight for justice is a shared responsibility."
Harris shares the common themes embedded in so many brown families, including my own: sacrifice, ambition, devotion, hope, and the American promise. When I heard these words, I felt this unfamiliar sense of pride and purpose. Pride for where I came from, and purpose for continuing to do my part to ensure that America is what Harris envisions:
"A Beloved Community—where all are welcome, no matter what we look like, where we come from, or who we love."
We're in a unique period of time. America is beginning to recognize the need for racial equity and most importantly, inclusion. South Asian Americans, Asian-Americans, and people of color have an opportunity to not only build collective support around leaders representing our vast community, but also look critically within ourselves to determine a new narrative for the American South, the real story behind who we are, what we stand for, and why our skin is brown.
---
The opinions expressed by the writer of this piece, and those providing comments thereon (collectively, the "Writers"), are theirs alone and do not necessarily reflect the opinions of Brown Girl Magazine, Inc., or any of its employees, directors, officers, affiliates, or assigns (collectively, "BGM"). BGM is not responsible for the accuracy of any of the information supplied by the Writers. It is not the intention of Brown Girl Magazine to malign any religion, ethnic group, club, organization, company, or individual. If you have a complaint about this content, please email us at Staff@0mq.349.myftpupload.com. This post is subject to our Terms of Use and Privacy Policy. If you'd like to submit a guest post, please follow the guidelines we've set forth here.