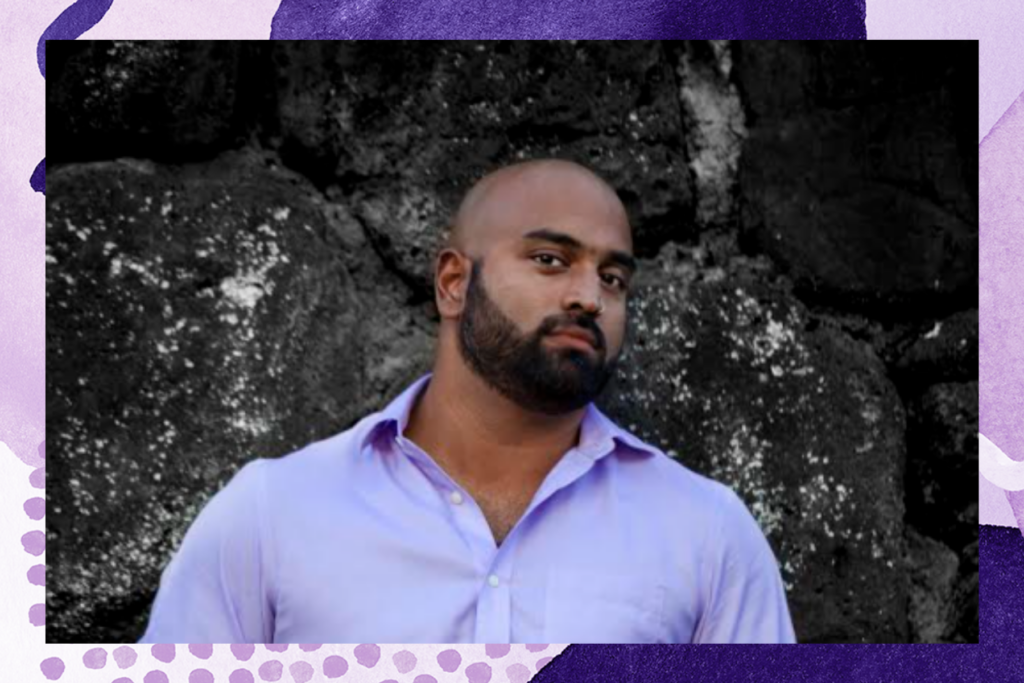 "Antiman"—striking and raw—is a powerful journey through the life and experiences of author Rajiv Mohabir. Growing up as the queer child of Indo-Guyanese immigrants to the United States, Rajiv is caught between multiple axes of identities. Navigating his creed, caste, and color, Mohabir takes the reader through a dizzying and fascinating story of his attempts to connect with his heritage and find community.
View this post on Instagram
The reader is introduced to Rajiv as a child growing up in Florida where he is enamored by his Aji's (his grandmother's) stories and songs. Willfully ignored and forgotten by his father and other members of his family, his Aji is a source of wonder and truth—a living testament of his ancestor's forced migration from India to South America, where they were integrated into a rich but often forgotten diaspora of South Asian laborers. But Rajiv is different from his family members—who increasingly distance themselves from their history in a quest to assimilate into white America. In "Antiman," Mohabir carefully archives the vibrant history captured in his grandmother's mind and tune.
Rajiv's journey takes him far from Florida, from the mythic city of Varanasi all the way to Richmond Hill in Queens, New York, the home of Little Guyana. Mohabir has a unique ability to conjure vibrant images of his myriad settings, relying on his mastery as a poet to blend his words into senses. This is seen on almost every page.
"Outside four men carried a stretcher with a body wrapped in a cotton cloth. They proclaimed Ram Nam Satya Hai. The name of Ram is truth. They were taking the body to Manikarnika Ghat to burn on a pyre. Above the chai shop the smoke billowed. I didn't know if I was breathing in exhaust or the smoke from the body of the latest liberated soul. In this city, life was death was life. The living and the dead lived together in one house. The lord of this house was Shiva, the god of ghosts and ghouls–easy to anger, easy to please. I sipped the sweet milky chai and wondered if in this place I would encounter any ghosts of my kin, of the people we once were before we left Guayana. I burned my tongue."
As seen in the above excerpt, Mohabir frequently draws on his formal poetic training, switching often between narrative prose and verse. Chapters alternate between simple exposition and vivid poetry, juxtaposing conventional narration with poetry and song and even diary entries. One series of three chapters goes so far as to include multiple imagined "Alternate endings" (as the chapters are so aptly titled) to a traumatic episode where his family members learn of his queerness.
It can feel disorienting—even jarring—to be punted back and forth between various styles of narration. But ultimately, the structure of the memoir only enriches the reading experience. It's through the variation in writing that Mohabir's voice emerges with genuine vigor and clarity. It's a voice that varies not just in style, but also in language.
While predominantly written in English the memoir is peppered with Hindi, Bhojpuri and Guyanese Creole as words, phrases, and even entire poems form a mosaic of a story that becomes a tribute to the fabric of Mohabir's nuanced ancestry.
This blending of both language and heritage is often considered a defining aspect of the Indo-Carribean experience among larger South Asian communities. It's an experience that Mohabir himself must navigate throughout the story, in Florida, in New York, and even in the tiny village of Patranga in Uttar Pradesh where he struggles to reconcile the trauma of his family's forced movement with his inability to find belonging among other South Asians.
"If they had known just who I was exactly, I doubt if I even would have been allowed in the village. I had come so far to be here. I had lied. Any gain was ill-begotten. I was a mixed-caste bastard."
While casteism divides, language unites—by way of Mohabir's words. Language emerges as one of the main ways that Mohabir accesses and connects with the various parts of his identity as an Indo-Guyanese person, committing himself to years of both formal study of Hindi and informal learning of Guyanese Creole and Bhojpuri. But it's also language that helps Mohabir understand his relationship to his queerness—a relationship that is inextricable from the term "antiman," a slur in Guyanese Creole to describe queer men.
The amalgamation of two words representing a derision of homosexualty and the emasculation of men haunts Mohabir, following him through his childhood in Florida, where he agonizes over his family's anticipated reaction to his queerness.
"Their voices picketed as ghosts moaning in unison, Antiman. Anti-man. Aunty-Man. Anty Man. Andy man. Auntie Man. Antiman. Ante, Man. Ant eat man. And T-man. Ant-He-Man. Against Man. An Team an. Ant Iman. Andtiman. Aannttiimmaann. Aaannntttiiimmmaaannn. Anitman. Antiman. Antiman."
Back in New York is where Mohabir reclaims the term. Flirting with another Indo-Gyanese man at a queer South Asian dance party, one of them affectionately jokes "Me one real antiman." And just as language can change, evolve and be reclaimed, Mohabir shows us readers that so can one's journey home.
I'm so glad to be able to say ?? My memoir has a face! ?? I am so grateful to the designer and to the judges and to the editors who took a chance on this little hybrid thing. Here is the cover and a link to preorder it from @RestlessBooks ! https://t.co/aVOh0B0Hjs pic.twitter.com/mM3s7sKOxK

— Rajiv Mohabir (@rajivmohabir) January 13, 2021
You can purchase 'Antiman' from Restless Books. Keep up with Mohabir's work on Twitter and Instagram!